Field Guide to Wind Farms & Their Effect on Property Values
(Updated May 2017)
Powerful, controversial, and fast growing, wind power is making inroads in the United States. U.S. wind power totaled nearly 182 million megawatthours (MWh) during 2014, equal to 4.4% of U.S. electricity generation and more than three times the wind power generated in the United States in 2008. However, with growth comes opposition. Homeowners are worried about decreasing property values and the visual blight of turbines. Read the pros and cons of wind power in this newly updated Field Guide. (A. Siudzinski, Senior Library Information Specialist)
---
E - EBSCO articles available for NAR members only. Password can be found on the EBSCO Access Information page.
---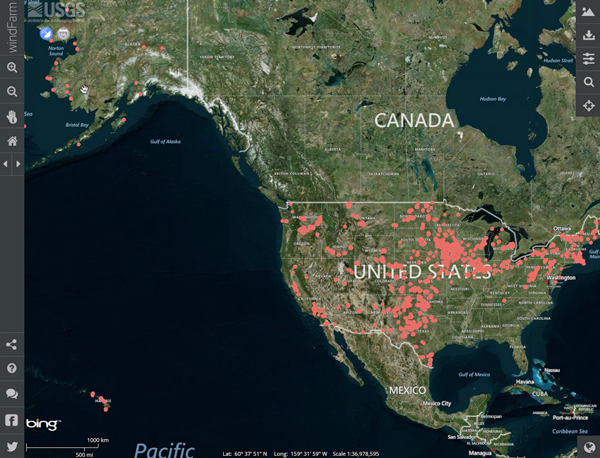 Source: United States Geological Service
---
Background
Why modern wind turbines have three blades, (Popular Mechanics, April 25, 2016). The answer lies in finding a happy medium, as Real Engineering explains. A turbine with two blades, for example, would be faster, generating more speed and noise. More noise would make the turbines more of a nuisance for anyone living nearby. Four turbines would jack up the price because blades are expensive. Three blades keeps both the price and sound down.
Enabling Wind Power Nationwide, (Energy.gov, May 18, 2015).
Wind turbines, (Explain That Stuff!, March 8, 2015). While it's true that you might need 1000 wind turbines to produce as much power as a giant coal or nuclear plant, it's also true that if a single wind turbine fails or stops turning, it causes only 1/1000th (0.1 percent) of the disruption you get when a coal or nuclear plant fails (which happens more often than you might think). It's also worth bearing in mind that wind is extremely predictable several days in advance so it's easy for power planners to take account of its variability as they figure out how to make enough power to meet expected demands.
How a wind turbine works, (United States Department of Energy, June 20, 2014). Turbines catch the wind's energy with their propeller-like blades, which act much like an airplane wing. When the wind blows, a pocket of low-pressure air forms on one side of the blade. The low-pressure air pocket then pulls the blade toward it, causing the rotor to turn. This is called lift. The force of the lift is much stronger than the wind's force against the front side of the blade, which is called drag. The combination of lift and drag causes the rotor to spin like a propeller. A series of gears increase the rotation of the rotor from about 18 revolutions a minute to roughly 1,800 revolutions per minute -- a speed that allows the turbine's generator to produce AC electricity.
Wind Energy Basics, (Bureau of Land Management, N.D.). How wind turbines work, advantages and disadvantages.
---
Impact on Real Estate Values
Wind Turbines, Amenities and Disamenities: A Study of Home Value Impacts in Densely Populated Massachusetts, (Journal of Real Estate Research, Oct.-Dec. 2016). The results of this study do not support the claim that wind turbines affect nearby home prices. Although we found the effects on home prices from a variety of negative features (such as electricity transmission lines, landfills, prisons, and major roads) and positive features (such as open space and beaches) that accorded with previous studies, we found no net effects due to the arrival of turbines in the sample's communities. Weak evidence suggests that the announcement of the wind facilities had an adverse impact on home prices, but those effects were no longer apparent after turbine construction and eventual operation commenced. The analysis also showed no unique impact on the rate of home sales near wind turbines. These conclusions were the result of a variety of model and sample specifications. E
Property values in El Paso County improved by nearby wind farms, (Clean Technica, June 28, 2016). [ . . .Schleiker found that property values across the board had actually increased. Specifically, Schleiker monitored the sales of property in a 30,000 acre area between January 2015 and April 2016, and found that 931 homes with a current combined market value of over $173 million sold for $239 million]
Assessor: value of properties surrounding wind farm has increased, (Fox 21 News, June 23, 2016). El Paso County Assessor Steve Schleiker promised the concerned citizens that he would track the sales to see what's really going on, and he found an increase in property values across the board. "Real estate is a roller coaster," Schleiker said. He kept track of the sales in a 30,000-acre area near the wind farm from January 2015 to April of this year. "It's looking good," Schleiker said. "Property values are selling higher than what the current assessor's value is. I'm seeing increase in the median sale price of the properties."
Exploring the impact of the proposed Galloo Island energy project, (Nanos Clarkson University Research Collaboration, Jan. 2016). We see in these projections that the average home is expected to lose between 11.77% and 12.77% of its value if the Galloo Island turbines are built. Importantly, however, this average includes homes both with and without a view. Homes with a view will face the bulk of the value loss. In aggregate, this analysis suggests a total value loss for the Town of Henderson of between $39.8M and $43.2M. P. 13.
The windy city: Property value impacts of wind turbines in an urban setting, (Energy Economics, 44 (2014)). "Broadly, the results suggest that there is no statistical evidence for negative property value impacts of wind turbines. Both the whole sample analysis and the repeat sales analysis indicate that l1 houses within half a mile had essentially no price change . . . ."
Relationship between Wind Turbines and Residential Property Values in Massachusetts, (U of CT/ US Dept. of Energy, 2014). The study "found no net effects due to the arrival of turbines in the sample's communities. Weak evidence suggests that the announcement of the wind facilities had a modest adverse impact on home prices, but those effects were no longer apparent after turbine construction and eventual operation commenced. The analysis also showed no unique impact on the rate of home sales near wind turbines."
A Spatial Hedonic Analysis of the Effects of Wind Energy Facilities on Surrounding Property Values in the United States, (U.S. Department of Energy, Aug. 2013). Building on its earlier 2009 study, the research team collected data from more than 50,000 home sales among 27 counties in nine states. These homes were within 10 miles of 67 different wind facilities, and 1,198 sales were within 1 mile of a turbine—many more than previous studies have collected. "Regardless of model specification, we find no statistical evidence that home values near turbines were affected in the post-construction or post-announcement/pre-construction periods."
Values in the Wind: A Hedonic Analysis of Wind Power Facilities, (Land Economics, Aug. 2012). 2011 draft available here. This paper uses data on 11,331 property transactions over nine years in northern New York State to explore the effects of new wind facilities on property values. They find that nearby wind facilities significantly reduce property values in two of the three counties studied. These results indicate that existing compensation to local homeowners/communities may not be sufficient to prevent a loss of property values.
Wind Energy Facilities and Residential Properties: The Effect of Proximity and View on Sales Prices, (Journal of Real Estate Research, 2011). Same authors as the DOE report below. E
Wind turbines & property values, (Appraisal Group One, 2010). Impact studies suggest the values are substantially negatively impacted in the range of -12% to -40%. P. 17.
The Impact of Wind Power Projects on Residential Property Values in the United States: A Multi-Site Hedonic Analysis, (U.S. Department of Energy, Dec. 2009). A three-year study by the U.S. Department of Energy's Lawrence Berkeley National Laboratory concludes "neither the view of wind energy facilities nor the distance of the home to those facilities was found to have any consistent, measurable, and significant effect on the selling prices of nearby homes. No matter how we looked at the data, the same result kept coming back—no evidence of widespread impacts." The link is to the press release on the study. A PDF version of the study is available at the bottom of the press release along with a PowerPoint of highlights and contact information. Critics of the study appeared almost immediately, including the Acoustic Ecology Institute, appraisers (here and here), as well as from established opposition groups. Study author Ben Hoen presented the following slides at the New England Wind Energy Education Project webinar, 2010: Impacts on residential property values new wind turbines: An overview of research findings and where to go from here [PowerPoint in PDF]. This presentation shows updated research and conclusions from the Berkeley study that suggest that effects on property values can exist and need to be addressed.
Green vs. Green: Measuring the Compensation Required to Site Electrical Generation Windmills in a Viewshed, (Appalachian State University, June 2007). A study finds that "individuals who perceive wind energy as a clean source of power require less compensation. Those who retire to the mountains or individuals who have ancestors from Watauga County require more compensation to accept windmills in their view-shed. The annual compensation necessary is estimated to be about $23 per household. In the aggregate, citizens need to be compensated by about $500,000 a year to allow wind electrical generation turbines in Watauga County." A version of this paper appeared in the journal Energy Policy in 2008.
---
Wind Maps
Wind Maps, (National Renewable Energy Laboratory, July 18, 2016). NREL's Geospatial Data Science Team offers both a national wind resource assessment of the United States and high-resolution wind data
Installed Wind Capacity, (U.S. Department of Energy/Energy Efficiency & Renewable Energy, 2017). This page has maps of the United States that show installed wind capacity by state and its progression.
DSIRE: Database of State Incentives for Renewable's and Efficiency, (United States Department of Energy and N.C. Clean Energy Technology Center, n.d.)—DSIRE is a comprehensive source of information on state, local, utility, and federal incentives that promote renewable energy and energy efficiency.
Utility-scale land-based 80-meter wind maps, (U.S. Department of Energy/Energy Efficiency & Renewable Energy, Dec. 9, 2014). The U.S. Department of Energy provides an 80-meter (m) height, high-resolution wind resource map for the United States with links to state wind maps. States, utilities, and wind energy developers use utility-scale wind resource maps to locate and quantify the wind resource, identifying potentially windy sites within a fairly large region and determining a potential site's economic and technical viability.
---
Opposition
Offshore wind test project "dead in the water" if bill passes, (The Free Press, Apr. 27, 2017).
Developer pulls plug on proposed wind farm near Searchlight, (Las Vegas Review-Journal, Apr. 25, 2017).
Wind farms continue to raise controversy, (Hartsville Vidette, Jan. 25, 2017).
Wind turbines face uphill battle in upstate New York, (CBS News, Nov. 28, 2016).
Tall wind turbines face headwinds in Eastern NC, (News & Observer, Aug. 13, 2016).
Wind farms whipping up opposition across rural Indiana, (windAction, June 9, 2016). But as industrial wind energy tries to blow into other parts of the state, it's running into resistance from communities that fear those turbines will overrun the landscape. Private developers are in an aggressive push to double the number of Indiana's wind farms. But they must contend with neighbors, lawsuits and the fickle support of elected officials who once welcomed them and are now changing their minds. Fears of noise, adverse health effects and worries that home values will plummet as the giant turbines go up are driving the concerns of opponents.
The Amenity Costs of Offshore Wind Farms: Evidence From a Choice Experiment, (Center for Environmental and Resource Economic Policy, North Carolina State University, Mar. 2016). Our choice experiment with customers renting coastal vacation properties unambiguously indicates that viewing a utility-scale offshore wind farm from a beach rental property is a is amenity for these individuals. There was no wind farm scenario, for any group of respondents, in which visitors to the coast indicated that they would be willing to pay more to rent a property with turbines in view, as compared to one with no turbines in sight. Even more striking is that over 50 percent of those surveyed indicated they would not return to the same beach for their next rental should a utility-scale wind farm be placed offshore. This is true despite wide-spread support for wind energy development among these same respondents. (P. 29-30)
Wisconsin 'health hazard' ruling could shock wind industry, (Midwest Energy News, Sept. 17, 2015). Late last year, Glenmore, a rural community just south of Green Bay, persuaded its county's board of health to declare that the sounds of an eight-turbine wind farm pose a "human health hazard." It was the first time a health board has made such a determination. Wind energy opponents from across the country seized on the decision as proof of "wind turbine syndrome," a supposed illness caused by low-frequency noise and "infrasound" that is typically undetectable to the human ear.
More and more wind turbine opponents are collecting resources online. Below are a sample:
Windpowerfacts.info John Droz, Jr. has gathered information on the problems of wind energy on his website.
Wind Turbine Syndrome Nina Pierpont's research on the physical impact of wind turbines on nearby residents. While some dispute her claims and small sample size, further study is warranted.
Industrial Wind Action Group Industrial Wind Action is "dedicated to providing information on industrial wind energy to enable communities and government officials to make informed decisions."
National Wind Watch National Wind Watch™ is a nonprofit organization that promotes awareness of the negative impacts of industrial wind energy development on our environment, economy, and quality of life.
---
Wind Energy Websites
Labratory of Wind, Energy & Turbulence. The University of Utah's Wind Energy and Turbulence laboratory was designed to improve the current understanding of wind energy harvesting. To achieve this goal we dedicate much of our efforts to develop new knowledge on the turbulent atmospheric boundary layer. Our focus resides on using high resolution numerical simulations which we ultimately complement with the analysis of experimental data.
Center for Research and Education in Wind. The Center for Research and Education in Wind (CREW) serves to advance fundamental understanding and develop new technologies in areas that can improve the reliability and efficiency of wind power generation under a wide range of conditions. The ultimate goal of CREW is to enable widespread and environmental-friendly deployment of wind energy infrastructure and to contribute to a reduction in the cost of wind energy through scientific, technological, regulatory, and political advances in the current state of the art in wind energy systems.
National Wind Technology Center. The National Wind Technology Center (NWTC) at NREL is the nation's premier wind energy technology research facility. The NWTC advances the development of innovative land-based and offshore wind energy technologies through its research and testing facilities.
National Wind Institute. Texas Tech University's National Wind Institute (NWI) is based on a strong foundation of more than 40 years of research and education on the impact of wind on structures and human life.
Wind Energy Research Center. WERC provides experimental and computational capabilities as well as intellectual resources to carry out internationally unique research that aids in the nation's goal of enhancing energy security while reducing energy-related environmental impact. No single institution can address all areas of wind energy research, so the center strategically partners with other academic institutions, federal laboratories, and companies with complementary capabilities.
Wind Research Center. We're working to make wind energy as cheap and dependable as coal and natural gas. We envision an industry that supplies at least 20% of U.S. electricity from clean, sustainable wind power. To achieve those goals, we target our research at solutions to real-world problems. We're improving the reliability and extending the life of wind turbines through better sensing and controls, and learning how to make wind farms more efficient by reducing losses to wake effects.
American Wind Energy Association. AWEA is a national trade association representing companies and individuals involved in the wind power industry. It promotes wind energy as a clean source of electricity for consumers around the world. The organization website does a good job addressing opposition to wind farms.
National Wind Coordinating Collaborative, (RESOLV). The NWCC brings together government, industry and environmental organizations to try to reach consensus on sustainability developing wind power in the U.S. Subcommittees address environmental, economic, and technical concerns.
North American Windpower. A magazine serving decision-making professionals involved in the North American wind energy generation and distribution business.
Windpower Monthly. A news magazine focused on the international wind energy business.
Windustry. Non-profit organization dedicated to increase wind energy opportunities for rural landowners and communities. Rich collection of resources including industry links, news, state regulations, lease guidelines, and more.
Yes2Wind, (Greenpeace / World Wildlife Fund / Friends of the Earth). UK site sponsored by major environmental organizations to promote wind power in Britain. Includes a wind power FAQ, a myth-buster section, and a wind farm locator (UK only).
---
eBooks & Other Resources
Books, Videos, Research Reports & More
The resources below are available for loan through Information Services. Up to three books, tapes, CDs and/or DVDs can be borrowed for 30 days from the Library for a nominal fee of $10. Call Information Services at 800-874-6500 for assistance.
Greening the Wind (Kindle, OverDrive Read, EPUB eBook, PDF eBook)
The Homeowner's Guide to Renewable Energy (Kindle, OverDrive Read, EPUB eBook, PDF eBook)
Wind Power for Dummies (Kindle, OverDrive Read, EPUB eBook, PDF eBook)
Wind Power Basics (Kindle, OverDrive Read, EPUB eBook, PDF eBook)
Wind Power, Revised Edition: Renewable Energy for Home, Farm, and Business, (Chicago: Chelsea Green Publishing, 2004).
Field Guides & More
These field guides and other resources in the Virtual Library may also be of interest:
Field Guide to Solar & Renewable Energy Features & Tax Credits
Field Guide to Effects of Power Lines on Property Values
---
Have an Idea for a New Field Guide?
Click here to send us your suggestions.
The inclusion of links on this field guide does not imply endorsement by the National Association of REALTORS®. NAR makes no representations about whether the content of any external sites which may be linked in this field guide complies with state or federal laws or regulations or with applicable NAR policies. These links are provided for your convenience only and you rely on them at your own risk.