The voice and live chat online features are for members of the National Association of REALTORS® who are registered at REALTOR.org. To chat with an NAR Information Specialist, please sign in first.
NAR Information Specialists are available between 8:30 a.m. and 5:00 p.m., Monday through Friday, Central Standard Time.
Frequently Asked Questions
How can I locate my NRDS ID?
How can I find my nar.realtor username and password?
How do I change my address, email address, or office information?
After logging in, please click "My Account" at top-right. To change your home address, click "Change Your Member Data Profile (NRDS);" to change your email address, click "View/update your e-mail address and subscriptions." Changes in office information, including company name or office address and phone number, must be directed to your local board/association.
Where do I pay my dues?
If your local board/association is set up to allow you to pay dues on NAR's website, please click Pay Dues to log on, then click "My Invoice."
What programs and products do REALTORS® have a discount with?
How do I print a copy of my membership card?
Please visit NAR's Member Center site to print a free card or purchase a plastic card.
Where can I take the Code of Ethics course?
Please find the courses for New Members and Existing Members here.
How do I join the National Association of REALTORS®?
You must first join a local board/association of REALTORS®. Please see our How to Join page for details and a link to a directory of local boards/associations.
How do I reach realtor.com®?
How do I translate nar.realtor site pages into my native language?
To select your preferred language, scroll to the bottom of any page on nar.realtor. Click on the "Translate" link — you'll find it in the lower right hand corner on your desktop or laptop, and at the bottom of your mobile screen. Read the full instructions on how to translate our site into several different languages.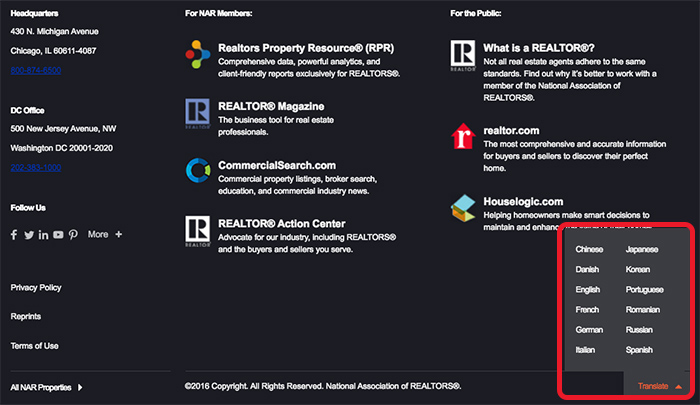 Please note: you are choosing to contact an Information Services representative using webchat. You must have first disabled any pop-up blockers in your web browser or firewall software. If you have any difficulties or questions regarding these instructions, please call us (toll-free) at 1-800-874-6500.