The National Association of REALTORS® Archives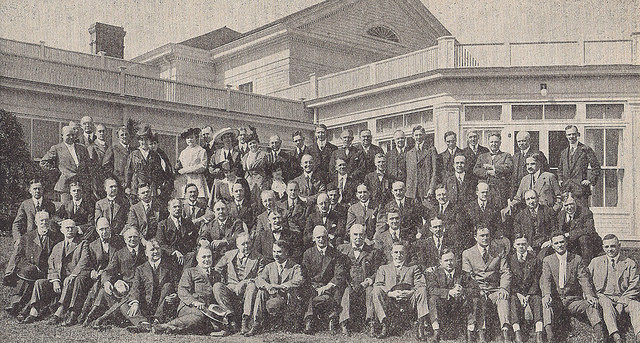 Group photo of REALTOR® members at NAR's annual convention in New Orleans, March 1916.
The National Association of REALTORS® Archives, located at NAR's Chicago headquarters, documents the history and development of the association and the real estate profession in the United States. The unique items in the Archives tell the story of the REALTOR® family and its emergence through time.
The Archives collection contains a wide range of material, including Board of Directors meeting minutes, committee meeting minutes, the Code of Ethics since 1913, NAR's Constitution and Bylaws, policy and procedure manuals, books, surveys, research reports, press releases, journals and newsletters, annual convention programs, brochures, membership rosters, photographs, audio and video recordings, and more. In addition to information about the National Association, the collection includes historical records on state and local REALTOR® associations, NAR's affiliated organizations, and spinoff organizations (Urban Land Institute, Appraisal Institute, etc.).
Note: The National Association of REALTORS® Archives is a physical collection of historical materials. If you are looking for archived website content, visit the REALTOR.org Archive.
Research at the Archives
Research assistance is provided to NAR members and national, state and local association staff. Qualified researchers are also welcome to visit the NAR Archives by appointment only.
For research assistance or questions about the Archives, contact Archivist Frederik Heller at fheller@realtors.org or 800-874-6500 x8361.
Searching the Collection
Browse and search the Archives collection via the NAR Library Catalog. Use the Advanced Search option and select "NAR Archives," then enter your search terms.
Items in the Archives are generally not available for loan, but may be available in digital formats. Check the item record in the Library Catalog for links to the digitized version, if available, or contact the archivist to request to have an item digitized.
Videos
View the directory of tutorials, archival footage, guides to information resources, and other videos from the NAR Library & Archives.
Services for State and Local Associations
The NAR Archives provides reference and research for state and local association staff. For assistance with researching your association's history, finding an association's charter date, preparing for an anniversary, Board of Directors actions effecting your association, information on prominent members, articles, reports, and other information from the Association's past, contact the Archives at 800-874-6500 or by email.
Donating Material to the Archives
We welcome materials that tell the history of the Association. If your board has a booklet describing its founding, or if you have documents, photographs or audio/video recordings of historical value, please contact us. Our Archivist will gladly discuss your contributions and answer your questions before accepting them into NAR's collection.