Fair Housing at 50 - Expanding Access to Opportunity
Fair housing benefits everyone. On the 50th anniversary of the Fair Housing Act, the National Association of REALTORS® is reflecting on the progress made—and the work that still needs to be done—to end discrimination in housing markets and to promote housing opportunity for all. This framing paper and recommendations for action include a synthesis of recent research on housing and neighborhood opportunity, as well as analysis of results from REALTOR® focus groups on the topic of fair housing and housing discrimination. It is clear that the National Association of REALTORS®, local REALTOR® associations and REALTOR® members across the country have the opportunity and responsibility to increase efforts to support diversity and inclusivity in the real estate market.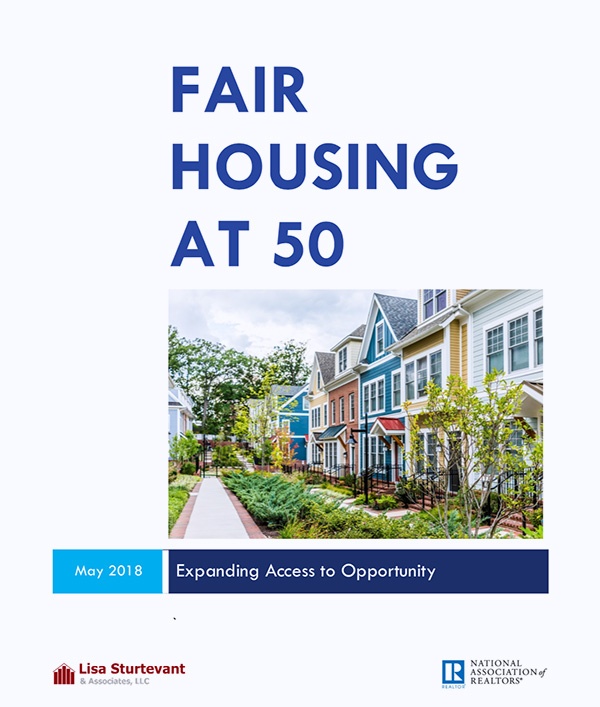 Download report (PDF: 1.18 MB)
---
Where people live has a direct impact on the quality of their health, education, and access to economic opportunities. Discriminatory housing practices create racial and economic segregation in communities that can lead to disparate outcomes in overall quality of life. Fair housing supports the development racially and economically diverse communities.
Health
Three important and inter-related aspects of residential housing that have links to health include the physical conditions within homes; conditions in the neighborhoods surrounding homes; and housing affordability, which not only shapes home and neighborhood conditions but also affects the overall ability of families to make healthy choices. Where someone lives affects both their physical and mental wellbeing. Fair housing has a role in fostering healthy people and neighborhoods.
Education
Housing factors that affect education include housing quality, residential stability, affordability, and neighborhood location. Often, children are assigned default public schools based on neighborhood locations. While other options may exist such as out-of-boundary public schools or private schools, a range of factors may prevent parents from choosing these options. The presence of affordable stable housing can support holistic community development, including new or improved schools, tutoring, and strong out-of-school-time programs. Communities with high concentrations of poverty and a history of disinvestment may have less access to the type of housing that can bring about positive change to local schools. Fair housing has a role in creating and expanding educational opportunities.
Economic Opportunity
Neighborhoods are becoming more segregated economically. The number of poor people living in neighborhoods with concentrated poverty doubled from 3 million in 2000 to 6 million in recent years. At the same time, high-income households have become more likely to live in largely high-income neighborhoods. Housing plays an important role in low-income households' ability to achieve and maintain the stability necessary to pursue their financial goals and escape poverty. The stability provided by affordable housing can help households secure and maintain employment, increase their savings, and take steps to become self-sufficient. Fair housing has a role in creating neighborhoods that are economically diverse.