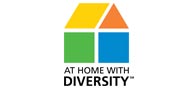 Who is it for?
The course work for the At Home with Diversity certification is designed to enable you to work successfully with and within a rapidly changing multicultural market. It will help you to learn diversity sensitivity, how to apply fair housing laws in your business, and ways to develop professional guidelines for working with people in the increasingly multicultural real estate market.
What You Gain
Knowledge of the subtleties of fair housing laws
Business etiquette for specific cultures
An edge in expanding your business to include international clientele
Credit towards the ABR®, CIPS, and PMN designations
Some states also give continuing education and GRI credit for this course
How to Earn It
Education
Exam
An exam is required for the online course, and is also required by some states for continuing education (CE) credit.
Application
No application form is required.
Cost
Application fee
Online version of the course
Classroom version of the course

Varies by course provider