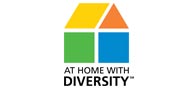 The At Home With Diversity curriculum encompasses topics of diversity, inclusion, fair housing, and risk reduction. Participants will learn practical skills and tools to expand business and effectively service all cultural groups.
Topics Covered in the Course
Cultural forecast for America
Globalization
Cultural demographics
Adapting for the future
The philosophy of inclusion
Cultural stereotypes
Sense of self and space
Where cultures vary
Creating comfort with differences
Projecting positive attitudes
Showing positive regard
Applying local demographics
Inclusion and fair housing laws
Avoiding discrimination
Predatory lending
Business planning
Course Goals
The course has two major goals:
Heighten awareness of and sensitivity to the social and cultural constituencies of local real estate markets. Participants will learn about the people who make up the local market, their values, customs, real estate needs, and expectations of real estate professionals.
Provide practical skills and tools to increase the professional's effectiveness in servicing all social groups. Specifically, the course helps participants develop skills in cross-cultural communication and strategic business planning.
Learning Objectives
Upon completion of this session, participants will be able to:
Examine cultural stereotypes, assumptions, and biases to increase awareness of such thoughts and attitudes, and learn how to value individual differences.
Explain that inclusion is the aim of diversity sensitivity, and how it will increase business and enhance risk management.
Communicate more effectively, and provide equal service to clients in their multicultural local markets.
Apply and practice One America Principles and fair housing laws.
Build and expand understanding of cultural differences.
Develop professional and sensitive guidelines for working with people of different cultures. Identify personal objectives and review potential strategies to create business plans that include diversity.
Research and interpret data to assess cultural attributes in their local markets.
Access and analyze U.S. demographic information to understand the impact of current trends on the real estate industry.
Modify marketing and selling strategies to attract and service multicultural and international clients in their local markets.
Develop a business plan, based on inclusion and diversity, to address specific needs of clients in the local multicultural and international markets.