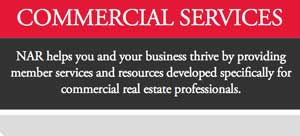 Download this handy guide with an overview of Commercial Services for NAR members. (PDF: 72 KB)
Get Connected to Your Commercial Member Services
Your NRDS membership number is the key to keeping connected to all your commercial real estate resources as well as NAR member benefits. Keep your membership record updated and make sure to select commercial real estate activity in one or more of the provided business fields. Go to the "NRDS" link on www.nar.realtor to update your record.
Commercial Connections
NAR's free quarterly commercial publication brings you the most recent news, research, public policy updates and insights from industry experts. Available in print and online. nar.realtor/commercial-connections
Issues & Actions
A summary whitepaper focused on NAR's advocacy efforts on regulations and legislation affecting commercial real estate property. nar.realtor/commercial/advocacy
Commercial Member Profile
Published annually, the commercial profile contains survey highlights on demographic, economic and business characteristics of NAR's commercial members. nar.realtor/reports/commercial-member-profile
Commercial Real Estate Outlook
A free quarterly report from NAR Research, the Commercial Real Estate Outlook provides sector reports on office, multifamily, retail, industrial, and hospitality properties. nar.realtor/reports/commercial-real-estate-market-outlook
Commercial Real Estate Market Quarterly Survey
An overview of market performance, sales and rental transactions, current economic challenges and future expectations. nar.realtor/reports/ commercial-real-estate-market-survey
Commercial Lending Survey
Conducted annually, this report provides an overview of lending conditions that impact commercial transactions nationally, based on responses from commercial real estate members. nar.realtor/reports/commercial-real-estate-lending-survey
Commercial Podcasts
This series engages top real estate professionals, economists and instructors to give you advice and the tools needed to get ahead in today's competitive commercial real estate industry. All it will cost you is about 15 minutes of your time. nar.realtor/podcasts/commercial-podcast
Education & Professional Development
NAR's commercial affiliate organizations provide educational programs which promote professionalism and offer real estate designations. Affiliates include: CCIM Institute (cciminstitute.com), the Institute for Real Estate Management (irem.org), REALTORS® Land Institute (rliland.com), the Society of Industrial and Office REALTORS® (sior.com) and The Counselors of Real Estate (cre.org).
REALTORS® Property Resource — Commercial
This free member benefit uses aggregated data from multiple sources to provide historical and current property views, nationwide property searches, market comparisons, advanced map search and customized user reports. blog.narrpr.com/commercial
Commercial at REALTORS® Conference & Expo
Featuring a commercial education session track, special commercial networking events and a "Commercial Block" at the Expo, the annual conference is the place for you to learn, network and develop. nar.realtor/Conference
Consumer Advertising Campaign
NAR's national advertising effort aims to persuade and educate the public about the value of property ownership and the REALTOR® brand, including messaging for consumers looking to sell or lease commercial property. nar.realtor/consumer-advertising-campaign
NAR Real Estate Topics
Free, one-stop resource packages on dozens of industry issues including 16+ guides focusing on commercial real estate topics. nar.realtor/topics
REALTOR Benefits® Program
Your official NAR member benefits resource, bringing you savings and special offers for REALTORS® from more than 30 carefully selected industry-leading companies, including Dell, DocuSign, FCA US LLC (Fiat Chrysler Automobiles), FedEx, OfficeMax, Placester®, REALTORS® Federal Credit Union, a Division of Northwest Federal Credit Union, and more. nar.realtor/RealtorBenefits
REALTOR® Library Resources
Virtual Library eBooks Collection – NAR members can check out audiobooks, videos and eBooks for use on your PC and portable devices. ebooks.nar realtor