Who: SentriLock is the official lockbox solution for NAR. As the leading electronic lockbox manufacturer and service provider, SentriLock operates in support of REALTORS® and the industry, offering an easy to use, reliable and secure system. Fundamental core values guide every action and decision to provide the best service and experience for your benefit.
What: The SentriLock Bluetooth® REALTOR® Lockbox is the most secure, durable, and versatile within the industry. With SentriLock's reliable, multiple key access method, including via mobile app or keycard, you will never miss a showing. See key benefits below.
How: Associations: Contact SentriLock here, phone 1-866-736-2322, or email inq@sentrilock.com.
Brokers/Agents: SentriLock contracts with local REALTOR® Associations or MLSs to provide a variety of products and services to help REALTORS® manage Lockboxes, including our newest Bluetooth® version. You can purchase Lockboxes through your local Association or MLS, who can then authorize you for a SentriCard®, and where available, our SentriSmart™ Mobile App, which allows you to manage your Lockbox inventory, generate secure One Day Codes for access to your Lockboxes, view access logs, and control your personal settings related to our Lockbox features.
Technical Support: Contact SentriLock here, phone 1-877-736-8745, or email support@sentrilock.com.
What's New
SentriSmart™Mobile App Agent Safety Feature
The SentriSmart™ Mobile App includes the Agent Safety Feature allowing REALTORS® to alert contacts in the case of an unexpected or potentially dangerous situation.
How it works: When using SentriSmart™ app to open a lockbox, the Agent Safety Feature will launch. This feature will automatically alert your designated emergency contacts when you do not or cannot confirm you are safe.
Be smart: read lockbox safety tips
Watch the set-up and how-to videos
View more how-to videos
The SentriLock System Advantage
The SentriLock Bluetooth® REALTOR® lockbox helps make showing and selling properties safe and efficient. This video highlights system advantages and newest features.
Key Benefits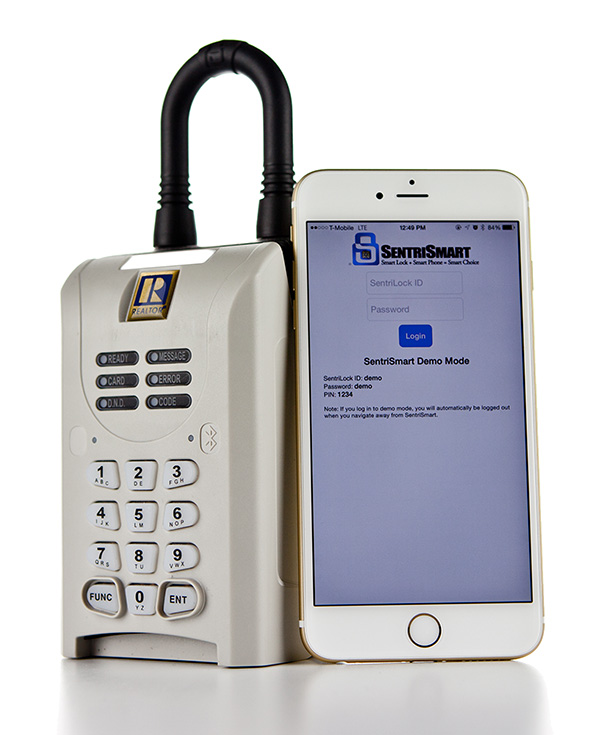 The Bluetooth® REALTOR® Lockbox Advantage
Bluetooth® compatible
100% assembled and supported in the USA
User-replaceable batteries
Holds keys, fobs, and cards
Compact, jam-free design
Above and beyond standard industry certifications
The SentriSmart™ Mobile App Advantage
Open lockboxes and releases shackles with smartphone or tablet
Receive instant showing notifications
The SentriCard® Advantage
Reliable alternative key
Custom membership ID card
Automate event attendance
Secure member voting
Automatic member surveys
Track open house visitors
One Day Code Advantage
Secure keyless access for:
Contractors
Appraisers
Out of area agents
Locked-out homeowners
Now Available: On the Spot Property Data
NAR members now have direct access to RPR® property data through SentriLock's SentriSmart app. Read the announcement.
Learn more at SentriLock.com.
Take a Tutorial
Core Values
Customer focused, innovative, passionate, resilient, intelligent, and trustworthy – SentriLock is a step ahead from other companies.

SentriLock Supports Boys & Girls Club
The spirit of volunteerism is strong at SentriLock. SentriLock has hosted Holiday Parties and special events including a "Back to School Supply Drive" to benefit their local Boys & Girls Club. Learn more.
---
Program availability and eligibility requirements may vary by partner program. See partner websites for details, terms and conditions.