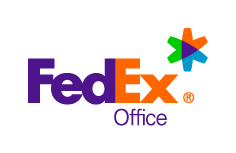 Create colorful and impactful marketing materials to help you get more listings, attract more buyers and sell more homes.
FedEx, a proud participant in NAR's REALTOR Benefits® Program, is pleased to offer REALTORS® a variety of special discounts on FedEx Office® services in addition to FedEx® shipping solutions. Enrollment is fast, easy and free, and there are no minimum requirements. Go to fedex.com/narsavings to enroll now or call 1-866-869-1171. Be sure to provide passcode LCRS8p01.
Your NAR Member Discounts

FedEx Office
Make a perfect pitch and increase your home sales.
Boost home sales with colorful proposals and presentations that beautifully showcase your homes. You can choose from a variety of finishing options to leave a lasting impression with buyers and sellers.
Quickly and conveniently print your colorful home brochures or property presentations at one of our more than 1,800 U.S. locations. Need your materials even faster? You can print from your computer, smartphone or tablet and have your printing project delivered to you anytime, anywhere.
Stay in touch with buyers and sellers and draw new ones with FedEx Office. Self-service printing stations make it easy to print colorful postcards and flyers so you can quickly grow your client list.
Save 20% on your core printing and copying. Save 10% on signs and banners and other services.
Program Enrollment
To apply for the FedEx Office and FedEx shipping discounts, go to fedex.com/narsavings and enter passcode LCRS8p01.
If you already have a FedEx account, FedEx will link the discounts to your existing account
If you do not have a FedEx account, FedEx will create one and link the discounts
If you already participate in the FedEx Advantage® shipping program, and you want to get the FedEx Office discounts as well, go to fedex.com/narsavings and enter passcode LCRS8p01. Uncheck the FedEx Express® and FedEx Ground® shipping options when you begin the enrollment process.
Once approved, you will receive your shipping and FedEx Office account numbers via two separate emails within 7 business days. To expedite the application process, please call 1-866-869-1171 and mention passcode LCRS8p01 and your NRDS ID number.
Once enrolled, simply present your FedEx account number in-store or online to take advantage of these savings.
Resources
FedEx has valuable information to help you manage and grow your business. Bookmark this page and return for updates regularly.
Tips on Using Marketing Materials to Attract New Customers
Get More Done on the Go With the FedEx Office Mobile App
---
Program availability and eligibility requirements may vary by partner program. See partner websites for details, terms and conditions.