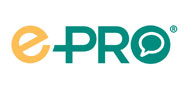 Who is it for?
The e-PRO® certification program teaches members how to effectively use real estate technology to grow their business and make it more efficient. Applying advanced technologies and social media strategies to your business plan expands your capabilities, increases your reach, and builds trust with your customers.
What You Gain
Use of e-PRO® logo and name
Differentiation at nar.realtor and in the White Pages at Realtor.com®
Customizable e-PRO® marketing materials
e-PRO® professional online referral community
Searchable and modifiable e-PRO® online profile
Free e-PRO® webinars
Downloadable e-PRO® certificate
Increased industry networking opportunities
e-PRO® lapel pin available for purchase through the online REALTOR® Team Store
How to Earn It
Education
Exam
Pass the exam at the end of the e-PRO® course with an 75% or better score.
Professional Affiliation
Member in good standing of NAR
OR
Member in good standing of an NAR cooperating international association
Cost
The cost of the classroom version of day one of the course varies by course provider.
Day two online course: $129
Two-day online course bundle: $219
One-time application fee $110.50
For more information, visit the e-PRO® website.
*Course discount available through the REALTOR Benefits® Program.