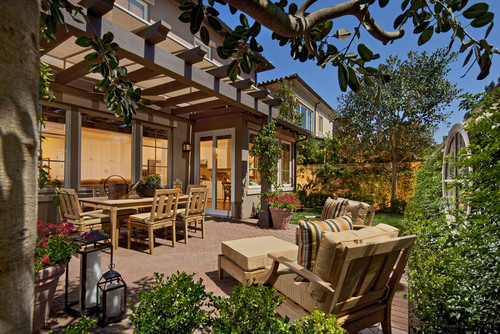 A home's inviting outdoor space may be just enough to get a home buyer to fall in love. The American Society of Landscape Architects recently surveyed nearly 180 landscape architects asking them to rate the expected popularity for 2014 of a variety of residential outdoor elements.
Across all categories, respondents rated the following as "somewhat" or "very in-demand" for 2014: lighting, seating/dining areas; fire pits/fireplaces; grills; installed seating, such as benches, seatwalls, ledges, steps, and boulders.
"Home owners know that designed landscapes add value to their lives as well as their property values," says Nancy Somerville, ASLA executive vice president and CEO. "They're interested in livable, open spaces that are both stylish and earth friendly."
Here's a breakdown of how home owners are sprucing up their outdoor spaces, and some of the top trends that landscape architects pinpointed for 2014 in each category.
Top Outdoor Design Elements
1. Gardens and landscaped spaces
2. Outdoor living spaces (kitchens, entertainment spaces)
3. Outdoor recreation amenities (pools, spas, tennis courts)
4. Sustainable design practices
Top Outdoor Living Features
1. Lighting
2. Seating/dining areas
3. Fire pits/fireplaces
4. Grills
Top Outdoor Recreation Amenities
1. Decorative water elements, such as ornamental pools, splash pools, waterfalls, grottos, water runnels, or bubblers
2. Spa features (hot tub, Jacuzzi, whirlpools, indoor/outdoor sauna)
3. Swimming pools
4. Sports/recreational spaces (tennis courts, bocce ball, etc.)
Top Landscape/Garden Elements
1. Low maintenance landscapes
2. Native plants
3. Fountains/ornamental water features
4. Food/vegetable gardens (including orchards/vineyards, etc.
Top Sustainable Design Elements
1. Native/adapted drought-tolerant plants
2. Drip/water-efficient irrigation
3. Permeable paving
4. Reduced lawn
Top Outdoor Structures
1. Terraces/patios/decks
2. Fencing (includes gates)
3. Pergolas
4. Decks