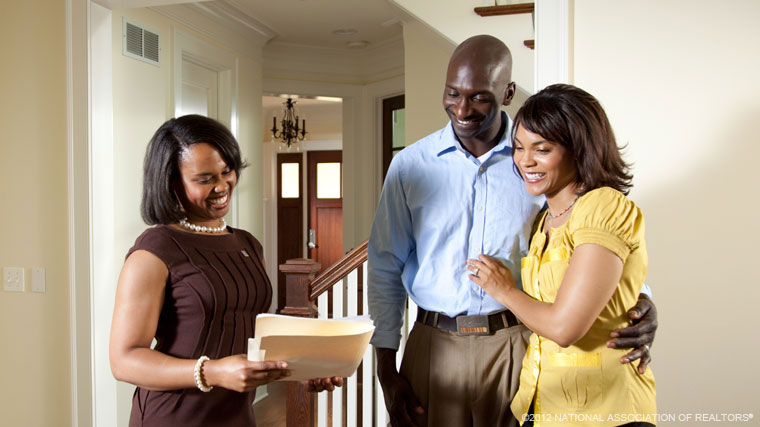 Consumers recognize the value a REALTOR® brings to the transaction.
More than 9 out of 10 consumers agree that:
REALTORS® are a good source on how to prepare a home for sale
REALTORS® are well-informed about housing conditions in your area
REALTORS® make selling a home easier
REALTORS® can more effectively promote the sale of a home than sellers on their own
Source: NAR 2013 Image and Advertising Tracking Study
And in a 2013 telephone survey, MEG Research found that consumers who bought or sold a home in 2013 were much more likely to view REALTORS® as "very professional" (76%) compared with real estate agents who are not REALTORS® (41%).
Designations and Certifications
A select group of REALTORS® have chosen to "sharpen the edge" by taking specialized education course to earn one of the many designations and certifications offered by NAR and its affiliated organizations. Members who take their education to the next level typically find their income follows suit: REALTORS® without a designation have a median income of $33,500 while those with at least one designation have a median income of $61,100, according to the 2013 NAR Member Profile.

NAR's affiliated organizations provide not only education but also valuable networking and business opportunities. For example, did you know:
Certified Property Managers in the U.S. manage nearly $2 trillion in real estate property assets, including more than 40 percent of all U.S. conventional apartments and nearly 30 percent of U.S. office buildings.
Among Certified Commercial Investment Member (CCIM) designees and candidates, the median annual transaction volume in 2012 was $7.5 million.
Certified Residential Specialists are a network of highly skilled practitioners with 57 chapters around the country; CRS designees earn a median income of $100,000.
Learn more about the designations and certifications offered by NAR and its affiliates.
Even if you're not ready to take the plunge into specialty education, you'll benefit from membership in the REALTOR® organization.
What is the REALTOR® advantage?
Through their association membership, REALTORS® have access to member discounts, business resources, and professional development opportunities.
And membership in the REALTOR® organization means you're part of one of the most effective advocacy organizations in the country, looking out for your business interests and protecting the interests and rights of the nation's 75 million property owners.
To learn even more about how NAR can help you succeed in business, check out "65 Ways NAR is Indispensable to Your Business."

Interested in joining the REALTOR® family?
We'd love to have you! Learn how to join here.

Want to see more stats about REALTORS®?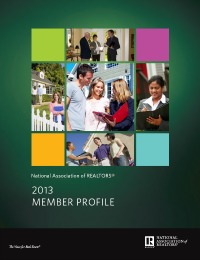 2013 NAR Member Profile Report
Read the the 2013 Member Profile Report highlights to to benchmark your performance against that of the "typical" REALTOR®: earnings, years in the business, education, and more!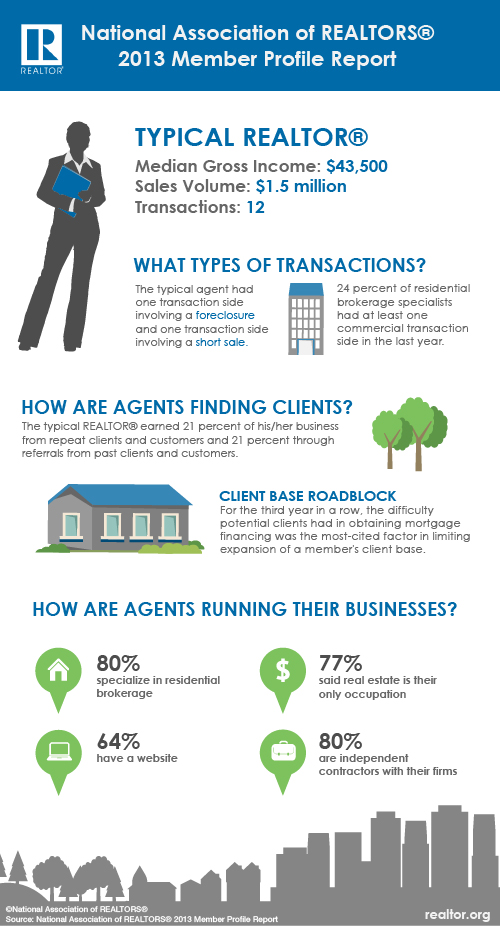 2013 NAR Member Profile Report Infographic
Just want a shapshot? Check out the 2013 Member Profile Report infographic (click to enlarge).