Get Smart About Smart Homes and Your Safety
Free Safety Webinar
September 14, 2016
Instructor: Tara Christianson
Being safe starts at home, and by now we're familiar with most of the usual safety measures homeowners take - deadbolts, window locks, even basic security systems. But, in this brave new world of technology, what about smart home devices? What do you, as REALTORS®, need to know about these devices to best inform and protect your clients? What do you need to know for yourself to ensure your own safety? You may learn some things that open your eyes, and you'll definitely walk away with knowledge you can start using immediately.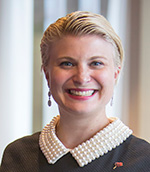 Tara Christianson started as a real estate agent in the Northern Virginia/Washington D.C. area in 2006. Since then, she's shifted her focus to technology and training real estate agents in the United States, Australia and New Zealand, and is an internationally-known speaker, online strategist, trainer, and copywriter. One of her passions is keeping real estate agents safe in the real and online world through the use of technology. She is currently Century 21 Redwood Realty's Technology & Training Director and the Editor for Happy Grasshopper, while writing content and consulting for organizations such as NAR and the Real Estate Institute of Queensland.
Archived Webinars:
Data Security and Cyber Safety
Open Houses, Foreclosures, Vacant Houses
Personal Safety
Safety Webinar Summit, Sept. 2015
Working With Clients
---
For questions regarding NAR's REALTOR® Safety initiative and resources, email safety@realtors.org.