Overview
Private transfer fees, also known as reconveyance fees, recovery fees, capital recovery fees, or resale fees, is a charge that is required to be paid to a developer, HOA, or individual at closing each time a property is sold. The transfer fee is attached to the property as a covenant and usually runs for a set period, often 20 or 99 years. While developers say it is a way to spread improvement costs over a longer period, opponents believe private transfer fees decrease affordability, increase potential liability, and provide no benefit to property purchasers of the community in which the property is located. In 2012, the Federal Housing Finance Agency (FHFA) issued a rule prohibiting the fees on mortgages handled by Fannie Mae, Freddie Mac, and the Federal Home Loan Banks. As of 2014, 43 states explicitly prohibit private transfer fees in most situations.
Private transfer fees are different from impact fees, or development fees, which are expenditures that developers are required to make as a precondition to approval of their projects. Impact fees are generally used to finance roads, schools, affordable housing, transit systems, and other projects and services in municipalities throughout the United States. The fees are frequently passed on by developers to purchasers in the price of a new property and, therefore, increase the cost of housing and decrease the profitability of a particular project.
References
We've already done the research for you.
Before you search elsewhere, take advantage of the research we've already done for you. Formerly known as Field Guides, References tabs contain links to external articles, titles from the NAR Library eBooks collection, websites, statistics, and other material to provide a comprehensive overview of perspectives on each topic. EBSCO articles (E) are available only to NAR members and require a password.
---
2012 National Impact Fee​ Survey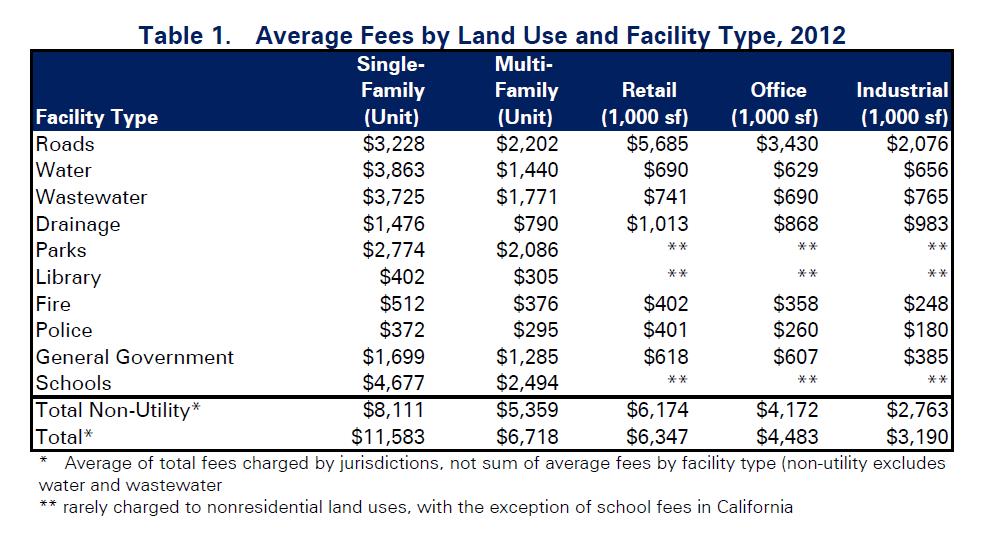 Image Source: 2012 National Impact Fee Survey, (Duncan Associates)
According to the 2012 National Impact Fee Survey by Duncan Associates, average total fees charged by jurisdictions surveyed in 2012 are $11,583 for single-family units. Excluding utility fees, the average total fee is $8,111. School impact fees, although not charged in many states, are the highest, followed by water, wastewater, road, and park impact fees. Police, fire and library fees, on the other hand, tend to be relatively low. General government facility impact fees and stormwater drainage impact fees are relatively uncommonly charged -- general government fees are not authorized in most states, and drainage fees are difficult to implement because they generally must be based on a comprehensive drainage master plan.
State Issue Tracker
REALTORS® can keep up with the latest state legislative activity surrounding private transfer and impact fees by accessing NAR's State Issue Tracker. This online database is available free to members and tracks legislative and regulatory actions at the state level on several issue of importance to REALTORS® and the real estate industry.
FHFA's Ban on Private Transfer Fees
Fannie Mae Issues Guidance on Private Transfer Fee Covenants, (National Association of REALTORS®, June 22, 2012)
Ban on Private Transfer Fees a Big Win for Buyers, (REALTOR® Magazine, Mar. 16, 2012)
FHFA Publishes Final Rule on Private Transfer Fees, (Fed. Housing Finance Agency, Mar. 15, 2012)
Impact Fe​e Basics
Enterprising Government: The Political and Financial Effects of Fee-Supported Municipal Services, (Public Adminstration Quarterly, Summer 2014) E
Real Estate 'Value Capture' Studied for Road Funding, (Finance and Commerce, Mar. 18, 2014) E
State Impact Fee Enabling Acts, (Clancy Mullen, Duncan Associates, impactfees.com, Jan. 21, 2012)
Impact Fees: Crunching the Numbers, (Tierra Grande, Oct. 2007)
Impact Fees: Paying for Progress, (Tierra Grande, July 2007)
The Impacts of Impact Fees
Austin Looking at New Way to Charge Developers for Road Projects, (McClatchy - Tribune Business News, Aug. 8, 2015) E
Impact on the Wallet, (Daily Commercial, Aug. 1, 2015)
Promoting Sustainable Land Development Patterns Through Impact Fee Programs, (Cityscape, 2013) E
The Effect of Development Impact Fees on Housing Values, (Journal of Housing Research, 2009) E
Research Rep​orts
2012 National Impact Fee Survey, (Austin, TX: Duncan Associates, Aug. 20, 2012) — This report summarizes the results of a detailed survey of impact fees that individual jurisdictions across the country are charging. The results of the survey reveal where impact fees are most common, how much jurisdictions in various states are charging, and the types of facilities for which fees are being charged.
Proportionate-Share Impact Fees: Supplement to the NAHB Impact Fee Handbook, 2008 Version, (National Association of Home Builders, Oct. 2009) — Evidence is presented to convince practitioners that impact fees graduated by unit size are better than flat fees
White Paper Report: Private Transfer Fees—Potential For Trouble, Problems for the Future?, (National Association of REALTORS®, May 2008) — Member login required
Impact Fee Handbook, (National Association of Home Builders, 2008) — This Handbook was developed to provide homebuilders and other parties interested in impact fees a resource for exploring critical issues and to provide strategies for achieving balanced infrastructure financing solutions
Impact Fees & Housing Affordability: A Guide for Practitioners, (U.S. Department of Housing and Urban Development, June 2008) — This Guidebook includes information that is useful to local jurisdictions that are either in the process of implementing impact fees, or considering revisions to current impact fee programs. It includes information on history, alternative financing models, state legislation, impact fee design, and case studies
Policy Guide on Impact Fees, (American Planning Association, 1997) — Policy guide from the APA in which eight policies and several standards are discussed
Websites & Other Resources
Infrastructure Finance & Development Fees, (National Association of Home Builders) — Visit this site for information on impact fees, infrastructure finance alternatives,impact fees & housing affordability, and impact fee legislation & case law
ImpactFees, — Visit this site for state and local information, case law, publications, surveys, FAQs, and the latest news related to impact fees and infrastructure financing
Development Impact Fees, (Multi-State Issue Tracker, National Association of REALTORS®) — Please click on "Access the State Issues Tracker," then click on "Development Impact Fees" on the left for a summary of development impact fee legislation trends by state
eBooks & Ot​her Resources
eBoo​ks
Buy, Rent, and Sell: How to Profit by Investing in Residential Real Estate (eBook)
The Complete Guide to Zoning: How Real Estate Owners and Developers Can Create and Preserve Property Value (eBook)
A Guide to Impact Fees and Housing Affordability (Kindle, Audiobook, eBook)
Home Building Contractor Secrets: How to Buy Wholesale and Save $40,000 (or More) on the Construction of Your Dream Home (eBook)
Sustainable Residential Development: Planning and Design for Green Neighborhoods (eBook)
Books, Videos, Research Reports & More
The resources below are available for loan through Information Services. Up to three books, tapes, CDs and/or DVDs can be borrowed for 30 days from the Library for a nominal fee of $10. Call Information Services at 800-874-6500 for assistance.
Bargaining for development: A handbook on development agreements, annexation agreements, land development conditions, vested rights, and the provision of public facilities, (Washington, D.C.: Environmental Law Institute, 2003)
The Guide to Real Estate: Principles and Practices, (Cincinnati, OH: South-Western/Thomson Learning, 2002) HD 1375 M36
---
Have an idea for a real estate topic? Send us your suggestions.
The inclusion of links on this page does not imply endorsement by the National Association of REALTORS®. NAR makes no representations about whether the content of any external sites which may be linked in this page complies with state or federal laws or regulations or with applicable NAR policies. These links are provided for your convenience only and you rely on them at your own risk.