Since the pandemic began, homeowners have been eager to spruce up their spaces. Even recently, homeowners are spending more on home improvement projects than they have—due partially to higher building material costs, but also to a desire to widen the scope of their projects.
Kitchens and bathrooms continue to be the most popular areas to renovate, according to the 2022 U.S. Houzz & Home Study. The median spend in 2021 on a kitchen remodel was $15,000, a 25% increase from 2020. A guest bathroom expenditure costs a median of $4,400, a 38% year-over-year increase, according to Houzz's report.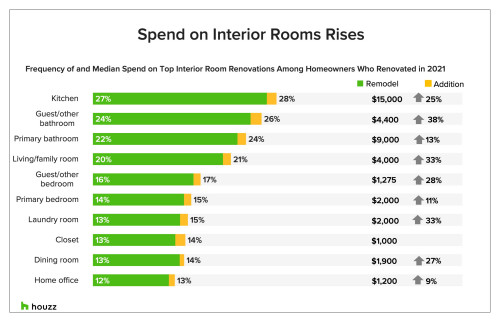 According to the Houzz survey, among remodeling homeowners, paint is by far the most common purchase. Sixty-five percent said their home renovation included paint, followed by new light fixtures (51%), faucets and showerheads (46%), and lawn and garden supplies (45%).