1. Tax Policies
Generally speaking, countries see foreign investment in real estate as a positive development and prefer to remove, rather than erect, barriers to ownership. However, when demand soars and prices are driven so high that local buyers can no longer afford to live in their communities, the political winds may suddenly shift.
That's what happened in London in 2015, when the British government closed a loophole in its tax code requiring UK homeowners from overseas to pay a capital-gains tax when their property is sold. The move followed another decision to increase the stamp duty on properties priced at or above £1 million. The initial effect of the tax changes appeared to be a slowing, rather than a reversal, of London housing price increases.
Then last year, Vancouver took the surprising step of imposing a 15 percent surcharge on foreign buyers of Vancouver properties, where home prices were almost double Canada's national average. In this case, the effect was immediate and dramatic.
In the first month of the new tax, participation by foreign nationals virtually dried up. Vancouver home sales fell 26 percent from a year earlier, while the average price of single family homes fell to the lowest price levels since September 2015.
Where did these buyers go? Some shifted their sites to Toronto, while others explored options south of the border. The impact was clearly apparent in data compiled by realtor.com/international, where Bellingham, WA suddenly surged to the top of the list of U.S. property searches conducted by international visitors to the site during October 2016. (See International Traffic Propensity, right)
Note: To view similar traffic data, updated monthly, visit realtor.org/articles/where-are-global-buyers-searching-in-the-united-states
2. Oil Prices
In 2014, the Organization of the Petroleum Exporting Countries (OPEC) began flooding the global marketplace with oil, driving the price of a barrel of crude oil from $107.5 in June 2014 down to $45 in January 2015. The glut has been particularly hard on Venezuela, which has the world's largest oil reserves and relies on it for virtually all its export income.
Throughout 2015, Venezuelan President Nicolas Maduro pleaded with OPEC members to stabilize oil prices, warning of imminent economic collapse in his country. Last year alone, Venezuela witnessed over 400 percent inflation and an unprecedented monthly collapse, in November, in its currency2. (See chart, below.)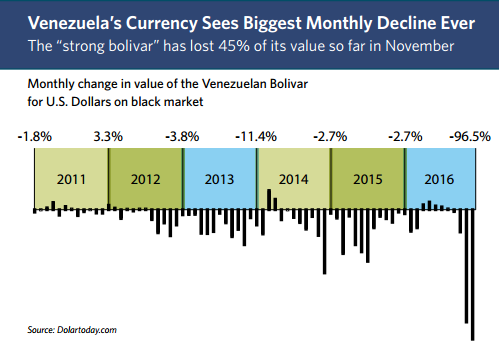 Finally, in December 2016, members of OPEC and some of its oil-producing rivals (including Russia and Oman) reached their first agreement since 2001 to jointly reduce output. Prices immediately gained ground on the news, but skeptics think it will be difficult for all parties to stick to their word. In any case, the historic agreement is welcome news for Venezuelans, who have been facing severe shortages of food, medicine, and other basic necessities.
3. Trade Agreements
Perhaps one of the biggest topics facing the global marketplace is the issue of trade, especially in light of political developments in the U.S. and Europe.
Both Clinton and Trump espoused anti-trade rhetoric during the U.S. presidential campaign, although Trump was decidedly more critical, threatening to renegotiate every U.S. trade deal. The North American Free Trade Agreement (NAFTA) took the brunt of the criticism, but it is just one of 14 free trade agreements the U.S. has signed with 20 countries. The United States' largest trade partners are Canada, China, and Mexico.
Free trade agreements are intended to reduce barriers and create a more stable and transparent trading and investment environment. It's a cornerstone of the European Union and helps smaller countries gain access to larger trading partners.
It will be particularly interesting to see how trade leadership emerges in Asia, where two rival trade pacts have been vying for acceptance. President Obama championed the Trans-Pacific Partnership (TPP), which excludes China, while President Xi Jinping promoted the Regional Comprehensive Economic Partnership (RCEP), which excludes the United States. If President Trump concedes leadership in the region, China will presumably fill the void.
Assuming global markets remain open to free trade, one vital trade route—the Panama
Canal—will be fully capable of handling more cargo traffic since the completion of a major expansion project in 2016.
The expansion doubled the waterway's capacity by deepening both entrances, dredging existing channels, adding a new Pacific access channel, as well as a third set of locks (a lane for larger ships), allowing the passage of vessels up to 13,000/14,000 TEUs3 versus 5,000 TEUs for pre-expansion cargo ships.
More than two years behind schedule and one billion dollars over budget, the Panama Canal expansion opened during difficult financial times for the shipping industry. Still, early anecdotal evidence suggests the expansion is bringing more and bigger ships into the Gulf of Mexico and other east coast ports in the U.S., only four of which can currently handle vessels in the 10,000+ TEU range (although several ports are stepping up efforts to upgrade their facilities).
Wherever trade improves, there is a commensurate increase in foreign nationals needing residences and facilities to support more shipping activity. It remains to be seen, however, whether greater physical capacity for imports/exports will be met with non-restrictive trade policy decisions.
4. Political Upheaval
Whenever one country experiences political unrest, there is always the risk of a domino effect spilling into neighboring countries or across the global stage. At the start of 2017, it's Syria's President Assad who continues to preside over what is easily the worst of all political situations.
The Syrian Civil War, which began in 2011, now involves multiple military forces from within and outside of the Middle East. It has displaced roughly 11 million people (half the county's population), creating a humanitarian crisis for the refugees, a potential crisis for their host countries, and a political crisis over how to resolve the situation. The rise of the Islamic State both intensified and expanded the conflict, easily the most deadly war of the 21st century, into Iraq and beyond.
Other political disputes, such as the impeachments of Brazil's President Dilma Rousseff and South Korea's President Park Geun-hye, also bear watching. On the Korean peninsula, in particular, experts express concern that destabilization of South Korea's political system might invite North Korea to engage in new military provocations.