Field Guide to International Referrals
(Updated August 2016)
With NAR Global, REALTORS® can diversify their clientele. By completing the Certified International Property Specialist (CIPS) designation, the At Home with Diversity (AHWD) certification, or the Resort and Second Home Property Specialist (RSPS) certification, our members gain the global perspective to fully serve clients here and abroad. With this global perspective in mind, this Field Guide to International Referrals provides information on international legalities, education, best practices, etiquette, research, and more. Also check this guide for current news on the international real estate market, as well as a sample international referral form created by NAR's CIPS group. (S. Hogan, Manager, Library & Archives)
---
E - EBSCO articles available for NAR members only. Password can be found on the EBSCO Access Information page.
---
International Home Buying Activity
International sales were approximately 8 percent of the total U.S. Existing Homes Sales (EHS) market of $1.3 trillion for the 2014/15 time period. The number of sales transactions was approximately 4 percent of total Existing Home Sales. Of total international transactions, approximately $54.4 billion was attributed to non-resident foreigners, and approximately $49.4 billion was attributed to resident foreigners.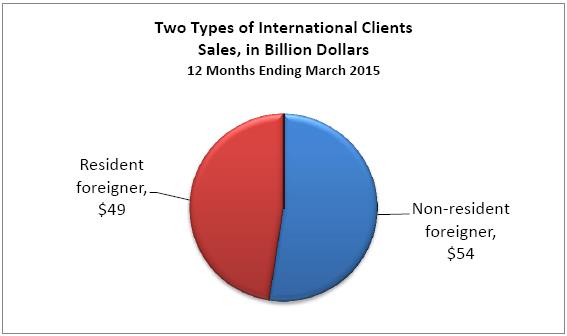 Read more from NAR's 2015 Profile of International Home Buying Activity.
Forms, Laws, & Education
Forms
Referral Contract Forms are a useful new tool for REALTORS® to define the terms and conditions of a real estate referral.
Certifications & Designations
At Home with Diversity® Certification, (National Association of REALTORS®)
At Home With Diversity® is an educational experience designed to present a picture of the changing face of the real estate industry. More importantly, the class teaches REALTORS® how to work effectively with—and within—a rapidly changing multicultural market.
Certified International Property Specialist Designation (CIPS), (National Association of REALTORS®)
Provides introductory and advanced training for real estate professionals and administrators, along with business development/networking tools, resources and events. Access course descriptions, schedule, benefits and other information on CIPS from the NAR Global home page.
Resort Area & Second Home Certification, (National Association of REALTORS®)
The Resort & Second-Home Property Specialist (RSPS) is an education-based certification program. Launched in 2006, the RSPS Certification was created by the National Association of REALTORS® to better serve the growing second-home and resort real estate market and now has over 1,300 elite members.
Legalities & Interstate License Laws
Rules and Laws by State (The Association of Real Estate License Law Officials)
Interstate Land Sales Full Disclosure Act (U.S. Department of Housing and Urban Development)
Educational Tips & Tools
Global Perspectives in Real Estate, (National Association of REALTORS®)
NAR Global's bi-monthly newsletter filled with valuable information regarding global business development for REALTORS®.
Market-to-Market program, (National Association of REALTORS®)
Designed to bring the global market to you, the Market-to-Market Program helps REALTORS® who are looking to expand their market globally. Whether REALTORS® are working with immigrant buyers or foreign investors in their local markets, or with Americans looking to purchase abroad, the Market-to-Market program offers the information and tools to connect you with the world.
Organizations, Best Practices, & Etiquette
International Organizations
Association of Foreign Investors in Real Estate (AFIRE)
"As the official voice of the foreign real estate industry in the United States and the pre-eminent global real estate organization, the Association of Foreign Investors in Real Estate (AFIRE) represents the interests of nearly 200 investing organizations from 21 different countries" (Source: AFIRE).
International Real Property Foundation (IRPF)
Established in 1992, IRPF has delivered technical assistance in 27 countries over four continents and helped create 84 self-sustaining real estate associations representing over 170,000 practitioners (Source: IRPF).
Best Practices
NAR Global, (National Association of REALTORS®)
Best general resource for information on NAR international programs and services
Global Alliances, (National Association of REALTORS®)
NAR partners with nearly 80 associations in 60 countries—all of whose members subscribe to a code of conduct similar to the NAR Code of Ethics. Review the full list of foreign partners, NAR's volunteer liaisons to these groups, and/or access the association directly.
Diversity Program, (National Association of REALTORS®)
NAR's Equal Opportunity and Cultural Diversity program offers education, grants, partnerships, and events for REALTORS®. This section provides information and tools to help you connect with diverse groups and create business opportunities. Learn about the business case for diversity and inclusiveness, discover leadership opportunities, and find out about fair housing and equal opportunity.
Diversity Toolkit for REALTOR® Associations, (National Association of REALTORS®)
This toolkit is an essential resource for state and local REALTOR® associations seeking to understand, reach out to, partner with, and provide services to consumers in today's increasingly diverse communities. The Diversity toolkit has helped associations of all sizes join the National Association of REALTORS® in its commitment to diversifying its membership and welcoming professionals of different cultural backgrounds into its leadership ranks.
Diversity Programs for Associations, (REALTOR® Action Center)
Information on NAR's three-part program, Leading With Diversity, designed to help associations achieve their diversity goals.
International Business Etiquette
International Business Etiquette, Manners, & Culture guide, (International-Business-Etiquette)
This multi-country guide provides links to pages on several countries and geographic regions, with country basics, customs, and etiquette tips.
International Business Meetings & Gift Giving, (International Business Center)
Article discusses country-specific culture and customs, and provides a list of countries in which gifts are expected.
World Business Culture, (WorldBusinessCulture)
Culture and etiquette information for 39 countries on several topics, including business structures, management style, meetings, team working, communication styles, women in business, dress code, and successful entertaining.
Research & Demographics
International Buyer Activity, by State
International purchasers have bought property in most states, but there is significant concentration of purchases. As in previous years, the top four states in terms of number of foreign buyers continued to be Florida, California, Texas, and Arizona in 2015. These states accounted for 50 percent of total reported international sales. New Jersey, New York, Illinois, Washington, Michigan, and Hawaii were also major destinations in the 12 month period ended March 2015. Washington, which has experienced strong technology-driven job growth, is attracting international clients.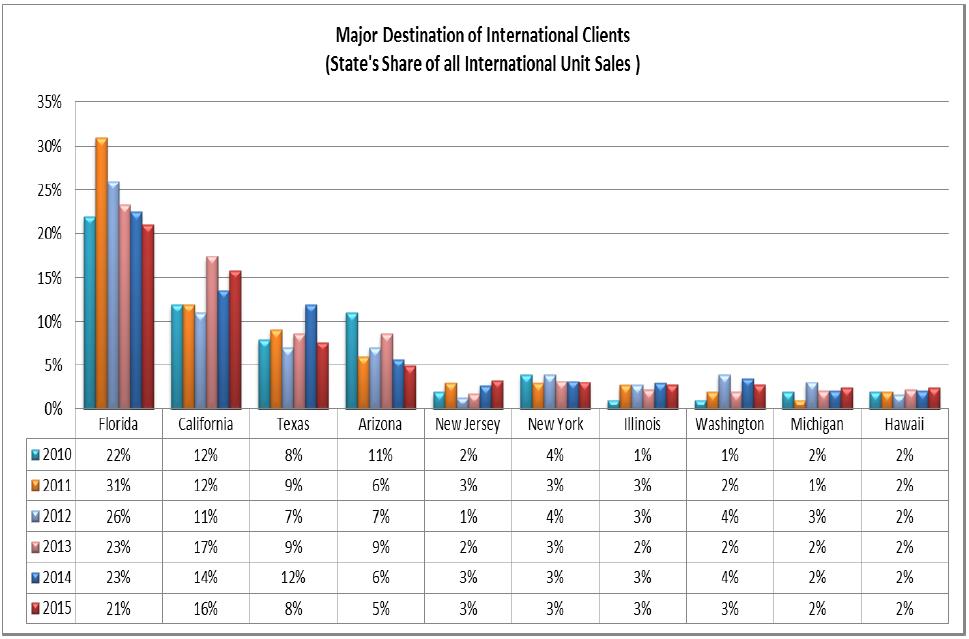 Read more from NAR's 2015 Profile of International Home Buying Activity.
International Research
Profile of International Home Buying Activity 2015, (National Association of REALTORS®, 2015)
We live in a global marketplace. While all real estate is local, not all property buyers are. A significant share of home purchases are made by people whose primary residence is outside of the U.S. Find out which are the top five countries of origin for foreign buyers of U.S. homes, and how these buyers are using the services of REALTORS®. This report is based on a survey of REALTORS® about Existing Home Sales to resident and non-resident foreigners over the time period April 2014 through March 2015.
International Real Estate Research, (National Association of REALTORS®)
See NAR's International Real Estate Research landing page for all NAR international research.
State-by-State International Business Reports, (National Association of REALTORS®)
These downloadable reports look at international business activity by state, including the number of foreigners arriving from various countries, homeownership rates, and top exports.
International Demographics
BBC Country Profiles, (BBC News)
Country profiles provide basics, leadership, and media information on most geographic regions.
Country Background Notes, (U.S. Department of State)
Background Notes include facts about the land, people, history, government, political conditions, economy, and foreign relations of independent states, some dependencies, and areas of special sovereignty. The Background Notes are updated/revised by the Office of Electronic Information and Publications of the Bureau of Public Affairs as they are received from the Department's regional bureaus.
Global Property Guide
Rank countries by investment rating, and compare countries on 6 financial dimensions (buying price per square meter, gross rental yield, rental income tax, roundtrip cost, capital gains tax, buy-to-let income rating).
Global Real Estate Project, (University of Denver)
Real property issues, real estate trends, and cultural issues by country. Compare countries in terms of real property issues, real estate trends, and CIA World Fact Book data.
U.S. Demographics
City-Data.com
Extensive data on all U.S. cities, even for many towns with populations under 1,000. Data includes information on residents (race, income, ancestries, education, employment, foreign-born residents, place of birth, etc.), graphs of latest real estate prices and sales trends, recent home sales, and other data on mortgages, crime, religions, businesses, and more. If researching a wide range of general stats on a specific city, zip code, or neighborhood, this is a site to consult.
Demographic Data, (Bureau of Labor Statistics)
BLS statistics for the following demographic categories: labor force, geographic profile, consumer spending, injuries and illness, longitudinal studies, and time use.
State & County QuickFacts, (U.S. Census Bureau)
Provides drill-down demographic details with data for all states, counties, and for cities and towns with more than 25,000 people. Some profiles are built on 2000 Census data, but numerous markets have been updated since then. The recently-collected 2010 Census data will soon ripple through the entire database.
eBooks & Other Resources
eBooks.realtor.org
Visit NAR's eBooks site for more International eBooks.
Business Across Cultures (Adobe eReader)
Global Color: Clues and Taboos (Adobe eReader)
The Global Etiquette Guide to Africa and the Middle East (Kindle, Adobe eReader)
International Real Estate Handbook: Acquisition, Ownership and Sale of Real Estate Residence, Tax and Inheritance Law (Adobe eReader)
Multicultural Manners: Essential Rules of Etiquette for the 21st Century (Kindle, Adobe eReader)
Understanding the Global Market (Kindle, Adobe eReader, OverDrive READ)
Books, Videos, Research Reports & More
The resources below are available for loan through Information Services. Up to three books, tapes, CDs and/or DVDs can be borrowed for 30 days from the Library for a nominal fee of $10. Call Information Services at 800-874-6500 for assistance.
Find more books on international business in NAR's library catalog.
International Dimensions of Organizational Behavior, (Thomson/South-Western, 2008).
International Real Estate: A Comparative Approach, (Dearborn Real Estate Education, 2004).
Investing in International Real Estate, (Quorum Books, 2001).
Kiss, Bow, or Shake Hands: How to Do Business in Sixty Countries, (B. Adams, 1994).
Success with International Customers: A Complete Guide for Real Estate Agents (Ecademy Press, 2009).
Journals
Find more International journals in NAR's library catalog.
Global Business & Finance Review (2014 – present) E
International Business & Economics Research Journal (2010 – present) E
International Tax Journal (1999 – present) E
Journal of Global Business Issues (2007 – present) E
Journal of International Business & Economics (2008 – present) E
Field Guides & More
These field guides and other resources in the Virtual Library may also be of interest:
Field Guides are one-stop resource packages on dozens of subjects of interest to REALTORS®. On each page you'll find links to articles, books, web sites, statistics, and other material on each subject.
Field Guide to REALTORS® and the Global Marketplace
Many successful real estate professionals have discovered the benefits and values of the world of international real estate. If you are thinking about going global or have already ventured into this arena, this Field Guide will provide you with tips for locating and working with international clients, etiquette, cross-cultural business guides and international networking opportunities.
Field Guide to Business Etiquette When Working With Other Cultures
Want to make a good first impression with your international clients? Should you commence the relationship with a handshake, polite bow, or a simple nod? What steps do you need to take to go the extra mile with an international or foreign client? This Updated Field Guide will assist you in building successful business relationships with individuals from cultures far and wide.
Field Guide to Foreign Investment Trends in the U.S.
Despite potential risks, cross-border investment is expected to accelerate as domestic investors seek high returns abroad and foreign investors take advantage of a weakened dollar. The steadily rising influx of capital into U.S. markets and limited supply of product have altered the way the game is played. This Field Guide offers information and sources for those considering foreign investment opportunities.
Field Guide to Doing Business With Brazil
According to an article in Forbes some 19 'millionaires' are created in Brazil every day. With the 2016 Rio Olympics on the horizon, if Brail isn't currently on your radar it certainly should be. Find out more in this updated Field Guide to Doing Business with Brazil.
Field Guide to Vacation, Resort, and Second Homes
The purchase of a vacation home is largely a lifestyle choice, often with the expectation that the home will become the buyer's primary residence in the future. In 2009, one in ten home buyers purchased a vacation home. Here you will find information on the activity in the vacation/second home market as well as tips on working with the vacation/second home buyer.