Field Guide to Buying vs. Renting
(Updated July 2016)
Is it better to buy or rent? Whether renting is better than buying depends on many factors. The information listed here will assist you in helping answer this question. Included are statistics and studies on home owners and renters as well as financing options and tips. (M. Glick, Senior Information Specialist)
---
E - EBSCO articles available for NAR members only. Password can be found on the EBSCO Access Information page.
---
Buy vs. Rent Comparison
The chart below shows a cost comparison for a renter and a homeowner over a 7 year period.
The renter starts out paying $800 per month with annual increases of 5% The homeowner purchases a home for $110,000 and pays a monthly mortgage of $1,000
After 6 years, the homeowner's payment is lower than the renter's monthly payment
With the tax savings of homeownership, the homeowner's payment is less than the rental payment after 3 years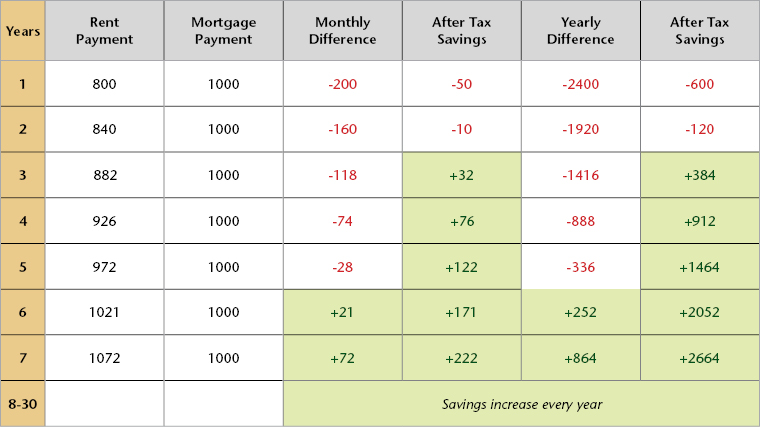 Source: Ginnie Mae. Click on image to enlarge.
---
Statistics & Studies on the Buy vs. Rent Decision
Renting vs. Buying a House-How to Make a Decision, Pros & Cons, (Money Crashers, June 14, 2016).
Final FY 2016 Fair Market Rent Documentation System, (HUD User, 2016).
17 housing markets where it's smarter to buy than rent, (Business Insider, Dec. 29, 2015).
Accelerating Housing Costs Has Renters Feeling the Squeeze, (National Association of REALTORS®, 2015).
Squeeze on Renters, (National Association of REALTORS®, 2015).
Rent vs Buy: Where Should You Invest?, (Mortgage Dex May, 2014).
The Housing Affordability Challenges of America's Working Households, (Housing Landscape, Feb. 2014).
Is It Better to Buy or Rent?, (New York Times, 2014).
Renting vs. Buying a Home: Which Is Smarter?, (U.S. News, 2014).
Poll: Number of Renters Who Want to Own Skyrockets, (REALTOR® Magazine, Jan. 3, 2013).
---
Consumer Information, Tips & Resources
Rent Your Home or Buy? Here's How to Decide, (WiseBread, Nov. 22, 2016).
Buying a Home Is 44% Cheaper Than Renting (REALTOR® Magazine, Mar 21, 2013).
Rents keep Rising as Demand Soars, (REALTOR® Magazine, Feb 28, 2012).
Renting out your home?, (HouseLogic, May 3, 2010).
How to Borrow Funds for a Down Payment for a Home, (ArticleBase, Apr. 24, 2010).
Mortgage Interest Deduction Vital to Housing Market, (HouseLogic, Jan. 11, 2010).
What Are the Risks?, (Freddie Mac, 2010).
Rental Help in your State, (HUD.gov).
Down payment assistance resource directory, (Housing Assistance Network).
Common questions from first-time homebuyers, (HUD.gov).
---
Information for REALTORS®
Renting to Own, (realtor.com®, 2014).
Rent vs. Buy Decision More Than A Question of Affordability, (Realty Times, June 2012).
Why Rent When You Can Buy, (REALTOR® Store product, #186-90)
Resources for real estate professionals, (Freddie Mac).
---
eBooks & Other Resources
eBooks.realtor.org
The following eBooks and digital audiobooks are available to NAR members:
Investing In Rent-To- Own (Kindle, Adobe eReader)
The Just Right Home (Kindle, Adobe eReader)
Rent vs Own (Kindle, Adobe eReader)
Buying a Home When You're Single (Adobe eReader)
Buying Real Estate Without Cash or Credit (Kindle, Adobe eReader)
Home Buyer's Checklist: Everything You Need to Know -- but Forget to Ask -- Before You Buy a Home (Adobe eReader)
Home Buying for Dummies® (Adobe eReader)
Books, Videos, Research Reports & More
The resources below are available for loan through Information Services. Up to three books, tapes, CDs and/or DVDs can be borrowed for 30 days from the Library for a nominal fee of $10. Call Information Services at 800-874-6500 for assistance.
8 Steps to buying a home: a buyer's guide to finding a home in today's market, (Minneapolis: David Knox, 2003). DVD005
The Everything homebuying book, (Avon, MA: Adams Media Corp., 2003). HD 1341 W38e
The Absolute beginner's guide to buying a house, (Roseville, CA: Primus Publishing, 2002). HD 1341 Or2
House hunting: the take-along workbook for home buyers, (Vancouver, BC: Raincoast Books, 2002). HD 1341 H99h
Home buying for dummies, (New York, NY, Wiley Publishing, 2001). HD 1341 T98
The economic benefits and costs of homeownership, (Washington, DC: Research Institute for Housing America, 2001). HD 7293 R23e
Field Guides & More
These field guides and other resources in the Virtual Library may also be of interest:
Field Guide to Home Inspections
Field Guide to Women Homebuyers
---
Have an Ide​a for a New Field Guide?
Click here to send us your suggestions.
The inclusion of links on this field guide does not imply endorsement by the National Association of REALTORS®. NAR makes no representations about whether the content of any external sites which may be linked in this field guide complies with state or federal laws or regulations or with applicable NAR policies. These links are provided for your convenience only and you rely on them at your own risk.