Mediator/Mediation Training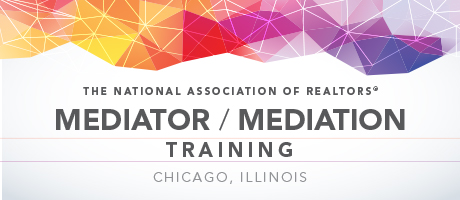 2017 Mediation Training will take place on Sept. 6, 7, and 8 in Chicago, IL.
Save time and money. Get a fresh perspective on resolving disputes. Maintain and build relationships.
Instructors/Program Description
This intensive two-and-a-half day learning experience is designed to enhance and refine one's existing mediation skills. The seminar features one full day of three-person mediation situations, guided by individual mediation coaches.
The training is led by Northwestern University Law School's Lynn Cohn; Duke University Law School's René Stemple Trehy; and NAR "Educator-of-the-Year," REALTOR® Bruce Aydt.
The training arms participants with techniques, skills, and expertise they can share with others. The instruction and comprehensive support materials enable participants to serve as mediators.
Prior experience or training in mediation is helpful for attendees, but not required.