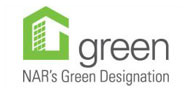 Who is it for?
NAR's Green Designation is designed for agents looking to learn about issues of energy efficiency and sustainability in real estate.
What You Gain
Listing in the online Green directory
Customizable PowerPoint presentations
Exclusive Industry Webinars
The Green Resource Council's electronic monthly newsletter
Promotional tools including:

Logos for print media and member Web sites
Postcard options
Marketing brochures for consumers and builders
Personalized press releases on a variety of topics

Access to a web-based print shop that allows designees to customize marketing pieces for the designation and have them printed on eco-friendly paper and sent directly to clients.
Membership in the Green Resource Council online community
Toolkits, guides, and other resources available through the members-only section of the Green Resource Council web site.
How to Earn It
Education
Complete two courses, available in classroom or online
Exam
You must pass an exam after each course with a score of 80% or better.
Professional Affiliation
Member in good standing of the National Association of REALTORS®
Application
Submit application form after completing the two required classes and their accompanying exams.
Cost
Application fee
Dues

First year free, $98.50 per year after that
For more information, visit the Green REsource Council website.
*Course discount available through the REALTOR Benefits® Program.