President of the National Association of REALTORS® - 1917 & 1918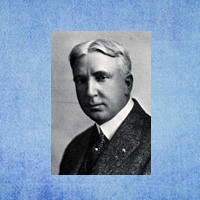 The only man ever to serve for two years as president of the National Association of Real Estate Boards, William May Garland* was petitioned by his associates to continue in office in order to guide the real estate profession through the emergency years of the first World War. Mr. Garland set up his office in Washington and provided a channel through which the leading REALTORS® of the country were able to donate their services to the War and Navy Departments, the Department of Labor's Bureau of Industrial Housing and Transportation, and the Alien Property Custodian. It is estimated that millions of dollars were saved by the participation of REALTORS® of skill and integrity in the government's large scale real estate operations. At the war's end President Wilson expressed his appreciation for the patriotic service stating that he was "gratified by the fine spirit of unselfish co-operation manifested by the members of your Association."
Three times president of the Los Angeles Realty Board, former president and honorary president of the California Real Estate Association and former president of the California State Chamber of Commerce, Mr. Garland, dean of California real estate, came into the real estate business in 1894. Hean of W.M. Garland and Company, he was also president of the California Standard Finance Corporation. In addition, he served as a colonel on the staff of California's Governor Gillette, as a member of the Los Angeles Board of Education and the Public Library Board and as president of the Los Angeles Art Association. A member of the International Olympic Committee that went to Rome in 1923, he was instrumental in securing the celebration of the X Olympiad at Los Angeles in 1923.
Member: Sons of the Revolution. Decorations: Order of Leopold (Belgium); Officer Order of the White Lion (Czechoslovakia); Legion d'Honneur (France); Cross of Honor, Red Cross—First Class (Germany); Officer Order of Crown (Italy); Cmdt, Order of Orange-Nassau (Netherlands); Officer, Royal Order of the Polas Star (Sweden); Comdts Cross Order of Polonia Restituta (Poland).
Source: Presidents of the National Association of REALTORS®, (Chicago: NAR, 1980).
*Deceased