President of the National Association of REALTORS® - 1988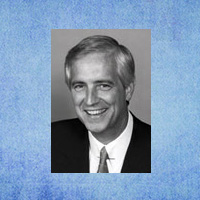 During his term, NAR President Nestor R. Weigand, Jr. was proud to witness President Reagan signing the 1988 Fair Housing bill, an amendment to the 1968 Civil Rights Act, which added people with disabilities and families with children as protected classes along with other reforms, an effort the National Association had been advocating since 1971. "To be in the Rose Garden of the White House," said Weigand, "with people who had never perceived that we could be part of the solution because they had put us in the category as part of the problem was a tremendous honor for me."
Weigand also implemented a zero-based budgeting and planning concept at the Association. This helped to make NAR a more member-driven organization by allowing REALTORS® to set priorities in terms of programs and then have those programs driven by the budgeting process.
Another milestone was the success of Team '88, a program to get REALTORS® more deeply involved in the political arena. The program resulted in more than 270 REALTORS® serving as delegates or alternates to the Democratic and Republican national conventions that year, representing the real estate industry as never before.
Prior to becoming President, Weigand was a NAR regional vice president with the Association and had served on the Association's Executive Committee and had been a director. His committee assignments included chairmanship of the Realtors Legislative Committee, the State and Board Leadership Forum Committee, and the Strategic Planning Committee, and he is a 27-time Life member of the REALTORS® Political Action Committee. He was president of the Wichita Board of REALTORS® in 1974 and the Kansas Association of REALTORS® in 1978. Both organizations honored him as "REALTOR® of the Year" in 1972.
Weigand's civic activities are broad-ranged and have included in the past board membership on the board of directors of Wesley Medical Center, the Wesley Endowment Foundation, Bank IV of Wichita, the Wichita Symphony Society, the Wichita Grand Opera, and the Wichita Area Chamber of Commerce. The governor of Kansas appointed Weigand to the State Highway Commission in 1974 and 1975 and the Bicentennial Commission in 1973 and 1974. He was named "Salesman of the Year" in 1977 by the Wichita Sales and Marketing Executives.
Since 2001, Mr. Weigand has served as Chairman and Chief Executive Officer of J. P. Weigand & Sons, Inc. Mr. Weigand has served as a member of the International Real Estate Federation (FIABCI) since 1985 and served as the World President of FIABCI from 2001 to 2002.
Source: NAR Archives