A recent Bloomberg News technology report on the current boom in industrial real estate claims "the buildings are boring […] but cash-flow is sexy." While it makes for a great line, Bloomberg only gets things half-right. The amount of investment pouring into the industrial sector will always be sexy, but for the first time in years supply-chain economics and innovation in industrial spaces are also strutting their stuff in the same spotlight. But before looking at the ways innovators are disrupting the world of industrial real estate, it pays to follow the money.
From his Los Angeles office, Craig Meyer, SIOR, sits in the middle of an exceptionally-tight industrial real estate market, featuring what the 2008-09 SIOR President says is a "16-year-low in vacancy" with rates "under 2%." As a result, commercial real estate professionals are becoming increasingly innovative in order to compete, scrambling to locate available space or build new structures fast enough to keep up with current demand.
Paul Kluck, SIOR, is seeing the same boom in Denver. "From a development standpoint we delivered about 3MM sq ft new construction last year, set to deliver 5MM sq ft this year. Largely trying to capture the new demand from e-commerce." Kluck advises caution going forward though. "Real Estate goes in cycles, but how much longer is it going to be hot? Developers jump in and take 18 months to get the work done and then they find the market has turned. From my perspective the boom is probably over. How far down will it go off of the top, how long will it go down? I don't know but I feel we've hit the top."
Allan Gump, CCIM, SIOR, agrees that caution is welladvised given how rapidly the industrial real estate market is expanding nationally. "It's always tricky. You don't want the music to stop until the building is leased." But Gump, the current president of SIOR, sees his Dallas-Fort Worth market showing no apparent signs of slowing down. "We hold the distinction of the largest amount under construction (20MM sq ft) of any market in the country. It's a fairly recent phenomenon. We don't see anything abating in terms of demand."
In this tight industrial market, smaller industrial spaces are especially in demand. An industrial specialist based in Tacoma, Washington, Vanessa Herzog, CCIM, SIOR, says the cost of developing smaller industrial spaces has become prohibitive to speculative development. Demand is so high companies themselves are bearing more of the burden by opting to purchase build-to-suit properties. Herzog says "lease rates have climbed higher than this area has seen, ever. Shell rates are above $0.40 for most spaces, and smaller spaces are cresting $0.50. Office add-on rates are above $0.90 and up into the $1.15 range for high- demand locations. Will this last? Hard to say. Developers are looking 12–24 months out, and not able to predict much after that."
With so much growth, there must be a driver: a new player or a reinvigorated heavy-hitter who has tapped into something to shake a formerly moribund sector out of its daze, an innovation fueling demand for investment. Right now that engine is e-commerce.
e-commerce Stokes the Engine
"There is a revolution in how industrial is being used for e-commerce fulfillment," says Meyer. "Around 30% of U.S. demand for industrial property and 50% of all leases signed for buildings greater than 50k sq ft is driven by e-commerce." What was once a network of costs to be managed and minimized has now become an engine of growth. "The whole way we look at our analytics has to do with proximity to supply chains and customers. A lot of it is applicable to retail, when you think about last mile distribution. Today even industrial is like a lot of retail systems."
In today's market where consumers have grown used to almost instant gratification, slow delivery is no longer an option. Cavernous warehouses located on cheap real estate in the middle of nowhere and staffed by a dozen or so workers are no longer optimal for companies trying to keep pace with Amazon Prime.
The expectation that suppliers will deliver goods within 24–48 hours has led to substantial innovation. "We are seeing warehouses become structured in such complex and interesting ways as distribution centers," Meyer says, "which is like a new version of industry."
Technological innovations such as sophisticated tracking software have allowed for a profound improvement in what Meyer calls 'visibility.' "You order something and everyone in the system has access to the product's exact location." With hives of high-efficiency work forces shuttling goods from the supplier to the consumer through a series of smaller, optimally-structured shipping portals and warehouse spaces, a package can depart from a niche company in Maine and appear on a customer's doorstep in California one day later. This is the new norm.
A Sticky Subject
Marijuana grow facilities are one type of company that is thriving in smaller spaces. Meyer notes that marijuana has been "the #1 cash crop for years and we are seeing a lot of profit emerging in these climate-controlled indoor marijuana farms. It's interesting that people will pay enormous rent to be in that environment."
"It took a while for tenants and landlords to find their way through how to lease to a federally illegal use," Herzog says. "Lease rates in the early days were in the $0.60 empty shell and all tenant improvements," largely consisting of heavy power and HVAC done "at the cost of the tenant." Typically, the interior of industrial buildings used in these facilities is broken up into growing rooms, designed to accommodate each step in the cycle "from seedlings to mature mother plants." Most of the operations Herzog worked with were initially using the typical dirt base vs. water hydroponic base and "odors were the biggest concern, primarily outside of the leased space." At an extra expense to the tenant, special consideration was given to the seal between the demising wall and the roof deck. HVAC and high quality carbon filters were required because "Air Quality Agencies were very interested in 'no impact.'"
Herzog thinks the initial marijuana boom is largely done with, speculating that "50–60 percent of the current businesses in this segment will survive" due to a slowdown of licensing and space demand. As an industrial specialist in Denver who is also familiar with this model, Kluck has seen the same evolution, and quips that "the market is 'overgrown' and there is way too much product out there for the demand." Ultimately, this trend, along with other states legalizing marijuana, will result in more available space and lower rental rates.
Let's Get Aquaponic
Aquaponics looks to be a powerful innovation for in door farming, a way to produce a much higher-quality product with lower maintenance costs. A system of aquaculture in which the waste produced by farmed fish or other aquatic animals is converted into nutrients for plants grown hydroponically, which in turn purify the water and feed the aquatic life, makes aquaponics a nifty trick of symbiosis. A cyclical system is created that, once established, requires minimal investment of money or time spent on monitoring or measurement. It has caught on with marijuana growers as one way to stay ahead of the competition.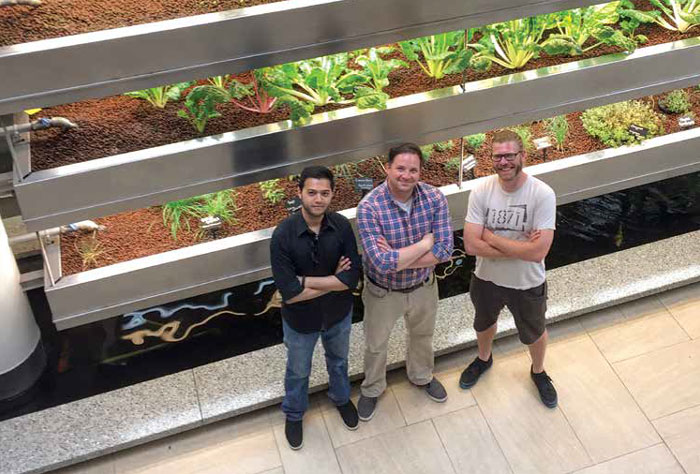 Left to Right: Akram Ali, Intern; Chad Curry, Managing Director; Christopher Coté, R&D Lead Lab Engineer
And while the majority of industrial aquaponics farms are currently being built around the marijuana industry, there are many who feel this could change given increasing demand for locally sourced food among Millennials and Gen-Xers. As Meyer sees it aquaponics is increasingly viable because "demand for food products has become more niche. People have food allergies and dietary needs and indoor farming provides a way to address them." Meyer points out "places like Washington and Colorado are seeing an emergence of marijuana grow farms. It's been the #1 cash crop for years and we are seeing a lot of profit emerging in these climate-controlled indoor marijuana farms." As populations continue to shift into higher-density walkable communities, demand for locally-sourced, fresh produce and protein could expand along similar lines.
R&D Lead Lab Engineer for the NAR's Center for REALTOR® Technology, Chris Coté can also envision more indoor farming on the horizon. "Location isn't as important for indoor growing operations. Locations off the beaten path can be beneficial to agriculture professionals," Coté says. The ability to make use of dilapidated, funkier industrial spaces provides a wonderful real estate opportunity. "Larger warehouses that may be undesirable to retail and other front-end type businesses make ideal solutions for indoor agriculture. Bottom-lines are tight for farmers in general, and more so for indoor operations, so cheaper real-estate can help give the farmer an edge in production." Coté points to available grants designed to eliminate "food deserts," or vast tracts of under-developed urban space with little to no access to fresh food sources, as one way for developers to offset costs. Another is maximizing efficient light sources. "This is probably the single biggest factor making indoor agriculture a viable business. LED, CFL (and soon laser lights) have all come down tremendously in price, and continue to get more and more efficient."
"Lighting will continue to be a driving technological force for indoor agriculture," Coté argues. He foresees "modular and self-suficient systems coming further into play. Utilizing photo-voltaic, or solar panels to convert light into electricity and back into light is extremely ineficient, but a combination of geothermal, wind, and solar could offset a lot of the costs associated with indoor agriculture." Harnessing the energy of the sun and wind to fuel affordable LED light sources goes a long way towards minimizing expenses that traditionally rendered profitable indoor farming operations impossible.
Making use of geothermal systems to heat and cool water in order to maintain median water temperature, what Coté refers to as 'water conditioning,' is another method of removing excessive overhead for indoor agriculture. "Passive systems, such as geothermal, make use of natural heating and cooling mechanisms [that can] drive costs down." Unlike traditional HVAC systems that rely on large amounts of energy to heat and cool, geothermal heating and cooling systems implement a system of pipes buried beneath the frost line where temperatures are always 54 degrees Fahrenheit—a perfect temperature for watering plants or growing fish. Though they are more expensive to install, geothermal systems used for indoor farming quickly recoup those additional costs, providing a distinct fiscal advantage to investors."
Harder, Fitter, Faster, Stronger
This unexpected excitement surrounding industrial real estate doesn't look like it will abate any time soon. Seasoned pros like Meyer are legitimately excited, particularly when the topic shifts to what's next for industrial real estate. Meyer envisions even more growth and innovation due to the continued emergence of urban logistics and clickand- collect, as well as the urban reprising of industrial space to non-traditional uses which are radically altering the way that these spaces are developed. "Today we see the beginning of a lot of incubator uses in industrial buildings. They're repurposed and smart, innovating people are using them. In West LA they're becoming collective work spaces and creating more of a demand. If you want fresh food they will grow it in an aquaponics space. You want something 3d printed they will make it. And it will be delivered to you that same day. This is what younger consumers want."
For Gump the shocking success of Amazon and some of the other larger players is providing a path to the future. "The demand for that kind of instant gratification will mean more businesses will spring up that will specialize," he says, "Uber and Lyft are the 800-pound gorilla in the room. I think you're going to start seeing more and more smaller players taking up some of that space. And it's exciting because it opens up so many opportunities for specialists and companies that are nimbler. Customers have gotten the 'taste of blood' after having Amazon Prime and now everyone wants that."
Either way, Gump feels confident his market won't see any immediate slow-down. "When you see the giant million-foot deals that might tell you something about the national economy. But the smaller deals of 150k square feet and under are what tells you something about the local economy. We're in one of those markets where we're seeing both ends of the spectrum still being strong."
---
This article appears in the Commercial Connections issue Summer 2016: Building Opportunities, Community & Our Future.