Overview
Does size matter? The current economic climate as well as a desire for a greener lifestyle has driven some Americans to examine how much space they really need. The small home movement is hardly a novel concept—just ask New Yorkers who often spend decades in studio apartments.
References
We've already done the research for you. References (formerly Field Guides) offer links to articles, eBooks, websites, statistics, and more to provide a comprehensive overview of perspectives. EBSCO articles (E) are available only to NAR members and require a password.
---
Home Sizes and Home B​uyers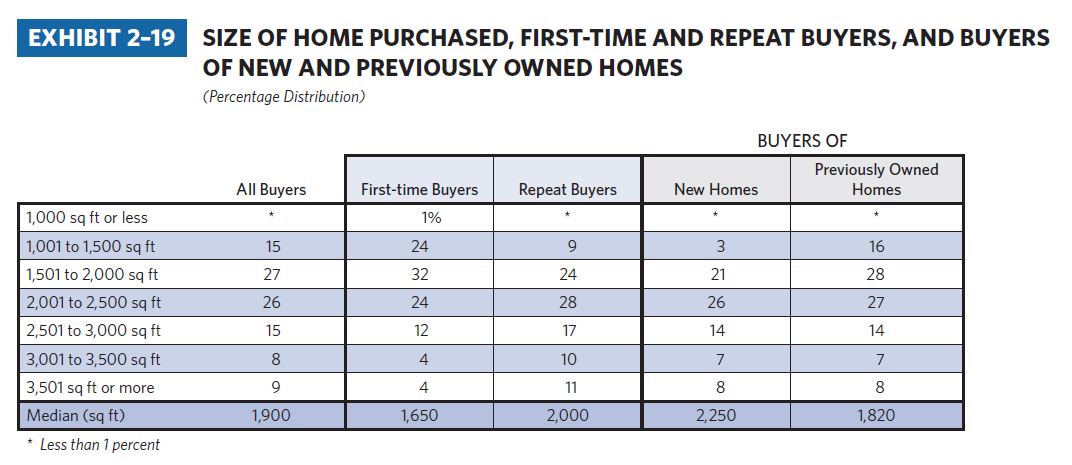 Source: NAR's 2016 Profile of Home Buyers and Sellers, Chapter 2
Small Home T​rends
5 Unexpected Costs of Living in a Tiny House, (WiseBread, Nov. 23, 2017)
Kasita: The Future of the Tiny House Movement (Buffalo Rising, Sept. 12, 2017)
Small House Movement: The Cost to Build a Tiny House – What to Expect? (24hPlans Blog, Aug. 18, 2017)
America's Tiny Home Craze: Colorado's WeeCasa is a Force in Real Estate's Latest Trend (Forbes, Aug. 9, 2017) E
5 Hidden Costs Making Tiny Homes Expensive (REALTOR® Magazine, Aug. 7, 2017)
Five Tiny Homes That Area Amazingly Affordable (The Spruce Blog, Aug. 1, 2017)
Sustainable and small: The tiny house movement (American Institute of Architects, Aug. 1, 2017)
A tiny house movement timeline (Curbed, July 19, 2017)
What No One Ever Tells You About Tiny Homes (New York Times, June 2, 2017)
Price Check: What it Costs to Live Small (Good.is Money Blog, May 30, 2017)
The Big Idea Behind the Tiny House Movement (Dengarden Blog, Feb. 22, 2017)
Is the tiny house movement a passing trend… or a glimpse into the future? (Buildium Blog, Feb. 14, 2017)
The Tiny-House Revolution Goes Huge (Outsideonline Blog, Dec. 27, 2017)
Portland's Small-House Movement is Catching on (New York Times, Oct. 1, 2016)
What is a Tiny House? A Huge Trend Explained in Simple Terms (realtor.com®, Aug. 29, 2016)
Trailer or tiny home? The Tiny Drop is the best of both for off-the-grid living, (Digital Trends, June 5, 2016)
50 Impressive Tiny Houses that Maximize Function and Style, (Country Living, Mar. 21, 2016)
A Timeline of Tiny Home Architecture, (Eco Building Pulse-Architect, Feb. 3, 2016)
Can Tiny House Living Actually Save You Money?, (WiseBread, Jan. 14, 2016)
What the Tiny Home Trend Really Says About Us, (PopSugar Blog, Dec. 30, 2015)
9 U.S. Cities Where Small Homes Are Big, (realtor.com®, Nov. 4, 2015)
What is the Tiny House Movement?, (The Tiny Life, Sept. 30, 2015)
Tiny house trends: Builder discovers untapped demand in small home market, (Construction Dive, Sept. 18, 2015)
Brad Pitt Bringing Tiny Homes to New Orleans?, (TinyHouseTalk, Aug. 24, 2015)
Small Wonders: 9 Amazing Tiny Home Designs That Live Large, (Builder Online, Aug. 17, 2015)
Tiny house, big benefits: Freedom from a mortgage and worries – and stuff, (The Washington Post, June 25, 2015)
Could You Survive in 150 Square Feet? The Lowdown on Tiny Homes, (U.S. News & World Report-Money, June 18, 2015)
Tiny house movement takes downsizing to the extreme, (St. Louis Post-Dispatch, May 15, 2015)
Ultra-Posh Tiny Homes: The Small Movement Goes Luxe, (Forbes, Feb. 17, 2015)
Is bigger always better? Meet the 'tiny house movement', (Today Home, Feb. 9, 2015)
What You Need to Know About the Tiny House Movement, (Home & Living Cheat Sheet, Jan. 27, 2015)
Tiny Houses Are Becoming a Big Deal, (AARP Magazine, Jan. 2015)
The Tiny House Movement, (Huffington Post, Sept. 12, 2014)
The Green Impact
Brad Pitt builds sustainable New Orleans tiny house (Builder Online, Aug. 17, 2017)
Tiny Houses, Big Impact (Mother Earth Living, May/June 2017)
How Living in a Tiny House Can Lower Your Environmental Impact and Cost of Living (OneGreenPlanet, Feb. 22, 2017)
This Eco-Friendly Tiny House is Designed to Move with You (Ecophiles, Feb. 14, 2017)
Living Large in a Tiny House (Whosgreenaz Blog, Sept. 28, 2016)
Tiny houses: an eco-friendly small life (Ecobnb, Jan. 3, 2017)
Meet the Adorable Green Movement That's Revolutionizing the Housing Market, (Green Future, Feb. 15, 2016)
8 Popular Home Trends That Happen to be Green, (Green Residential, July 23, 2015)
3 Tiny Houses That Let You Live Green – and off the Grid, (Take Part, June 24, 2015)
Tiny House, Large Impact, (Greenhawks Media, Feb. 10, 2015)
Big Change Dwells in Tiny Houses: Corporate Sponsorships and Making a Difference, (TriplePundit, June 10, 2014)
Oregon couple builds tiny homes to ease housing debt, carbon footprint, (AccuWeather, Apr. 24, 2014)
Websites
What Is the Tiny House Movement?, (The Tiny Life)
Tiny Houses, (Tumbleweed Tiny House Co.)
Small Space Design Guide, (HGTV)
The Art of Living in Small Spaces, (Back Woods Home.com)
Small House Society Resources, (Small House Society)
5 Absurdly Cramped Houses and Cramped Homes, (Web Urbanist, Aug. 7, 2008)
Jay's Tiny House Tour, video of a 100 sq. ft. home, (YouTube, Dec. 12, 2007)
eBooks & Other Resources
eBooks.realtor.org
The following eBooks and digital audiobooks are available to NAR members:
The Big Book of Small House Designs (Kindle, eBook)
Building Today's Green Home (Kindle, eBook)
Compact Houses (Kindle, Audiobook, eBook)
The Complete Guide to Property Development for the Small Investor (Kindle, Audiobook, eBook)
The Complete Idiot's Guide to Green Building and Remodeling (Kindle, eBook)
Choosing Green (Kindle, eBook)
Green Building A to Z (Kindle, eBook)
Green Building Products (Kindle, eBook)
Greening Your Home (eBook)
Green Zone Living: 7 Steps to a Happy, Healthy and Peaceful Lifestyle (Kindle, eBook)
Microshelters (Kindle, eBook)
Prefabulous World (eBook)
Small Houses of the Forties (Kindle, eBook)
Tiny House Living (eBook)
Your Green Home (eBook)
Books, Videos, Research Reports & More
The resources below are available for loan through Member Support. Up to three books, tapes, CDs and/or DVDs can be borrowed for 30 days from the Library for a nominal fee of $10. Call Member Support at 800-874-6500 for assistance.
Little House on a Small Planet: Simple Homes, Cozy Retreats, and Energy Efficient Possibilites, (Guilford, CT: Lyons Press, 2006) NA 7205 Sa3
The Small House Book, (Sebastopol, CA: Tumbleweed Tiny House Company, 2009) NA 7533 S53
Tiny Homes: Simple Shelter, (Bolinas, CA: Shelter Publications, 2012) NA 7205 K34
Tiny House Floor Plans: Over 200 Interior Designs for Tiny Houses, (CreateSpace Independent Publishing Platform, 2012) NA 7205 J26
---
Have an idea for a real estate topic? Send us your suggestions.
The inclusion of links on this page does not imply endorsement by the National Association of REALTORS®. NAR makes no representations about whether the content of any external sites which may be linked in this page complies with state or federal laws or regulations or with applicable NAR policies. These links are provided for your convenience only and you rely on them at your own risk.