Overview
According to the 2016 NAR Investment and Vacation Home Buyers Survey, most respondents purchased a vacation property for personal use, but, of investment buyers, 50% purchased with the intent of renting to others. Renting out a vacation home can offset the costs of this investment until retirement. But what happens when a community acts to restrict short-term rentals?
Political Advocacy
What is the fundamental issue?
Many localities in areas across the country are considering or adopting ordinances that limit or prevent the ability of property owners to rent out properties on a short-term basis. The dynamics of this issue are complex. The infringement upon property rights is a common theme when local governments limit the use of property. Property ownership includes the right to gain income from property; whereas local governments are granted the legal authority to regulate land use within their jurisdiction by police powers and/or zoning regulations. The natural complexities of short-term rentals also create a division of positions among NAR's membership.
I am a real estate professional. What does this mean for my business?
Rental property especially in vacation destinations may become less desirable to buyers and investors if restrictions are placed upon the amount of time property may be rented or short-term rentals are banned all together.
NAR Policy:
NAR has not adopted an official position on this issue; however, state and local REALTOR®associations may adopt official positions for short-term rental ordinances and/or laws.
Legislative/Regulatory Status/Outlook
There are no federal legislative or regulatory proposals.
NAR Committee:
State and Local Issues Policy Committee
References
We've already done the research for you. References (formerly Field Guides) offer links to articles, eBooks, websites, statistics, and more to provide a comprehensive overview of perspectives. EBSCO articles (E) are available only to NAR members and require a password.
---
Short-Term Rental Conundrum
More Investors Plan to Cash in on Short-term Rental Trend (REALTOR® Magazine, July 3, 2018)
A Grander Vision for Short-Term Rentals (REALTOR® Magazine, Mar. 2017)
How Airbnb Is Spurring Innovation In Luxury Travel (Time, Mar. 28, 2017)
The Airbnb Factor (REALTOR® Magazine, Jan. 2016)
The Next Property Rights Frontier (REALTOR® AE, Oct. 20, 2015)
How Airbnb Combats Middle Class Income Stagnation (Gene Sperling for AirBNB, Jun. 2015)
Do Airbnb-style short-term rentals destroy neighborhoods — or save them? (Uptown Messenger, Jan. 15, 2015)
Win, Lose, Com promise
Airbnb: Innovation and Its Externalities (The Journal of Local Government Law, November/December, 2014)
What's the Short-Term Rental Problem? (Daily North Shore, April 5, 2018)
Airbnb Sues NYC, Says Law Infringes on Hosts' Rights (REALTOR® Magazine, August 27, 2018)
Airbnb Investment in Apartment Buildings Irks Tenants (REALTOR® Magazine, August 16, 2018)
Chattanooga may establish special district for short-term vacation rentals (Times Free Press, Mar. 29, 2017)
Short-term rental rule-breaker? Doral is cracking down (Miami Herald, Mar. 28, 2017)
Inside New Orleans short-term rental applications (The New Orleans Advocate, Mar. 24, 2017)
How To Save Airbnb From Local Governments (Forbes Opinion, Feb. 1, 2017)
Articles, Surv eys & More From NAR
2017 NAR Investment and Vacation Home Buyers Survey (National Association of REALTORS®, 2017)
Websites & Othe r Resources
Learn About the Short-Term Rental Industry
Short Term Rental Advocacy Center — The Short Term Rental Advocacy Center (STRAC) was created by Airbnb, HomeAway, TripAdvisor, and FlipKey to engage with policymakers on behalf of community members. STRAC has several local chapters across the U.S., and educates communities on short term rental best practices and ways to get involved.
Protect Vacation Rentals — A collection of articles posted by "professionals against the legislation banning short-term rentals in New York City". See this site for articles, legislation, and more with a New York focus.
Community from HomeAway — HomeAway (www.homeaway.com) connects travelers with short-term rental properties, and Community from HomeAway is a member-driven site with topic forums, resources, groups, and blogs for both travelers and property managers.
Locate Short-Term Rental Listings
Rentmix.com — aggregates vacation and short-term rental listings from several sources (AirBnB, HomeAway, and FlipKey) and shows listings on a full-screen map. For a bit more information on Rentmix.com, see this AGBeat article.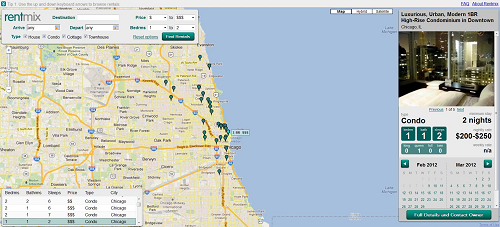 Check out more short-term rental websites: AirBnB FlipKey HomeAway
Compliance
Legal Restrictions to Renting Your Home on Airbnb or Other Rental Services (NOLO, 2018)
Airbnb hosts face conundrum when it comes to insurance (San Francisco Chronicle, March 24, 2018)
Tax Topic 415 - Renting Residential and Vacation Property IRS
Publication 527 (2017), Residential Rental Property IRS
Sales Tax Formulas for Vacation Rentals Community from HomeAway
Sales Tax Requirements for Vacation Rental Homes Community from HomeAway
State Sales Tax Offices Community from HomeAway
* Please check with local government in your rental property area for information on permits, taxation, and regulations.
eBooks
The following eBooks and digital audiobooks are available to NAR members:
Airbnb for Property Investors (eBook)
The Second Homeowner's Handbook: A Complete Guide for Vacation, Income, Retirement, and Investment (eBook)
The Complete Guide to Real Estate Finance for Investment Properties (eBook)
The Real Estate Investor's Tax Strategy Guide (eBook, Kindle)
Retire Rich from Real Estate: A Low-Risk Approach to Buying Rental Property for the Long-Term Investor (eBook)
Buying a Second Home: Income, Getaway or Retirement (eBook)
Complete Guide to Investing in Rental Properties (eBook)
How a Second Home Can be Your Best Investment (eBook)
How to Succeed and Make Money with Your First Rental House (eBook, Kindle)
Leases & Rental Agreements (eBook)
Second Homes for Dummies® (eBook, Kindle)
The Unofficial Guide to Managing Rental Property (eBook)
---
Have an idea for a real estate topic? Send us your suggestions.
The inclusion of links on this page does not imply endorsement by the National Association of REALTORS®. NAR makes no representations about whether the content of any external sites which may be linked in this page complies with state or federal laws or regulations or with applicable NAR policies. These links are provided for your convenience only and you rely on them at your own risk.