Welcome to the NAR REALTOR Benefits® Program Content Library. These resources were compiled into one location for your Association's use to make it easy for you to spread the word to members about all of the offers and savings available to them through their REALTOR® membership.
---
What's New With the REALTOR Benefits® Program
Check out the NEW REALTOR Benefits® Program Catalog!
The latest 2017 REALTOR Benefits® Program catalog is here and available for download. Click here to see what's new in 2017.
Professional Websites Now Free to REALTORS®
Beautiful, mobile-ready professional real estate websites are now available for free to all NAR members. The exclusive NAR Edition sites from Placester include hosting, IDX listing integration capabilities, custom domain mapping, and more.
---
Items o​f Note
Always refer to the full program name: NAR's REALTOR Benefits® Program.
If you'd like to make any changes to the copy below, please inform NAR prior to doing so to ensure the description of the program/offer is not materially changed. Many of our partner companies are extremely specific when it comes to describing their offers and we want to make sure that we adhere to these requirements so we can ensure they continue to participate in NAR's REALTOR Benefits® Program and provide a unique offer/service to our members.
Value Statements About NAR's REALTOR Benefits® Program
As a member of the world's largest trade association, you have access to NAR's REALTOR Benefits® Program, the official member benefits resource for savings and special offers on products and services just for REALTORS®. Program Partners are industry leaders who understand the unique needs of real estate professionals and are committed to your success. Whether for your professional or personal needs, turn to the REALTOR Benefits® Program before you shop. Program categories are: Personal Insurance, Electronics & Mobile Technology, Travel & Automotive, Financial Services & Credit Card, Risk Management, Marketing Resources, Office Supplies & Services, Technology Services, Transaction Management, and Educational Tools.

In one year alone, over 800,000 REALTORS® gained an edge by taking advantage of at least one NAR REALTOR Benefits® Program offer, saving over $59 million.
Invaluable L​inks
Follow us on Facebook for easy-to-share information on the latest offers and discounts from NAR REALTOR Benefits® Program Partners: www.Facebook.com/NARRealtorBenefitsProgram.
Use this link to NAR's REALTOR Benefits® Program home page www.nar.realtor/RealtorBenefits in any member communications and direct them to where they can find detailed information about all of the special offers and savings available to them as part of the REALTOR® membership.
Get the tools you need to help your members understand their insurance options through the REALTORS® Insurance Marketplace: http://www.realtorsinsurancemarketplace.com/ae/
Useful Downloads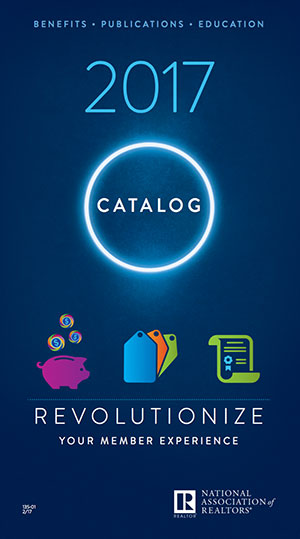 PDF Download (8.21 MB)
At-A-Glance Grid (PDF: 1.58 MB)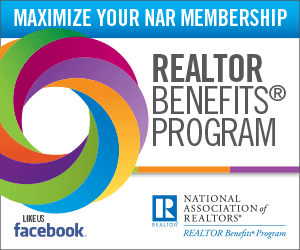 GIF download (300x250)

GIF download (250x100)
Offer Category Descriptions:
FINANCIAL SERVICES & CREDIT CARD: Get your finances in line to help you focus on your business. Access personal and business banking services, NAR's Official REALTOR® Credit Card, plus software to help track income/expenses and make tax prep a breeze.
PERSONAL INSURANCE:
Your career extends throughout all aspects of your life, and so should your member benefits. The partners in the personal insurance category provide REALTOR® exclusive access to health insurance options, including a private major medical exchange, as well as member-only discounts on auto, home, and renter's insurance.
RISK MANAGEMENT:
Risk management offers are designed to protect your home and business. Protect your home with a warranty from American Home Shield and minimize your business risk for potential liability with an Errors & Omissions policy from Victor O. Schinnerer & Company.
OFFICE SUPPLIES & SERVICES:
More than just a necessity, office supplies and services are crucial to getting the job done. REALTOR Benefits® Program partners FedEx and OfficeMax can help you save money on the things you need to keep your office running smoothly, no matter where your office may be that day.
ELECTRONICS & MOBILE TECHNOLOGY:
Stay current with the latest in tablet, laptop, PC, printer, and smartphone technology from industry leaders you know and trust. Dell, Lenovo, Sprint, and Xerox offer REALTORS® exclusive pricing on the hottest gadgets and mobile service you need to help you work smarter, soar higher, and go further no matter where your business takes you.
TECHNOLOGY SERVICES:
Gain a competitive edge with the official REALTOR® lockbox solution, enjoy special pricing on real estate websites and commercial real estate information services.
TRANSACTION MANAGEMENT:
Stay ahead of the curve for less with member-only benefits from industry leaders in eSignature, forms software, and transaction management services.
MARKETING RESOURCES:
Make sure you stand out from the crowd so you can grow your business with these unique marketing resources.
TRAVEL & AUTOMOTIVE:
REALTOR Benefits® Program partners FCA US LLC (Fiat Chrysler Automobiles), Avis, Budget, and Hertz, can help you save time and money on the road with discounted pricing and special offers on the purchase or lease of select new vehicles or rentals.
EDUCATIONAL TOOLS:
Enhance your skills and receive special pricing on the following online designation and certification courses. Members of the National Association of REALTORS® receive 10% off the cost of every course below, offered through the Center for REALTOR® Development, in partnership with the REALTOR Benefits® Program.