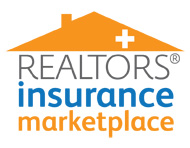 REALTORS® Insurance Marketplace is an exclusive 'one-stop' insurance shopping site. It provides NAR members with a roster of health and wellness insurance plans and products, including a major medical health insurance exchange.
Obtain quotes, compare plans and purchase directly online.
All plans are from top-rated insurance carriers.
Site is powered by SASid, a trusted NAR partner who specializes in helping NAR members find the best insurance plans and products for themselves and their families.
Learn More About the Marketplace
Benefits & Highlights
The Marketplace features a wide variety of individual health and wellness plans, including:
A Major Medical Health Insurance Exchange – offering Qualified Health Plans that meet the mandates of the Affordable Care Act (including HMOs, PPOs, High Deductible/Catastrophic Plans, and plans that qualify for Health Savings Accounts) through nationally recognized insurance carriers.
A private Members Medicare Exchange – Medicare-eligible NAR members may use this exchange to explore supplemental Medicare insurance options and access an online resource center containing a variety of educational tools.
Temporary (Short Term) Insurance – designed to be an affordable temporary medical policy which can last from 30 days to 6 months to provide coverage in the event of a gap between longer-term policies.
Members TeleHealth – provides access to licensed physicians through telephone, smartphone app, web chat, or email, and offers a convenient and cost-effective way to get a diagnosis and treatment for non-emergency medical conditions. Service is available 24/7/365 and the monthly plan offers unlimited visits and no co-pay.
Members Supplemental Health Plans – designed to be combined with major medical health insurance plans to help pay for services and out-of-pocket expenses that your regular insurance may not cover. Plans available include Accident Deductible Protection and REALTORS® Core Health Insurance.
REALTORS® Dental Insurance – an exclusive group plan just for NAR members and their families, providing coverage for preventive, basic, and major dental expenses with the dentist of your choice.
REALTORS® Vision Insurance – an exclusive group plan just for NAR members and their families. There are two guarantee issue group plans available: a PPO option and a non-PPO option. Both provide great, competitive rates and include annual eye exam benefits and savings on frames, lenses, and contact lenses.
Pet Insurance – these plans help lessen financial worry by providing reimbursement for covered pet healthcare costs. There are two plans from which to choose, providing varying levels of coverage for cats and dogs.
Drug Card America – a free discount pharmacy drug card offering savings on select generic and name brand prescription drugs at pharmacies nationwide.

Consultative advice and assistance – SASid representatives are available to personally consult and advise you on your individual insurance needs. They can help you navigate the healthcare insurance landscape and identify the products and plans that best suit the financial considerations and healthcare needs of yourself and your family. SASid representatives can also verify if the insurance you are considering, or currently possess, meets the Affordable Care Act threshold for minimum essential coverage.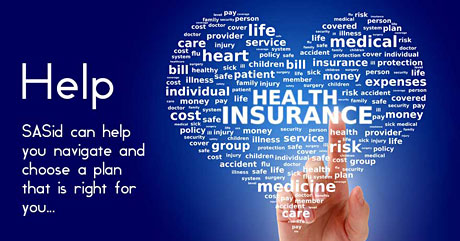 Eligibility
Eligibility varies by product and by plan.
NAR Members with a valid NRDS ID can view full plan information and obtain a quote. Where applicable, family members may be added to plans. See site for product availability.
Terms, conditions, and limitations apply, based on state insurance laws*, individual eligibility, and age requirements.
How to Obtain This Offer
Please have your NRDS ID number handy in order to view rates.
Visit the Marketplace online – www.RealtorsInsuranceMarketplace.com
To learn more about your options via phone – please call 1-877-267-3752. SASid understands the unique needs of REALTORS® and is pleased to provide a consultation service. Phone agents are available to answer all health insurance questions, and to help members choose the best insurance options for their needs.
REALTORS® Insurance Marketplace requires a NRDS ID. If you do not know your NRDS number, you may look it up here.
About SASid
REALTORS® Insurance Marketplace is powered by SASid (Smart and Simple Insurance Development). SASid develops technologies and online insurance products for top insurance carriers and nationwide distribution networks. Founded in 1999 by insurance professionals who have a passion to make insurance programs more simple and smart, SASid has been a leader and innovator in developing and marketing insurance on the web. SASid is located in Janesville, Wisconsin.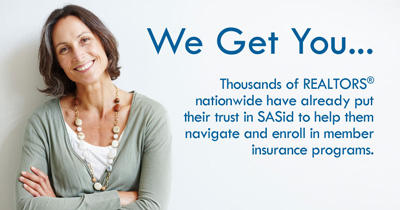 To Learn More
Visit www.RealtorsInsuranceMarketplace.com or call a licensed benefits specialist at 877-267-3752.
---
* Please note: Some states have mandatory requirements that call for variations in the form of the policy affecting the ability of providers to offer coverage in those states. These are based on individual state laws.

Major medical plans available through the major medical health exchange are currently available in most states. Availability is subject to change. SASid is working to obtain approval in all states and territories. Members who have questions about coverage options are encouraged to contact SASid directly to learn more about the insurance offerings available to them, including state and federal resources.