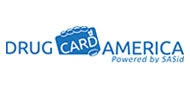 NAR is pleased to provide to members a free pharmacy program designed to help lower the cost of some prescription drugs: Drug Card America. This free benefit is provided by SASid, the same trusted REALTOR Benefits® Partner who manages REALTORS® Insurance Marketplace.
This discount prescription drug card may be used at over 62,000 pharmacies nationwide, including most major chains, such as CVS, Walmart, Walgreens, Target, Rite Aid, Kmart and more. This program provides savings of up to 60% on select generic prescriptions and up to 15% on select name brand prescriptions. It's easy to participate: no age limit, no income requirement, no waiting period, no pre-existing condition restrictions, and the card is immediately available for use upon sign-up.
Upon sign-up, NAR Members will instantly gain access to:
A free discount prescription card
A pharmacy lookup tool to locate participating pharmacies
A list of commonly utilized prescriptions under the program
Note: This pharmacy program is designed solely to be a cost-savings benefit on select prescription drugs. This plan is not insurance. This is not a Medicare Prescription Drug Plan. The Drug Card America Discount Prescription drug program is designed for people who do not have Medicare Part D coverage. If you have Medicare Part D coverage, you should always use your Medicare Part D card when purchasing prescription drugs.
Eligibility
All NAR members with a NRDS ID are eligible to create and use this free card. NAR members can add the name(s) of their spouse and dependents to their card and these family members are able to take advantage of the savings this card can provide.
How to Obtain This Offer
Learn more about Drug Card America and obtain your free card.
Call 877-267-3752 if you have any questions or need assistance.
Note: Drug Card America is just one of the offerings available through REALTORS® Insurance Marketplace. The Marketplace features a robust selection of health and wellness insurance products available to NAR members, including Major Medical health insurance options, REALTORS® Dental Insurance, REALTORS® Vision Insurance, Members TeleHealth, and supplemental health plans, which includes Accidental Deductible and REALTORS® Core Health Insurance plans.
Shop, quote and enroll in the program of your choice within minutes. Licensed benefits specialists are available to help members navigate insurance options and consultative services are complimentary.