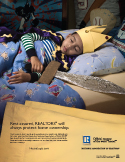 The NATIONAL ASSOCIATION OF REALTORS®' Public Advocacy Campaign began in February with the national launch of the new commercial "Dreams," which underscores the value of home ownership from a child's point of view.
NAR's national advertising efforts are now focused on the advocacy issues that affect REALTORS® and their clients' ability to buy, sell, and own real estate. The newest campaign assures consumers that NAR is working hard to protect the dream and reality of home ownership for our families and our future.
State and local associations can generate their own customized versions of "Dreams" campaign materials online at the NAR ad generator, www.NARtools.com.