Overview
Whether you are new to commercial property management or are a seasoned expert, NAR offers useful information concerning leases, safety and security, marketing, and maintenance, and risk management for commercial properties.
Education
Take courses on leasing from NAR and its affiliates.
Property Management Topics
References
We've already done the research for you. References (formerly Field Guides) offer links to articles, eBooks, websites, statistics, and more to provide a comprehensive overview of perspectives. EBSCO articles (E) are available only to NAR members and require a password.
---
Median Income and Expenses – Office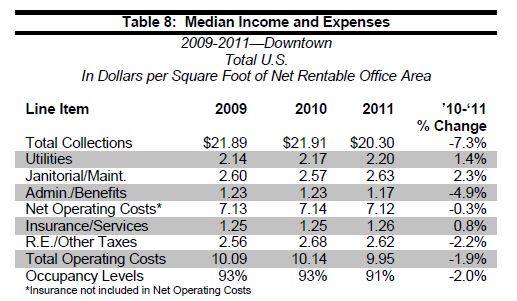 Source: 2012 IREM Income/Expense Analysis: Office Buildings
Note: Additional information on IREM's annual Income/Expense Analysis Reports is available at the IREM Bookstore
Leases
The Art of Leasing, (Journal of Property Management, Jan/Feb 2014). Developing and mastering effective closing techniques is the best way to ensure that your marketing investment is not being wasted E
Strip Malls Turn Heads, (REALTOR® Magazine, July 2013) As vacancies decline, community shopping centers are a hit with consumers.
Footings for a Career in Commercial Real Estate, (Buildings, July 2012) The slowdown in commercial real estate transactions adds value to the roles of facility and property managers E
Law Soon to Shine Light on Buildings' Energy Use, (San Diego Business Journal, Jun 17, 2013) Ready or not, California owners of commercial buildings larger than 50,000 square feet will need to begin complying this year with a state law requiring the disclosure of properties' historical energy usage data to prospective buyers, renters and lenders E
Like CRE, telecommuting trends depend on location (Mortgage Banking, Feb. 2011) Telecommuting can save companies in operational costs and increase productivity, but like commercial real estate, a telecommuting office depends on location E
Arbitrating Commercial Real Estate Lease Disputes (Dispute Resolution Journal, May-Oct. 2010) This article identifies the lease provisions most likely to give rise to disputes suitable for arbitration and discusses how to tailor the arbitration provision to them E
The Importance of "Greening" Your Commercial Lease (Real Estate Issues, Spring 2010) With demand increasing for leasable space in green buildings, it may be surprising that there is no widely accepted definition of a "green" lease E
Successful Leasing: Maximize Value by Understanding the Basics (Building, Aug. 2008) Successful leasing is about the fundamentals: determining your building's position in the marketplace, understanding goals, and negotiating effectively E
Safety & Security
How to Avoid Slip, Trip, and Fall Claims, (Buildings, Dec. 2013).Proactive protection against incidents and what to do if one happens anyway E
Sophisticated Security Drills Help Some Mall Owners and Managers Prepare for the Worst, (National Real Estate Investor, Apr. 2011)
Securing the Unoccupied Building (Security, June 2009) Empty buildings can become enticing to vandals, so protecting the property should be considered E
A layered approach to office building and property management (Security, Oct. 2008) E
Marketing
Property Management 2.0, (REALTOR® Magazine, July 2014) Bulk portfolios of single-family homes have redefined the rental business. How are large landlords coping?
Landscaping key to luring top-flight office tenants, (Stamford Advocate, Aug. 21, 2013) An impressive landscaping scheme at an office park can pay dividends for a landlord.
Tried and True (Journal of Property Management, July/Aug. 2010). Prepare for the market turnaround by employing proven business initiatives. E
Creative Tenanting (Chain Store Age, May 2009) The year 2009 is rapidly becoming the year of the mall shake-up, as landlords give non-traditional tenants their shot at in-mall glory E
Maintenance
The business case for green cleaning in commercial real estate, (Portland Business Journal, Dec. 29, 2014)
Drought: are you at risk? Don't wait to start water conservation tactics until it's too late, (Journal of Property Management, July/Aug. 2014) E
5 Strategies for Managing an Aging Roof Portfolio, (Buildings, Dec. 2012) Consider the following strategies to develop a roof asset management plan E
How to Minimize Warm Weather Facility Odors, (Buildings, Sept. 2012) Higher temperatures mean more than just oppressive heat and humidity -- they can also create less than pleasant odors E
We Kid You Not: Goats Offer a Greener—And Leaner—Way to Manage Your Land (Journal of Property Management, Nov./Dec. 2010) — If you're interested in greening your property, you might want to enlist the help of some goats E
See the Light (Journal of Property Management, July/Aug. 2010) — Save big on energy costs by reducing light use in parking lots E
Curb appeal on a budget (Journal of Property Management, March/April 2009) E
Links
Building Owners and Managers Association (BOMA) International — A primary source of information on office building development, leasing, building operating costs, energy consumption patterns, local and national building codes, legislation, occupancy statistics and technological developments
IREM: Institute of Real Estate Management — The only professional real estate management association serving both the multi-family and commercial real estate sectors. IREM is an international organization that serves as an advocate on issues affecting the real estate management industry. IREM offers the Certified Property Manager (CPM) designation and Accredited Commercial Manager (ACoM) certification
SIOR: Society of Industrial and Office Realtors® — The leading professional commercial and industrial real estate association with more than 3,200 members in 20 countries. SIOR represents today's most knowledgeable, experienced, and successful commercial real estate brokerage specialists. SIOR offers the SIOR designation
eBooks & Other Resources
eBooks.realtor.org
The following eBooks and digital audiobooks are available to NAR members:
Commercial Real Estate Investing (eBook)
The Complete Guide to Real Estate Finance for Investment Properties: How to Analyze any Single-Family, Multifamily, or Commercial Property (eBook)
The Complete Idiot's Guide to Success as a Property Manager (eBook)
The Economics of Commercial Property Markets (eBook)
Happy About Apartment Management (eBook)
The Landlord's Kit (eBook)
Landlord's Legal Kit for Dummies (eBook)
Opportunities in Property Management Careers (eBook)
Property Management Kit for Dummies (eBook)
Books, Videos, Research Reports & More
The resources below are available for loan through Information Services. Up to three books, tapes, CDs and/or DVDs can be borrowed for 30 days from the Library for a nominal fee of $10. Call Information Services at 800-874-6500 for assistance.
Shopping center management and leasing, (Chicago: Institute of Real Estate Management, 2005) HF 5429 In7sc
Principles of real estate management (Chicago: Institute of Real Estate Management, 2011) HD 1394 In7rm
Commercial property management answer book (New York: Vendome Group, 2008) HD 1394 C73
Managing and leasing commercial properties (New York: John Wiley & Sons, 2007) HD 1394 AL2ma
Shopping center management and leasing, (Chicago: Institute of Real Estate Management, 2005) HF 5429 In7sc
Spotlight on security for real estate managers (Chicago: Institute of Real Estate Management, 2005) HD 1394 In7o
Risk management in the post 9/11 world (Chicago: Institute of Real Estate Management, 2004) HV 6431 In7r
Glossary of real estate management terms, (Chicago: Institute of Real Estate Management, 2003) HD 1365 In7g
Office building management (Chicago: Institute of Real Estate Management, 2002) HD 1394 I2
Managing and leasing commercial properties: practice, strategies and forms, 2nd ed. (New York: Aspen Law & Business, 1999) HD 1394 AL1f
The Tenant Retention Solution: A Revolutionary Approach to Commercial Real Estate Management, (Chicago: Institute of Real Estate Managemet, 1995) HD 1394 In8
The Resident Retention Revolution, (Chicago: Institute of Real Estate Management, 1994) HD 1394 In8r
---
Have an idea for a real estate topic? Send us your suggestions.
The inclusion of links on this page does not imply endorsement by the National Association of REALTORS®. NAR makes no representations about whether the content of any external sites which may be linked in this page complies with state or federal laws or regulations or with applicable NAR policies. These links are provided for your convenience only and you rely on them at your own risk.