Victor O. Schinnerer & Company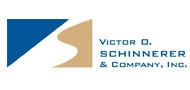 Victor O. Schinnerer & Company and the National Association of REALTORS® have partnered under the REALTOR Benefits® Program to provide a first-class errors and omissions (E&O) insurance program to REALTOR® members.
Several premium credits are available, as allowed by state law, including a credit for being an NAR member, holding select NAR designations, continuing education, use of standard contracts, use of home warranties, risk management programs, etc. Details are available from Schinnerer. Additionally, a longevity credit is available for firms that have been insured with Schinnerer for three years. An additional longevity credit is available after reaching the five-year mark.
Errors & Omissi​ons Program Brochure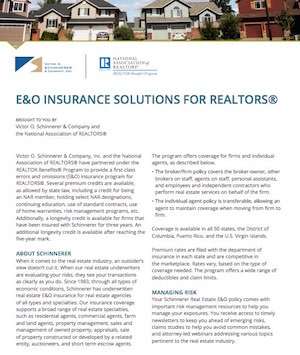 Click here to learn more about the E&O insurance solutions and member benefits available to REALTORS® and REALTOR®-firms from Victor O. Schinnerer & Company.
Included are details about claims and managing risk, information about the company, and information about how to get a quote.
War Stories: When E&O Insurance Can Work for You
These war stories from the real estate trenches illustrate how errors and omissions insurance can protect a real estate professional who might be "caught in the crossfire."
Updated E&O Policy Available From Victor O. Schinnerer
Victor O. Schinnerer is pleased to introduce a new errors & omissions policy. New features include:
privacy response coverage
discrimination coverage
bodily injury and property damage coverage arising out of lockbox claims
mold coverage
free extended reporting period coverage
100%-owned property management coverage
public relations coverage
Existing policyholders in approved states will be transferred to the new policy at renewal. The new policy is currently available in all states and areas, with the exception of CA, LA, PR, USVI, and Guam.
Click here for more details on the Top 7 Features of the new policy (PDF: 1 MB)
About the Real Estate E​&O Insurance Program
Program coverage supports a broad range of real estate specialties, such as residential agents, commercial/industrial agents, farm and land agents, property management, sales and management of owned property, appraisals, sale of property constructed or developed by a related entity, auctioneers, and escrow and closing agents.
The program offers coverage for firms and individual agents, as described below.
The broker/firm policy covers the broker-owner, other brokers on staff, agents on staff, personal assistants, and employees and independent contractors who perform real estate services on behalf of the firm.
The individual agent policy is transferable, allowing an agent to maintain coverage when moving from firm to firm.
Coverage is available in all 50 states, the District of Columbia, Puerto Rico, and the U.S. Virgin Islands.
Premium rates are filed with the department of insurance in each state and are competitive in the marketplace. Rates vary, based on the type of coverage needed. The program offers a wide range of deductibles and claim limits.
Claims are handled by dedicated real estate claims specialists and attorneys across the country who specialize in real estate claims litigation.
Schinnerer is committed to risk management initiatives and has developed a "toolbox", which includes a semi-annual risk management newsletter, Risk Management Reporter; monthly "war stories," which are sample claims scenarios; bi-monthly posts to its "Real Estate Round Up" real estate blog; semi-annual webinars on various risk management topics; on-line access to a library of risk management publications; and a toll-free hotline for an insured to speak with a real estate claims specialist or an attorney to discuss a potential claim and seek assistance.
About the Manag​ing General Underwriter and Program Insurer
Victor O. Schinnerer & Company
Victor O. Schinnerer & Company is one of the largest and most experienced underwriting managers of professional liability and specialty insurance programs in the world. Schinnerer now serves more than 46,000 policyholders in various specialty industries through independent insurance agents and brokers.
CNA (Continental Casualty)
Serving businesses and professionals since 1897, CNA is the country's seventh largest commercial insurance writer and the thirteenth largest property and casualty company. CNA's insurance products include standard commercial lines, specialty lines, surety, marine, and other property and casualty coverage. Its services include risk management, information services, underwriting, risk control, and claims administration. CNA has an A.M. Best "A XV" rating for financial strength and employs over 8,000 people countrywide.
About This Partner
To learn more about Victor O. Schinnerer's Real Estate Errors & Omissions Insurance Program, visit www.Schinnerer.com/NAR or call 888-429-6638. Be sure to mention that you are a member of the National Association of REALTORS® and provide your NRDS ID on your application to receive your policy credits.
To obtain a quote from Schinnerer, you will need to submit your completed application through a licensed property and casualty insurance agent or broker. If you do not have an insurance broker, please visit www.Schinnerer.com/NAR for a list of real estate E&O insurance brokers from which to choose.
Victor O. Schinnerer & Company | In CA, dba Schinnerer Insurance Services | CA Ins. Lic. #0156109
---
Individual program eligibility is subject to state and territory availability, and active NAR membership. See partner site for details, terms, and conditions.