2019 orientation materials coming soon.
The 2018 New Member Orientation Video is available for streaming here and on YouTube. Find information on the Member Orientation Toolkit below.
2018 Online Orientation Toolkit
Resources Include: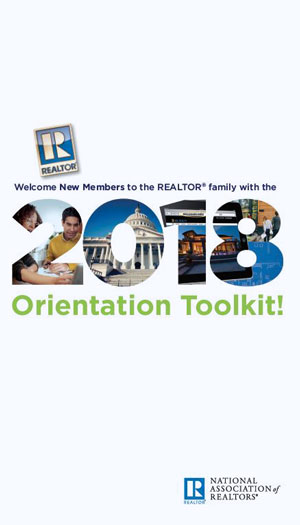 The new 2018 Orientation Video highlighting key NAR benefits, with an introduction by NAR 2018 President Elizabeth Mendenhall (22 minutes). This video can also be viewed on YouTube. REALTOR Benefits® Program offerings are accurate as of January 1, 2018. Program offerings are subject to change at any time. For current program offerings, visit NAR.realtor/RealtorBenefits. Also included are other videos to play during orientation.

Note: As we are moving to a digital format, DVDs will no longer be included in Orientation Toolkit mailings; however, there is a very limited quantity available upon request. If your Association is unable to stream the 2018 NAR New Member Orientation video online, and therefore requires a DVD in order to show the video, please contact NAR to request to have one shipped to your office beginning in March 2018 (while supplies last).

2018 Orientation Brochure for Associations (PDF) — Each Association receives a brochure with tools and resources for Associations to use during new member orientation programs to welcome new members into the REALTOR® family, and information to help communicate the valuable benefits from their national REALTOR® Association.
REALTOR® Pins — Each Association receives a quantity of residential (and commercial, if applicable) REALTOR® pins to provide to new members. Order additional pins at 847-991-4010 or visit NewMemberPins.realtor.
Suggested Orientation Timeline (PDF) — View the suggested timeline for a full-day or half-day orientation
All associations must provide for 2.5 hours of existing and new member Code of Ethics Training.
Realtors Property Resource® (RPR®) — Find helpful information specifically for new members on how they can leverage this powerful database.
REALTOR® Party New Member Orientation — This video and PowerPoint combo complement the existing NAR Orientation materials and focuses solely on the importance of the REALTOR® Party advocacy and outreach for members and their businesses.