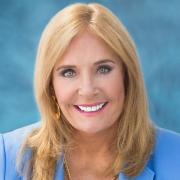 Leslie Rouda Smith (ABR®, CRS®, PMN, CRB, e-PRO®, CIPS, AHWD), a REALTOR® for nearly 35 years from Plano, Texas, is the 2020 First Vice President of the National Association of REALTORS®.
Leslie is a broker associate at Dave Perry-Miller & Associates, in Dallas, where she specializes in residential and ranch and country real estate, along with her husband Brian, and their children, Kristin and Austin, all of whom are REALTORS®.
At the national level, she has been a member of NAR's Board of Directors since 2009 and has served several years on the Executive Committee. In 2017, she was the vice president for Region 10, comprised of Louisiana and Texas and chaired the "Future of the REALTOR® Party" PAG that same year. In 2013, she served on the NAR Leadership Team as vice president. In 2009 and 2011, she served as a liaison for two other NAR past presidents. Also in 2011, she chaired the Leadership Academy Advisory Board, served as a political fundraising liaison, and served on a presidential advisory group for political survival and another for National Flood Insurance Program implementation. In 2008, Leslie chaired the Professional Development Committee. Leslie is very active in REALTOR® Party activities. She is a member of the REALTOR® University Board of Regents, the RPR Advisory Council, and the RPR Board of Directors. She has experience serving on numerous NAR committees, including Finance, Strategic Thinking, Communications, and Research.
At the state level, Leslie was the 2016 Chairman of the Board for Texas REALTORS®. She has served on their Board of Directors for multiple terms. She was named their 2018 REALTOR® of the Year and received a Distinguished Service Award in 2014.
Leslie is a past recipient of the REALTOR® of the Year and Salesperson of the Year for her local board, the Collin County Association of REALTORS®. She is active in the Dallas chapter of the Women's Council of REALTORS®, and in 2014, she was named Entrepreneur of the Year for the Texas Women's Council of REALTORS® Chapter.
She is engaged in her community, and has been active in affordable housing programs, neighborhood revitalization, and housing opportunity initiatives. Leslie has a bachelor's degree in Communications from the Ohio State University, and was named an Outstanding Young Alumni.
---
The National Association of REALTORS®, The Voice for Real Estate®, is America's largest trade association, representing 1.3 million members involved in all aspects of the residential and commercial real estate industries.