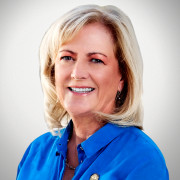 Kaki Lybbert (ABR®, BPOR, C2EX, CRS, SRES®), a REALTOR® from Copper Canyon, Texas, was the 2022 Vice President of Advocacy for the National Association of REALTORS®. She has been a REALTOR® for almost 30 years. She was named as Texas' REALTOR® of the Year for 2021.
Kaki has been buying and selling real estate with Century 21 Judge Fite in Denton, Texas, since 1997. She is passionate about sharing the importance of advocacy issues with her industry peers and NAR members.
Kaki has served as Chair of NAR's RPAC Major Investor Council, Corporate Investor Council, and RPAC Fundraising Forum.
She was the Chair of the Texas Association of REALTORS® in 2018. She previously served TAR as Chair of TREPAC. Kaki has served on numerous other committees and boards in her community.
Kaki lives in North Texas with her husband, Dallas attorney Roger Foster, and their dog Nelson, a half cocker spaniel, half schnauzer. They also enjoy the company of cows, horses, goats, chickens, and other animals on their property.
Kaki's father was president of the Dallas Homebuilders Association. Her son Chase works in oil and gas. Daughter Katie is a registered nurse and works for Kaki; Katie's husband, Jodie, is a REALTOR®.
Kaki studied Business Administration at Louisiana State University, though her family also roots for University of Oklahoma and Texas Christian University football.
Kaki is a fifth-generation Texan and a history buff who enjoys diving deep into her genealogy. The Lybberts' favorite getaway is to their property in southwestern Arkansas, which has been in the family since the 1940s.