It's a complex question that involves more than one answer. If you're a U.S.-based REALTOR®, for example, you're accustomed to submitting listings to your MLS and using syndication services to republish them on various popular real estate portals. But will international buyers find your listings on these domestic sites?
U.S. agents have a distinct leg up, in that any property entered into the MLS will also appear on realtor.com® and realtor.com®/international, which syndicates listings from 46 different countries and attracts over 1 million monthly visitors from outside the U.S. (This is a free REALTOR® member benefit.)
While that's impressive traffic and exposure, it still doesn't ensure that buyers from other countries will find a U.S. agent's listings. Further, not all International REALTORS® (NAR members based outside the U.S.) have free access to the syndicated sites included on realtor.com®/international. Though, a number of NAR's bilateral partners from across the globe do aggregate their members' listings to the site.
To effectively market your properties across borders requires an entirely different process—and that process will vary depending on your personal circumstances, the type of property you're trying to promote, and the type of buyer you're trying to reach. Following are several key factors to consider.
What are your global buyer's search options and preferences?
Put yourself in your target buyer's shoes and ask yourself: What sites would this buyer most likely use for domestic searches? International searches? For an international search specifically in your country?
Do the sites they use for domestic searches also accept and promote international listings? Are there any niche sites that effectively promote the type of property you're listing? Or are their niche sites catered to your particular type of buyer?
For example:
Chinese buyers have been snapping up properties around the globe. The #1 domestic property portal is Fang.com (previously known as SouFun.com), where visitors can shop for homes across China, but also in the U.S., Australia, Canada, the United Kingdom, Japan, and other countries. Another popular site, Juwai.com, specifically targets Chinese buyers interested in overseas property, offering a very personalized service, including a customer call center. Global agents who want their property viewed by Chinese buyers typically must rely on sites like Fang and Juwai, which operate behind China's firewall.
In Canada, on the other hand, the dominant domestic site for residential property (over 250,000 listings) is Realtor.ca, operated by the Canadian Real Estate Association (CREA) on behalf of its REALTOR® members. Over 80,000 commercial properties appear on an affiliated site (ICX.ca). For international property searches, realtor.ca is linked to Worldproperties.com. However, English-speaking Canadians shopping for homes in the U.S. readily use the major U.S. portals such as realtor.com®, Zillow or Trulia.
In the United Kingdom, two leading sites—Rightmove and Zoopla—are the dominant property portals. They both concentrate on domestic properties, but also offer limited listings beyond the U.K., primarily in the Eurozone.
Can you work with agents in other countries to help display your listings?
Just as U.S. agents regularly participate in cooperative listing agreements, it may be possible to establish an agreement with an agent in another country who's well-connected with your target buyers and is willing to display one or more of your listings on their site. Christel Silver, CIPS, CRS, based in Delray Beach, Florida has successfully employed this technique to reach buyers in Germany. "This is a perfect example of how leveraging connections within the CIPS Network can work to your advantage," explains Silver, who is also a past NAR President's Liaison to Germany.
Can you use your own website to attract global buyers?
Silver has observed that buyers from other countries will find you if you make a point of reaching out to them on your personal website. Originally from Germany, she has a "German Page" prominently displayed on her site, where she provides her biography and credentials in fluent German (instead of relying on machine translation), including important keywords. "It's just one page on my site, but it makes a big impact with search engines and with German visitors," says Silver. "Every agent needs to market their listings, but when it comes to global buyers, it's probably more important to market ourselves. Once a buyer is serious about purchasing property in another country, their first priority is finding someone they can trust to assist them."
What about marketing directly to the CIPS Network?
This is where CIPS designees have a distinct advantage in the global real estate market. By networking with one another—at face-to-face events, by email exchange, or online (including the private CIPS Facebook group)—designees can meet and pinpoint qualified professionals in other markets with their finger directly on the pulse of global business. It's an ideal way to tap into other markets and connect your global listings to the world.
International Search Options: Types of Property Portals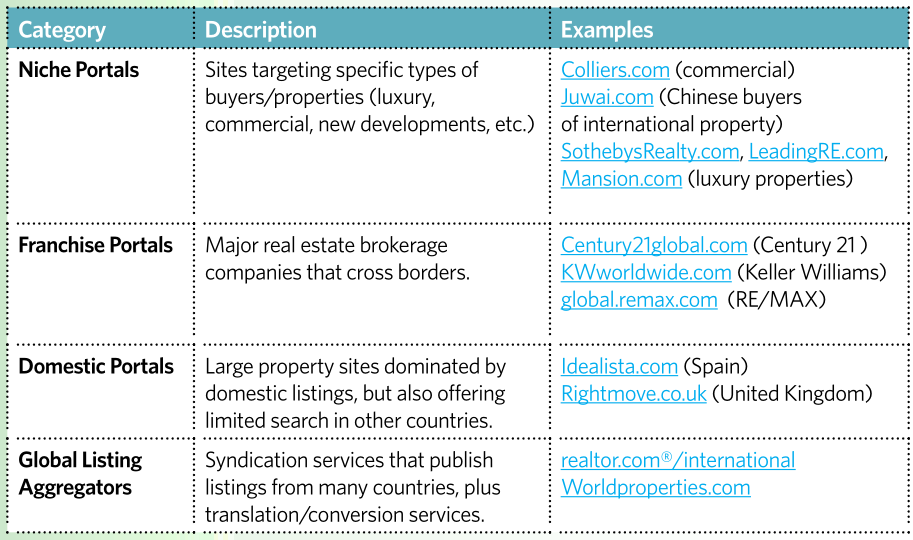 Who Provides Listings on realtor.com®/international?
Included below is a list of some of the realtor.com®/international data content providers, affiliated with NAR's bilateral partner associations around the world.