Even though face-to-face networking is the best way to build a global practice, it's also important to research a market and learn more about key individuals and organizations that are actively involved in global business. To support your efforts, NAR offers four valuable online directories:
1. Cooperating Associations
www.realtor.org/intlnet.nsf/Home?OpenForm
Cooperating Associations act as like-minded partners with NAR, seeking to enhance professionalism in their country and maintaining bilateral agreements. While they are typically real estate industry groups, a Cooperating Association may also be a government organization. (Note: Ambassador Associations can also be found through this directory.)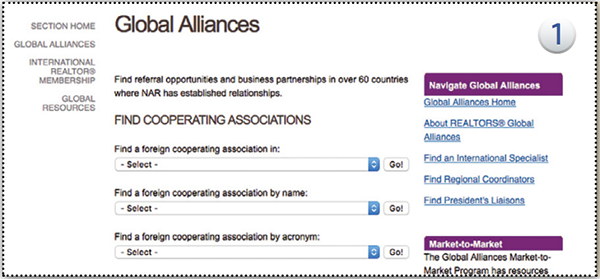 2. President's Liaisons
www.realtor.org/intlnet.nsf/SearchPL
These are NAR members, appointed by the president of NAR to serve as his or her liaison to real estate professionals in their designated country. President's Liaisons are further organized into five regions and work under the direction of a Regional Coordinator (also an NAR member appointed by the president).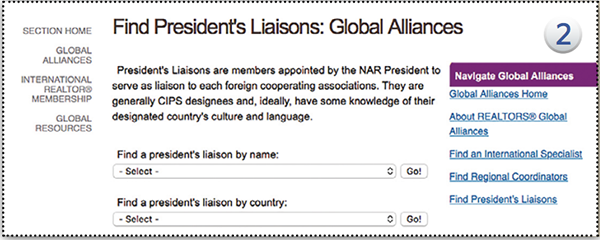 3. CIPS Designees
​​​​​​​The CIPS network includes over 3,400 designees in 45 countries. These are your peers, in terms of sharing a commitment to the highest level of professionalism and education in global real estate.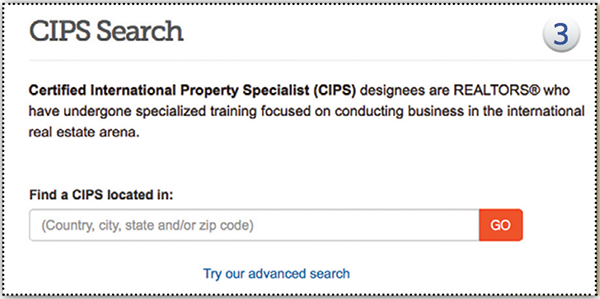 4. International REALTOR® Members
​​​​​​​Use this directory to find real estate professionals around the world who are members of NAR and subscribe to a code of ethics similar to that of NAR.