Risk Management & Insurance Issues for Associations
(Updated March 2016)
Just like any business, REALTOR® associations need sound risk management practices and a good insurance plan to protect themselves and their members. Use this Field Guide to navigate the ins and outs of insurance for associations: how much coverage is enough, understanding risk management, professional liability insurance, and more. (A. Scoulas, Information and Project Specialist)
---
E - EBSCO articles available for NAR members only. Password can be found on the EBSCO Access Information page.
---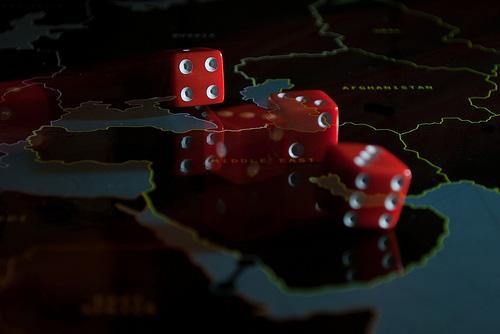 Photo Credit: Derek Gavey
Insurance & Risk Management Resources From NAR
Benefits -- Insurance (NAR Human Resources Toolkit).
Health Care Reform topic page (National Association of REALTORS®) — Updates and resources on health insurance reform for REALTORS® and associations.
---
How Much Insurance Does Your Organization Need?
Does Your Association Have the Right Insurance Coverage? (Associations Now, Oct. 2011)
What Insurance Coverage Is Your Association Missing?, (Associations Now, Oct. 2010).
Get the best protection for your insurance dollar, (Nonprofit World, July/Aug. 2006). E
---
Risk Management for Associations
Challenges of nonprofit risk management, (Risk Management, July/Aug. 2013). E
Can your organization afford to lose $100,000? (Nonprofit World, May/June 2012). E
Keep Your Volunteers Covered, (Associations Now, Mar. 2012).
Don't take risks with social media, (Nonprofit World, July/Aug. 2011). E
Risk Management Know-how, (Associations Now, Mar. 2010).
How much risk is right?, (Associations Now, Jan. 2011).
Fraud: How to prevent it in your organization, (Nonprofit World, May/June 2008). E
Risk management: How to protect your assets, (Nonprofit World, Jan./Feb. 2008). E
---
About D&O Insurance
An increasing target for claims, nonprofits seek more D&O coverage, (National Underwriter, Feb. 6, 2012). E
Do you need D&O/EPL insurance?, (Nonprofit World, May/June 2009). E
---
Useful Websites
Nonprofit Risk Management Center
---
eBooks & Other Resources
eBooks
The resources below are available for loan through Information Services. Up to three books, tapes, CDs and/or DVDs can be borrowed for 30 days from the Library for a nominal fee of $10. Call Information Services at 800-8740-6500 for assistance.
Implementing and Sustaining Your Strategic Plan
Strategy in Practice: A Practitioner's Guide to Strategic Thinking
The Nonprofit Board Answer Book: A Practical Guide for Board Members and Chief Executives
Compliance Management for Public, Private, or Nonprofit Organizations
Managing Risk in Nonprofit Organizations: A Comprehensive Guide
---
Field Guides & More
These field guides and other resources in the Virtual Library may also be of interest:
Field Guide to Errors & Omissions Insurance
Field Guide to IRS Form 990 Reporting Rules for Nonprofits
Field Guide to Association Budgets & Reserves
Field Guide to Investment Planning for Associations
---
Have an Idea for a New Field Guide?
Click here to send us your suggestions.
The inclusion of links on this field guide does not imply endorsement by the National Association of REALTORS®. NAR makes no representations about whether the content of any external sites which may be linked in this field guide complies with state or federal laws or regulations or with applicable NAR policies. These links are provided for your convenience only and you rely on them at your own risk.