Field Guide to Short-Term Rental Restrictions
(Updated January 2016)
According to the 2015 NAR Investment and Vacation Home Buyers Survey, most respondents purchased a vacation property for personal use, but, of investment buyers, 50% purchased with the intent of renting to others. Renting out a vacation home can offset the costs of this investment until retirement. But what happens when a community acts to restrict short-term rentals? Read on... and you'll find out. (S. Hogan, Manager, Library & Archives)
---
E - EBSCO articles available for NAR members only. Password can be found on the EBSCO Access Information page.
---
The Short-Term Renta​l Debate
Why restrict?
Increased noise and traffic.
Reduced housing stock available to those who live and work in a community.
Unfair competition with licensed establishments.
Impact of restrictions:
Diminishes value of investment property.
Reduces the pool of buyers able to purchase in high-demand vacation areas.
Infringes upon property rights.
Benefits of short-term rentals:
Promotes tourism.
Generates revenue for community.
Defrays costs of a vacation/second home.
---
Short-Term Rental Conundrum
The Airbnb Factor, (REALTOR® Magazine, Jan. 2016)
The Next Property Rights Frontier, (REALTOR® AE, Oct. 20, 2015)
How Airbnb Combats Middle Class Income Stagnation, (Gene Sperling for AirBNB, Jun. 2015)
Airbnb, Rising Rent, and the Housing Crisis in Los Angeles, (Los Angeles Alliance for a New Economy, Mar. 2015)
New York City Debates Airbnb Pros and Cons, (International Meetings Review, Jan. 22, 2015).
Do Airbnb-style short-term rentals destroy neighborhoods — or save them?, (Uptown Messenger, Jan. 15, 2015)
The Basics of Legal Short-Term Rentals, (Curbed Chicago, Apr. 5, 2013).
---
Win, Lose, Com​promise
Airbnb Is Crashing the Neighborhood, (REALTOR® Magazine, Dec. 2015)
Rental sites like Airbnb aren't as innocuous as they pretend, (Los Angeles Times, Jul. 19, 2015)
Checking In On Airbnb In The Western Addition And Alamo Square, (Hoodline, Jan. 2015).
State Legislators Aim to Crack Down on AirBnb Short-Term Rentals, (North End Waterfront, Jan. 22, 2015).
Airbnb Is Infuriating the Neighbors. Is It Time for New Rules?, (LA Weekly, Jan. 22, 2015).
---
Articles, Surv​eys & More From NAR
NAR Investment and Vacation Home Buyers Survey 2015, (National Association of REALTORS®, 2015).
Residential Rentals: The Housing Market, Regulations, and Property Rights, (Robinson & Cole LLP, prepared for the National Association of REALTORS®, Oct. 14, 2015).
Economic Impact of Transient Vacation Rentals (TVRs) on Maui County, (Prepared for the REALTORS® Association of Maui, Jan. 8, 2008).
---
Websites & Othe​r Resources
Learn about ​the Short-Term Rental Industry
Short Term Rental Advocacy Center — The Short Term Rental Advocacy Center (STRAC) was created by Airbnb, HomeAway, TripAdvisor, and FlipKey to engage with policymakers on behalf of community members. STRAC has several local chapters across the U.S., and educates communities on short term rental best practices and ways to get involved.
Protect Vacation Rentals — A collection of articles posted by "professionals against the legislation banning short-term rentals in New York City"(Source: Protect Vacation Rentals).See this site for articles, legislation, and more with a New York focus.
Community from HomeAway — HomeAway (www.homeaway.com) connects travelers with short-term rental properties, and Community from HomeAway is a member-driven site with topic forums, resources, groups, and blogs for both travelers and property managers.
Locate Short-Term Rental Listings
Rentmix.com — aggregates vacation and short-term rental listings from several sources (AirBnB, HomeAway, and FlipKey) and shows listings on a full-screen map. For a bit more information on Rentmix.com, see this AGBeat article.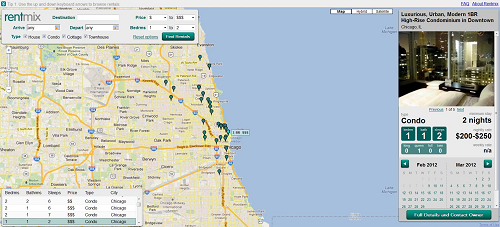 Check out more short-term rental websites: AirBnB FlipKey HomeAway
Compliance
Tax Topic 415 - Renting Residential and Vacation Property, IRS
Publication 527 (2014), Residential Rental Property, IRS
Sales Tax Formulas for Vacation Rentals, Community from HomeAway
Sales Tax Requirements for Vacation Rental Homes, Community from HomeAway
State Sales Tax Offices, Community from HomeAway
* Please check with local government in your rental property area for information on permits, taxation, and regulations.
---
eBooks & Other Resources
eBooks.realtor.org
The following eBooks and digital audiobooks are available to NAR members:
The Complete Guide to Real Estate Finance for Investment Properties (Adobe eReader)
How a Second Home Can Be Your Best Investment (Adobe eReader)
The Real Estate Investor's Tax Strategy Guide (Adobe eReader, Kindle)
Retire Rich from Real Estate: A Low-Risk Approach to Buying Rental Property for the Long-Term Investor (Adobe eReader)
Buying a Second Home: Income, Getaway or Retirement (Adobe eReader)
Complete Guide to Investing in Rental Properties (Adobe eReader)
How a Second Home Can be Your Best Investment (Adobe eReader)
How to Succeed and Make Money with Your First Rental House (Kindle, Adobe eReader)
Leases & Rental Agreements (Adobe eReader)
Second Homes for Dummies® (Kindle, Adobe eReader)
The Unofficial Guide to Managing Rental Property (Adobe eReader)
---
Books, Videos, Research Reports & More
The resources below are available for loan through Information Services. Up to three books, tapes, CDs and/or DVDs can be borrowed for 30 days from the Library for a nominal fee of $10. Call Information Services at 800-874-6500 for assistance.
Hold: how to find, buy, and rent houses for wealth (New York: McGraw Hill, 2013). HD1382.5 .H654 2013
Get rich slow: your guide to producing income & building wealth with rental real estate (Salt Lake City, UT: Millrock, 2013).
Buy it, rent it, profit!: Make money as a landlord in any real estate market (New York, NY: Simon & Schuster, 2009). HD 1394 C39
Vacation home fractional conversion: A complete guide for home sellers, builders and real estate professionals (Chicago, IL: Fractional Retreats LLC, 2009).
Vacation nation: The complete guide to timeshare, private residence clubs, fractionals & destination clubs (Chicago, IL: BookSurge Publishing, 2009).
---
Field Guides & More
These Field Guides and other resources in the Virtual Library may also be of interest:
Field Guide to the Condominium Market
Field Guide to Vacation, Resort and Second Homes
Field Guide to Zoning Laws & Ordinances
---
Have an Idea for a New Field Guide?
Click here to send us your suggestions.
The inclusion of links on this field guide does not imply endorsement by the National Association of REALTORS®. NAR makes no representations about whether the content of any external sites which may be linked in this field guide complies with state or federal laws or regulations or with applicable NAR policies. These links are provided for your convenience only and you rely on them at your own risk.