Field Guide to Impacts of Property Taxes on Real Estate
(Updated May 2017)
Americans love to hate property taxes despite the fact that local governments depend upon this levy to provide services and programs to local residents. Learn more about property tax basics and the impact on property values. (A. Siudzinski, Senior Library Information Specialist)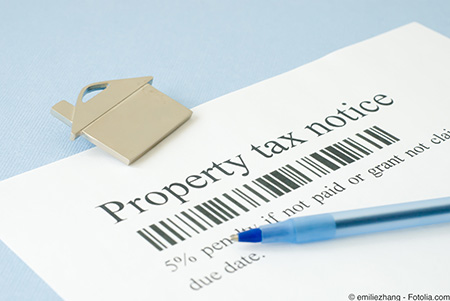 ---
E - EBSCO articles available for NAR members only. Password can be found on the EBSCO Access Information page.
---
Source: 2017's Changes to Real Estate Tax Rates Over Time, (WalletHub, 2017).
---
Understanding Property Taxes
Quarterly summary of state and local government tax revenue for 2016: Q4, (United State Department of Commerce/ United States Census Bureau, Mar. 21, 2017). Local governments collected $203.8 billion of total property tax revenue in the fourth quarter of 2016.
Some advantages of property taxes over land value taxes, (Forbes, May 14, 2017).
How to calculate property tax without losing your marbles, (realtor.com®, Dec. 9, 2016).
50-state property tax comparison study, (Lincoln Institute of Land Policy and Minnesota Center for Financial Excellence, June 2016).
Tempted to flee high taxes? You may miss what they pay for, (realtor.com®, June 22, 2016).
Property tax collections increase, (National Association of Home Builders, Sept. 22, 2015).
Learn to love the property tax—it's not so bad, (Forbes, May 11, 2015).
8 reasons your property taxes are so damn high, (Money, Apr. 20, 2015).
A guide to understanding your property tax, (Huffington Post, Apr. 8, 2015).
---
Impact on Property Values
As home values rise, tax assessment rate declines, (Fort Morgan Times, May 3, 2017).
Assessor: Big increase in reappraised Boulder County property values, (Times-Call, Apr. 30, 2017).
In Bridgeport, property values plummet, but taxes soar for some, (The New York Times, Oct. 10, 2016).
3 different values for 3 homes baffle Kirkland neighbors, (The Seattle Times, July 5, 2016).
Miami-Dade property values surge 9 percent, higher than expected, (Miami Herald, July 1, 2016).
Will Detroit's new city dwellers split when property tax breaks expire?, (Deadline Detroit, June 23, 2016).
A taxing problem, (The Dallas Morning News, May 25, 2016).
Fayette landowners face billion dollar bump in property values, (Lexington Herald Leader, Apr. 14, 2016).
The property tax factor, (REALTOR® Magazine, Dec. 2015).
The effect of property taxes on home values (Journal of Real Estate Literature, Vol. 8, No. 2, 2000). E
The connection between house price appreciation and property tax revenues (National Tax Journal, Sept. 2008). E
Homeowners, renters, and the political economy of property taxation, (University of Connecticut - Department of Economics Working Paper Series, Oct. 2013).
---
Challenging Your Property Tax Bill
Appeal your property tax bill, (HouseLogic, n.d.).
How to lower your property taxes in four easy steps, (CNBC, Oct. 18, 2016).
How to Reduce Your Property Taxes, (Kiplinger, Mar. 2014).
How to Lower Your Property Taxes, and When Not to Try It, (Huffington Post, Dec. 12, 2013).
How to Cut Your Property Taxes, (Credit.com, Oct. 8, 2013).
Appraisal Institute Provides Homeowners With Property Tax Appeal Tips, (The Appraisal Institute, Mar. 21, 2013).
---
Useful Websites
Significant Features of the Property Tax, (Lincoln Institute of Land Policy).
Property Tax Data by County, (Tax Foundation).
---
eBooks & Other Resources
eBooks.realtor​.org
The following eBooks and digital audiobooks are available to NAR members:
How to Invest In Offshore Real Estate and Pay Little or No Taxes (Adobe PDF eBook )
How to Invest in Real Estate & Pay Little or No Taxes Use Tax Smart Loopholes to Boost Your Profits By 40% (Adobe PDF eBook )
Make Money in Real Estate Tax Liens (Kindle Book; Adobe PDF eBook)
Real Estate Advantages (Overdrive WMA Audiobook)
Books, Videos, Research Reports & More
The resources below are available for loan through Information Services. Up to three books, tapes, CDs and/or DVDs can be borrowed for 30 days from the Library for a nominal fee of $10. Call Information Services at 800-874-6500 for assistance.
Property Taxes in Illinois—What is the Effect of Rapid Increases and Large Drops in House Prices on Property Taxes?, (University of Illinois, 2011). [pdf link]
Challenging the Conventional Wisdom of the Property Tax, (Hollis, NH: Puritan Press, 2010). HJ 4120 B14
How to Reduce Your Property Taxes, (Genesis Press, 1995). HJ 3241 Ad5
Reduce Your Property Taxes, (Crisp Publications, 1992). HJ 4120 T97
The Worst Tax? A History of the Property Tax in America, (University of Kansas Press, 1996). HJ 4120 F57
Field Guides & More
These field guides and other resources in the Virtual Library may also be of interest:
Field Guide to Development Impact Fees
Field Guide to Real Estate Transfer Taxes
Field Guide to Schools & the Homebuying Decision
---
Have an Idea for ​a New Field Guide?
Click here to send us your suggestions.
The inclusion of links on this field guide does not imply endorsement by the National Association of REALTORS®. NAR makes no representations about whether the content of any external sites which may be linked in this field guide complies with state or federal laws or regulations or with applicable NAR policies. These links are provided for your convenience only and you rely on them at your own risk.