Field Guide to Effects of Low-Income Housing on Property Values
(Updated March 2016)
Questions arise about whether or not the sales prices of single-family homes are made higher or lower when low-income housing is nearby. Most studies indicate that affordable housing has no long term negative impact on surrounding home values. In fact, some research indicates the opposite. However, local communities continue to believe the myth, raising a cry of "Not in my Backyard! (NIMBY)." The following articles and studies examine the effects of low-income, public, and subsidized housing on the values of surrounding properties, the challenge of NIMBY, and some possible resources people can use to educate community groups and local governments.
---
E – EBSCO articles available for NAR members only. Password can be found on the EBSCO Access Information page.
---
Housing Pulse Surveys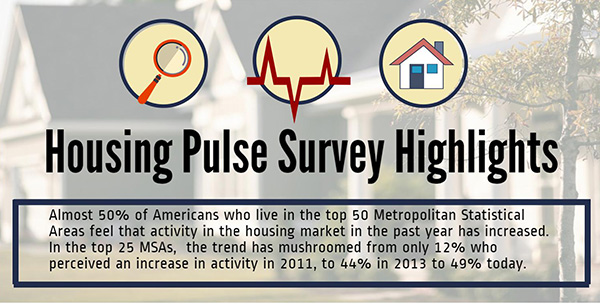 Source: Americans Think Buying a Home is a Good Financial Decision, (National Association of REALTORS®, 2015).
---
Texas Residents Oppose Affordable Housing
Source: Watch Texas Residents Oppose Affordable Housing, (Affordable Housing Finance, Feb. 22, 2016).
---
Impacts of Low-Income Housing on Neighboring Properties
NAR's Housing Opportunity Program, (NATIONAL ASSOCIATION OF REALTORS®, 2016).
How Affordable Housing Helps Companies, (REALTOR® Magazine, Feb. 19, 2016).
REALTORS® Applaud House Passage of "Housing Opportunity Through Modernization Act", (NATIONAL ASSOCIATION OF REALTORS®, Feb. 2, 2016).
Property value in low-income housing debate, (The Marketplace, Dec. 15, 2015).
An Update Analysis of the Relationship Between Affordable Family Rental Housing and Home Values in the Twin Cities, (Maxfield Research, Inc., May 2014).
The Limits of Housing Investment as a Neighborhood Revitalization Tool, (Journal of American Planning Association, July 1, 2013). E

Low-Income Housing Tax Credit Developments and Neighborhood Property Conditions, (Federal Reserve Bank of Kansas City Economic Research Department, Dec. 2011).
---
Opposition to Public Ho​using (NIMBYism)
NIMBY Resources, (California Department of Housing and Community Development, 2016).
NIMBYism ruining our neighborhoods, (Toronto Star, Jan. 7, 2016). E
Opposition Organizes Again Low-Income Housing at American Legion Site, (Wilmette-Kenilworth Patch, Nov. 11, 2015).
The new NIMBYism, (The Washington Post, Dec. 10, 2015). E
Opposition to housing in HBO's "Show Me a Hero" sound eerily familiar, (Greater Greater Washington, Aug. 21, 2015).
Where should Poor People Live?, (The Atlantic, June 2, 2015).
Who gets to live where? The battle over affordable housing, (Aljazeera America, Jan. 18, 2015).
New York State's Affordable Housing Developers: What They Do, How They Do it, (Rooflines, Jan. 30, 2014).
NIMBY: Where, When, And to Which Develoopers it Happens, (Rooflines, Mar. 31, 2014).
Who, Why and How Communities Oppose Affordable Housing, (Rooflines, Apr. 23, 2014).
Exploring Homeowner Opposition to Public Housing Developments, (The Western Michigan University Journal of Sociology & Social Welfare, Mar. 2010).
Addressing Community Opposition to Affordable Housing Development A Fair Housing Toolkit, (The Housing Alliance of Pennsylvania, 2004).
A New Approach to NIMBY, (Journal of Affordable Housing, Fall 2002).
---
Websites
Housing Opportunity Program, (National Association of REALTORS®) — NAR's Housing Opportunity Program helps REALTORS® become leaders in promoting home ownership at local, state and national levels.
HUD User (U.S. Department of Housing & Urban Development) — Numerous reports, articles, data sets, and other information on affordable housing from HUD's research department.
KnowledgePlex — Founded by several research institutions, KnowledgePlex is designed to support the efforts of a wide variety of groups involved or interested in the fields of affordable housing and community development.
National Low Income Housing Coalition — Includes numerous studies and reports on the state of affordable housing in the U.S., including the monthly NIMBY Report.
National Housing Conference — A national nonprofit affordable housing advocacy organization, featuring an Affordable Housing Clearinghouse, affordable housing publications and studies, and more.
---
eBooks & Other Resources
Books, Videos, Research Reports & More
The resources below are available for loan through Information Services. Up to three books, tapes, CDs and/or DVDs can be borrowed for 30 days from the Library for a nominal fee of $10. Call Information Services at 800-874-6500 for assistance.
The Effects of Subsidized Housing on Property Values: A Survey of Research, (California Department of Housing & Community Development, 1988). HD 1387 C12e
Growth Management and Affordable Housing: Do They Conflict?, (Brookings Institution Press, 2004). HT166 G74
Impacts of Social Housing: Final Report, (Canada Mortgage & Housing Corporation, Jan. 1994). HD 1387 C16
Low-Income Homeownership: Examining the Unexamined Goal, (Brookings Institution Press, 2002). HD 7287 L68
Why Not in My Backyard? Neighborhood Impacts of Deconcentrating Assisted Housing, (Rutgers University - Center for Urban Policy Research, 2003). HD 7293 W52w
Why Not in Our Community? Removing barriers to affordable housing, (HUD, 2005). HD7293 Un3wn
Field Guides & More
These field guides and other resources in the Virtual Library may also be of interest:
Field Guide to Housing Trust Funds
Field Guide to Inclusionary Zoning
Field Guide to Low-Income Housing Tax Credits
Field Guide to Social Benefits of Homeownership
---
Have an Idea for a New Field Guide?
Click here to send us your suggestions.
The inclusion of links on this field guide does not imply endorsement by the National Association of REALTORS®. NAR makes no representations about whether the content of any external sites which may be linked in this field guide complies with state or federal laws or regulations or with applicable NAR policies. These links are provided for your convenience only and you rely on them at your own risk.