Field Guide to Commercial Broker Lien Laws
(Updated April 2017)
Commercial broker lien laws allow liens to be filed on commercial properties for the full payment of commissions. In states that have enacted commercial lien laws, there has been a dramatic decline in commission collection litigation and arbitration. Explore the resources on this page for information on how lien laws work, summaries of current laws, news updates, and more. (A. Siudzinski, Senior Library Information Specialist)
---
E - EBSCO articles available for NAR members only. Password can be found on the EBSCO Access Information page.
---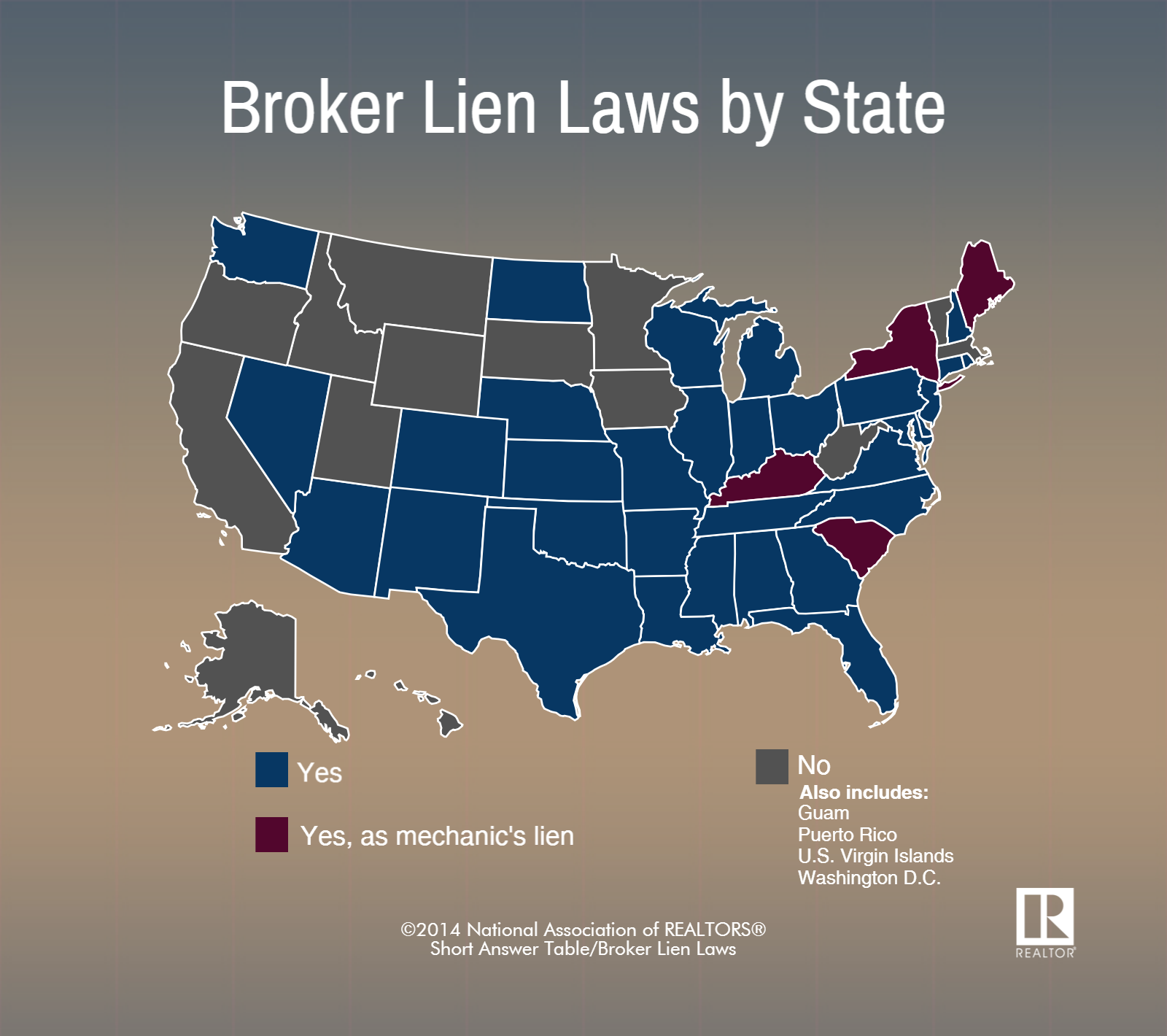 What Are Commercial Broker Lien Laws?
Broker lien laws: Which states have them?, (The Source, Apr. 30, 2012).
Commercial broker lien laws, (Commercial Connections, Winter 2012).
Laws protecting broker commissions gain traction in states; North Carolina becomes third state in 10 months to enact 'broker lien' law, (CoStar Group, June 22, 2011).
---
Current Lien Laws
Annual Report—Broker Lien Laws, (National Association of REALTORS® Multi-State Issue Tracker Library). Login required. Click on "Broker Lien Laws" in menu on left for state-by-state overview.
---
State Summaries & Updates
Two types of liens commercial real estate brokers should know about, (Florida Commercial Real Estate Litigation Blog, Aug. 30, 2016). This article discusses Florida commercial real estate sales, not leases.
New York Real Estate Broker's Liens FAQ, (Jones Hacker Murphy, Feb. 2016).
Help getting paid: New law protects brokers' commissions, (Mississippi Business Journal, May 30, 2014).
Wyoming Lien Law Basics, (Business Credit, Jan. 2014). E
Delaware enacts commercial brokers' lien law, (The Source, June 12, 2013).
A summary of the Commercial Real Estate Broker Lien Act, (North Carolina Bar Association, Sept. 2012).
Ohio commercial broker lien law, (Ohio Association of REALTORS®, 2013).
Broker lien law a plus for real estate industry, (Denver Business Journal, May 14, 2010).
Commercial real estate broker liens, (Arizona Commercial Leasing Blog, Feb. 28, 2010).
Commercial Lien Law Legal FAQs, (Florida Association of REALTORS®, 2014).
Commercial lien laws, (CCIM Institute, June 2011).
---
Field Guides & More
These field guides and other resources in the Virtual Library may also be of interest:
Field Guide to Mediation & Conflict Resolution
Field Guide to Breaking Into Commercial Sales
Field Guide to Commercial Property Management
---
Have an Idea for a New Field Guide?
Click here to send us your suggestions.
The inclusion of links on this field guide does not imply endorsement by the National Association of REALTORS®. NAR makes no representations about whether the content of any external sites which may be linked in this field guide complies with state or federal laws or regulations or with applicable NAR policies. These links are provided for your convenience only and you rely on them at your own risk.