Field Guide to Cell Phone Towers
(Updated May 2017)
Cell phone towers may bring extra tax revenue, greater reception, and security to a city or town. Despite these benefits, many remain skeptical of towers due to potential health risks, environmental aesthetics, and the impact on property values. (A. Siudzinski, Senior Library Information Specialist)
---
E - EBSCO articles available for NAR members only. Password can be found on the EBSCO Access Information page.
---
Cell Phone Towers & Property Values
Cell phone towers do not affect property values, (Probate & Property, May/June 2016).
The Lo Down on Cell Towers, Neighborhood Values, and the Secretive Telecoms, (The Dissident Voice, Dec. 19, 2015).
Cell Towers: Not in My Back Yard, (Tedium Blog, Aug. 5, 2015).
Cell Tower Antennas Problematic for Buyers, (REALTOR® Magazine, July 25, 2014).
Cell Phone Towers and House Prices in New Zealand: Economic Effects and Policy Implications, (International Journal of Housing Markets and Analysis, 2014). E
Telecoms Facing a Bold New Challenge Nationwide: Vertical Consultants Collect Billions in Underpaid Cell Tower Rents, (PRWeb, Jan. 29, 2012).
The Impact of Cell Phone Towers on House Prices in Residential Neighborhoods, (The Appraisal Journal, Summer 2005). E
The Impact of Wireless Towers on Residential Property Values, (Assessment Journal, 2003). E
---
Cell Phone Towers: Benefits
The vast majority of Americans – 95% – now own a cell phone of some kind. The share of Americans that own smartphones is now 77%, up from just 35% in Pew Research Center's first survey of smartphone ownership conducted in 2011.
Source: Mobile Fact Sheet, (Pew Research Center, Jan. 12, 2017).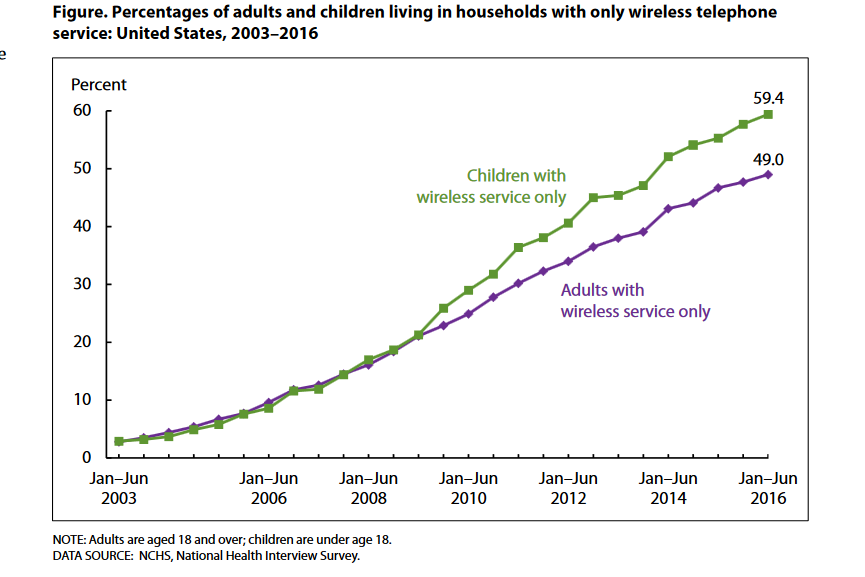 Source: Wireless Substitution: Early Release of Estimates From the National Health Interview Survey, January–June 2016 (Center for Disease Control, December 2016).
---
Cell Phone Towers: Risks & Health Concerns
Are Kids at Risk? Scores of Chicago-Area Schools Allow Cell Towers on Their Buildings, Grounds, (NBC Chicago, Oct. 4, 2016).
The Hidden Health Effects of Cell Towers, (It Takes Time Blog, Sept. 22, 2015).
Cellular Phone Towers, (American Cancer Society, n.d.).
Study: No Health Risk From Cell Phones And Towers, (CBS Atlanta, Feb. 14, 2014).
Cellphone Tower Bill Draws Concern From Municipal Group, (The Missourian, Feb. 6, 2014).
OSHA Investigating Fatal Cell Tower Collapse in Harrison County, (WOWKTV, Feb. 1, 2014).
Reflections on the INTERPHONE Study of Cell Phones and Brain Cancer, (CDC NIOSH Science Blog, July 26, 2010).
Study: Cell Phone Towers Not a Cancer Risk to Children, (PBS, June 23, 2010).
Mobile Phones Base Stations and Early Childhood Cancers: Case-Control Study, (British Medical Journal, June 22, 2010).
Radio Frequency Safety, (U.S. Federal Communications Commission, n.d.).
---
Cell Phone Tower Aesthetics
Cell phone towers that are designed to blend in with their environment are often called stealth or concealed cell phone towers. Conducting an Internet search using the terms stealth, concealed, or camouflaged will yield up-to-date results on this topic.
Cell site designed as clock tower at Tip Top Café nearly finished, (The Garden Island, Mar. 14, 2017).
Cell phone tower hidden in plain sight: Check out this CNY "pine tree" (photos), (Syracuse.com, Jan. 19, 2017).
Dressed Up as Trees, Cellular Towers Stir Debate, (The Sacramento Bee, Dec. 5, 2015).
The bizarre history of cellphone towers disguised as trees, (Vox, Apr. 19, 2015).
Cell phone tower in Norton Shores build to resemble 155-foot pine tree, (The Muskegon Chronicle, Oct. 29, 2011).
Appeals Court upholds county permit decision on Franconia Township cell phone tower, (Chicago County Press, Nov. 10, 2011).
City blocks expanded cellphone tower, (CBC News Calgary, Oct. 28, 2011).
Streaming Live Revenue, (Journal of Property Management, 2007). E
Cell tower camouflage artists just want to blend in, (Network World, 2004). E
---
eBooks & Other Resources
eBooks.realtor.org
The following eBooks and digital audiobooks are available to NAR members:
Real Estate Appraisal (Kindle and Adobe eReader)
Books, Videos, Research Reports & More
The resources below are available for loan through Information Services. Up to three books, tapes, CDs and/or DVDs can be borrowed for 30 days from the Library for a nominal fee of $10. Call Information Services at 800-874-6500 for assistance.
The Impact of Cellular Phone Base Station Towers on Property Values, (University of Auckland, 2003).
Cell Towers: Wireless Convenience? or Environmental Hazard?, (Safe Goods/New Century Publishing, 2001).
---
Field Guides & More
These Field Guides and other resources in the Virtual Library may also be of interest:
Field Guide to Choosing and Using a Smartphone
Field Guide to Dealing with Stigmatized Properties
Field Guide to Effects of Power Lines on Property Values
Field Guide to Wind Farms and Their Effect on Property Values
---
Have an Idea for a New Field Guide?
Click here to send us your suggestions.
The inclusion of links on this field guide does not imply endorsement by the National Association of REALTORS®. NAR makes no representations about whether the content of any external sites which may be linked in this field guide complies with state or federal laws or regulations or with applicable NAR policies. These links are provided for your convenience only and you rely on them at your own risk.