Viewed through the rearview mirror, 2016 proved to be a tumultuous year. From Rio's Summer Olympics highs to continued military conflict lows, and from a surprising Brexit to a lively and unexpected United States (U.S.) presidential campaign, the year offered sudden turns and sharp corners.
Economically, the world continued at a soft tempo, as evidenced by the extraordinary measures taken by several central banks to dip into negative interest rate territory in bids to stimulate growth. The U.S. continued as a relative bright spot—even at the moderate 1.6 percent annual gross domestic product growth.
Amid global uncertainty and economic moderation, international commercial real estate transactions experienced a slowdown. Total global sales volume for investment properties totaled $825.7 billion in 2016, according to Real Capital Analytics (RCA). The figure represented a 15 percent decline year-over-year. In the U.S., large cap1 investment sales reached $488.6 billion in 2016, an 11 percent drop from 2015 levels. In light of the low global yields, international investors remained active in U.S. commercial markets, as evidenced by the 14 percent share of total volume registered by cross-border investors in 2016. Cross-border capital focused primarily on hotel, office, and development properties during the year, mostly in major metropolitan areas. Foreign investors became increasingly active in secondary and tertiary markets, accounting for close to 10 percent of investment sources in each of the markets, respectively. Strengthening economies, rising employment, and solid cash flows for income-producing properties have elevated the profiles of cities like Austin, Denver, Nashville, and Las Vegas.
A Fresh Perspective on International Commercial Transactions
For members of the National Association of REALTORS® who specialize in commercial transactions, the trends were in line with their experiences. Based on data from the REALTORS® first in-depth survey on international commercial real estate, REALTORS® were active in cross-border transactions during 2016.
Highlighting the rising interest in smaller capitalization markets, 20 percent of NAR members reported closing a sale transaction involving international clients or investors. Respondents completed a median of one commercial sale deal in 2016.
NAR members reported both buyer- and seller-side international sale transactions. Survey respondents indicated a median of one buyer-side international transaction, with a median value of $1.0 million. Respondents indicated a median of two seller-side international transactions in 2016, valued at a median of $550,000. REALTORS® also reported completing lease agreements on behalf of international clients in 2016, with 22 percent of respondents indicating a median of two leases, with a median gross lease value of $105,000.
Additional information and details about REALTORS®' experiences with international investors can be found in the 2016 Commercial Real Estate International Business Trends report, to be released during the second quarter of 2017.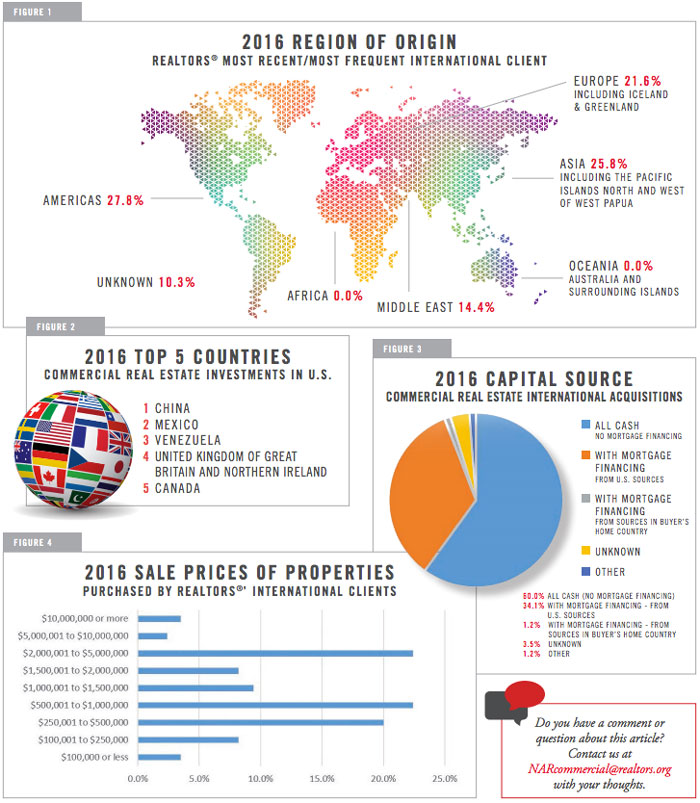 1 Large Cap data reported by Real Capital Analytics aggregates U.S. transactions from $2.5 million and above.