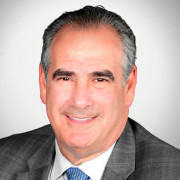 Charlie Oppler (AHWD, C2EX) is a REALTOR® from Franklin Lakes, N.J., and served as 2021 President of the National Association of REALTORS®. He has been a REALTOR® since 1981.
Charlie is the CEO of Prominent Properties Sotheby's International Realty, with 15 offices in northern and central New Jersey. He holds the At Home with Diversity certification from NAR.
Charlie has served on NAR's Board of Directors numerous times beginning in 2003. He has chaired the REALTOR® Party Coordinating Committee and the RPAC Trustees Committee. Charlie has served on four of NAR's Presidential Advisory Groups. In 2005, he was NAR's Vice President for Region 2 (New Jersey, New York, and Pennsylvania), and in 2015, he was NAR Vice President for Chris Polychron.
As NAR's 2021 President, he quarterbacked the association and industry through the global pandemic, and vigorously drove a renewed commitment to principles of diversity, equity, and inclusion.
Charlie was the president of the New Jersey Association of REALTORS® in 2004.
At the local level, Charlie is a member of the Greater Bergen REALTORS®. In 1996, he served as the association's President; they named him REALTOR® of the Year in 1997 and 2022.
Charlie is a lifelong resident of New Jersey and is actively involved in his community, supporting organizations including IronMatt, a foundation dedicated to raising awareness of pediatric brain tumors, and Englewood Hospital and Medical Center.
He is a graduate of the College of New Jersey. Charlie and his wife, Geri, have four children: Jacky, Michael, Karli, and Jason; and two grandchildren: Zachary, and Gabrielle.