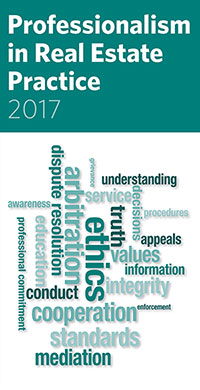 This publication is based upon the Code of Ethics, Standards of Practice, and Case Interpretations in effect January 1, 2017.
Click on the links below to access specific sections, or download the manual: PDF (1.28 MB).
Table of Contents
The Code of Ethics—Assurance of Public Service and Protection
Aspirational Concepts Expressed in the Preamble
Narrative Explanation of Each Article with Synthesis of Related Standards of Practice and Case Interpretations
Appendix A—Code of Ethics and Standards of Practice, National Association of REALTORS®
Appendix B—Sanctioning Guidelines
Appendix C—Professionalism in Real Estate Practice Detachable Certification Form
Appendix D—Pathways to Professionalism

Copies of the PREP can also be obtained from the REALTOR® Store.