Share The Voice for Real Estate
About This Series
The Voice for Real Estate is NAR's bi-weekly video news series. Every two weeks, host Stephen Gasque, NAR's director of broadcasting, shines a spotlight on the top legislative, regulatory, and legal issues NAR is working on, and he will summarize recent research findings.
Recent
In one of its first actions, the Trump Administration suspended a planned decrease in the FHA mortgage insurance premium.
2016 was the last year mortgage debt cancelation relief applies. The rule prohibits the IRS from taxing mortgage debt forgiven by a lender. NAR is working with Congress to get the relief passed for 2017.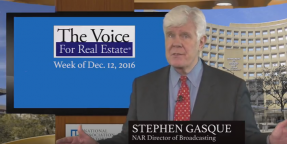 Limits for both conforming loans and FHA-backed loans have been increased to help keep pace with rising home prices.
Looking ahead to 2017: tax reform, commercial real estate incentives, tax rates, and preparing for retirement.
NAR's Chief Lobbyist discusses the impact of the election on real estate, news from 2016 REALTORS® Conference & Expo, and updates from NAR's Board.
REALTORS® win big--and the CFPB loses--in a major RESPA ruling.
We're not there yet on lower owner-occupancy ratios for FHA condo loans. Other stories look at HARP, home sales and a word from the NAR president.
Patent troll that seeks fees from real estate companies agreed to stop; FSBO transactions down, registering to vote and a new Congress-what to expect.
NAR to launch an educational program to help Realtors better understand property investment, using drones to market homes and Realtors lending a hand.
NAR goes to the White House, tightening lending standards for commercial real estate, women in commercial real estate, scams and best markets.