Your annual $35 investment has tremendous value. Together, let's continue to show the world the REALTOR® difference by supporting NAR's national ad campaign, That's Who We R.
View the Our Campaign is Your Campaign Assessment Brochure (PDF: 1.18 MB)
This campaign demonstrates to consumers the value REALTORS® bring to the real estate transaction and beyond – in their communities, in their understanding of local markets, and in their influence on public policies that encourage and facilitate real property transfer and ownership. Visit the campaign materials page to get involved.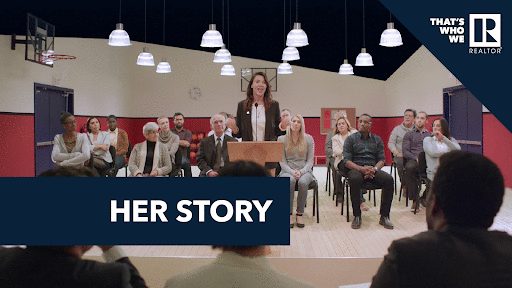 The Value the Campaign Brings
As a real estate Association, we need to address our position within the real estate industry:
Online Competition: real estate online apps are spending advertising money to convince consumers that the home buy/selling experience does not need to be a human transaction.
Lack of Brand Equity: there is not enough recognition of the R mark, let alone the expertise it holds for consumers and pride it holds for members.
That's Who We R
That's Who We R is the theme of this campaign and it has achieved:
Strong performance against campaign goals. Within the 2 months of launch, the campaign has gained quantifiable impact with both members and consumers.
Setting REALTORS® apart from agents and apps, instilling trust in consumers and pride in members.
Additional power behind NAR's 1.3M individual members to strengthen of the collective association. The campaign also provides tangible, amplifying business and brand recognition on a national and local level.
Breaking through an even more cluttered media environment, ensuring that the REALTOR® brand remains front-and-center with consumers through a comprehensive, multichannel strategy to reach consumers and REALTORS® wherever they are—including online platforms such as YouTube, Facebook and Instagram; digital channels like Hulu, Amazon, and Roku; and traditional channels like television, radio, and print.
Impact
The ad campaign is supported by the $35 annual assessment, paid by every REALTOR®, a small price to pay to receive the brand benefits of a national campaign. Investing your own $35 in personal advertising could never deliver the ownable world for continued storytelling that That's Who We R provides.
So, what does $35 really get you?
After only 30 days, the campaign had made 484 million impressions (which grows every single day) and 845,000 people liked, commented, shared, and clicked our ads on social media
A partnership with industry leaders such as Apartment Therapy, Daily Beast, The Atlantic, Thrillist, VICE, and Washington Post
For the first time, members have been provided tangible, customizable assets to build their business and brand recognition on ThatsWhoWeR.realtor
What's Next?
Our campaign is your campaign, and we're just getting started! That's Who We R will continue to tell your story, elevate the REALTOR® brand in the eye of consumers, and provide even more ways for members to participate and share.
Thank you for your support! We'll do our part to make sure this campaign continues to shine and benefit the REALTOR® brand and each of you.