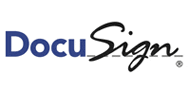 Who: DocuSign is the National Association of REALTORS® official and exclusive provider of electronic signature services under the REALTOR Benefits® Program. DocuSign services are easy-to-use and accessible at any time, from any desktop or mobile device.
What: Solutions available at member-only pricing include the Real Estate Starter eSignature plan for individuals, DocuSign for REALTORS® eSignature for individuals and offices up to 5 users, and DocuSign for Brokers for offices of 6+ users.
How: Learn more about product features and plans available to NAR members at DocuSign.com. From there, you can sign-up for the Real Estate Starter, DocuSign for REALTORS® or start a 30-day free trial. To discuss options and pricing with a representative: individuals or offices up to 5 users, please call 866-219-4318, and select option 2; for offices of 6+ users contact the DocuSign Sales Team by email sales@docusign.com or phone 877-720-2040. Be certain to have your NRDS ID available.
What's New
New! Exclusive Pricing on Real Estate Starter
NAR members receive exclusive pricing on DocuSign's eSignature services, including the Real Estate Starter plan. For single users, and great for agents new to the industry, this plan features:
5 document sends/ month - Send documents to others for signature. One "envelope" send can include any number of recipients and any number of documents. Your clients and customers sign for free.
Gather document fields - Collect name, date, signature, initial, company, title, and email from your signer, or add text and checkboxes to allow your signer to fill in information themselves.
Work on the go - Download the free Android or iOS app to create, send, and sign documents anywhere.
NAR members pay only $13/month for monthly plans or $96 for prepaid annual plans.
For additional information visit DocuSign.com.
DocuSign for REALTORS® eSignature
Exclusive Plan and Pricing for NAR Members
NAR members can sign up for DocuSign for REALTORS® and save $60 over non-members. The prepaid annual plan is $240/year (nonmembers pay $300/year). You also have the option to purchase a month-to-month plan at $35/month, saving $5/month or $60/year.
In both the annual plan and monthly plan options, members receive unlimited signing/envelopes and REALTOR®-logo branding.

Exclusive REALTOR®-logo Branded eSignature
The DocuSign console, eSignature, and email communications feature the REALTOR® brand which allows you to continue to promote your membership status while using DocuSign.
DocuSign for Brokers
Created for offices and teams of 6 or more, this version provides the ability to define and optimize the way transactions are managed across your business while powering agents with true mobility to get work done on the go.
NAR members receive special pricing for this plan. To discuss options and pricing, contact the DocuSign Sales Team by email sales@docusign.com or phone 877-720-2040 (note: phone this number if your office or team needs a solution for 6+ users only). Have your NRDS ID handy.
DocuSign Is Efficiency: Case Studies
Real estate agents' and brokers' have been able to impress clients, improve productivity, and bolster security, all while saving money with DocuSign. Read all about it here.
Member Support and Resources
DocuSign can help you every step of the way, whether you're new to eSignatures or have stumbled across a new feature you're not sure how to use.
Be sure to have your NRDS ID handy.
DocuSign's world class security provides unmatched compliance and privacy standards to ensure your client's information is handled in the most secure manner possible. Visit trust.docusign.com for more information on DocuSign's security standards.
Additional Resources
Learn more about DocuSign, the security and legality of eSignatures, and other information.
---
Program availability and eligibility requirements may vary by partner program. See partner websites for details, terms and conditions.