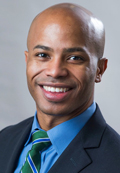 Kevin Watkins, MBA, SPHR
Director, Strategic Association Management
Contact Information
Phone: 312-329-8311
Fax: 312-670-1583
kwatkins@realtors.org
Kevin Watkins serves as the Director, Strategic Association Management for the National Association of Realtors. In this role, Kevin is responsible for leading the execution of mission-critical consulting support to over 1,300 state and local REALTOR Association executives and leadership. This support includes guidance relative to CEO/ AE search, organizational structures, policies, employee relations, strategic workforce planning, and Board of Directors training/ orientation.
Prior to joining NAR, Kevin held key roles at the National Apartment Association (NAA), Volunteers of America Texas (VOA), MADD National, and the YMCA.
While at NAA, Kevin successfully developed the framework and delivery design of the regional affiliate relations program. This process involved partnering with key leadership including National and Local/ State Board of Directors and Association Executives. As Vice President of People Services at VOA, Kevin served as the strategic HR partner to Senior Managers & Program Leadership across multiple service functions throughout the organization. He led all functions of HR including talent acquisition, employee relations, employee benefit strategy, organizational and professional development activities. At MADD National, Kevin served as Director of Field Relations. In this position, he managed the operations of MADD's affiliate network in the Mountain and Pacific regions. While at MADD, he was an essential part in increasing operating revenues, leading strategic planning processes, and linking national services to affiliate offices. At the YMCA, Kevin served in Executive Directors roles in Nashville and Los Angeles.
Kevin received his MBA from Baylor University. He also holds a Bachelor's Degree from Trevecca Nazarene University in Management and Human Relations. He is certified as a Senior Professional in Human Resources (SPHR) by the HR Certification Institute.
Book Kevin for Speaking Engagements
Kevin is available to attend Regional and State Association Executive or Broker meetings to discuss Strategic Association Management issues, subject to availability and travel expense reimbursement. In addition, he is available to conduct consulting sessions during his engagements, schedule permitting.
Cost: Reimbursement of travel expenses