Multi Merchant Prepaid Card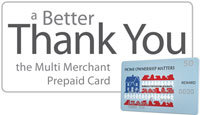 The Multi Merchant Prepaid Card was created exclusively for NAR members, with closing and thank you gifts in mind. It's available to REALTORS® at a 5% savings, so a card worth $100 costs just $95. Sign up or login at www.MultiMerchantCard.com.
Please note, this program will be ending December 31, 2016.
Order Cards Your Way
The Multi Merchant Card is available in amounts worth $25 to $500, so it can work with any budget. Plus, it can be personalized or not, and shipped where you choose. For special clients, you can order cards with name personalization and a custom message like "Welcome Home," "Congratulations." or "Many Thanks."
Personalized cards can be shipped directly to someone's home or to you. Cards without a name or message are available, too. These you can order in multiples and have shipped directly.
Think Beyond Client Closing Gifts
The Multi Merchant Card is versatile enough to help you reinforce many types of professional relationships. Order in multiples without names and keep them on hand for business-related gifts like these and more*:
To say thanks for a referral
For professional holiday gifts
To help sellers prepare for listing
About This Partner
Sign up and order cards at www.MultiMerchantCard.com.
Questions? Please call 636-226-2049 with questions about Multi Merchant Card features and orders. Cardholder questions should be directed to 636-226-2049. Sign up or log in at www.MultiMerchantCard.com.
The Multi Merchant Card was created in partnership with the National Association of REALTORS® REALTOR Benefits® Program and InteliSpend Prepaid Solutions, a company that creates custom prepaid cards for specific business uses. Learn more about the InteliSpend organization at InteliSpend.com.
---
*Cards expire one year from the purchase date. Standard cards are generally shipped three to five business days after clearance of funds. Additional time is required for co-branded, client-designed, and orders over 5,000 cards.
Multi Merchant Prepaid Cards are issued by MetaBank®, Member FDIC, in connection with a loyalty program. Card terms, conditions, and expiration apply, see MyPrepaidCenter.com/site/multimerchantcard for details. Participating merchants are not sponsors of this program and are subject to change.
---
Individual program eligibility is subject to state and territory availability, and active NAR membership. See partner site for details, terms, and conditions.